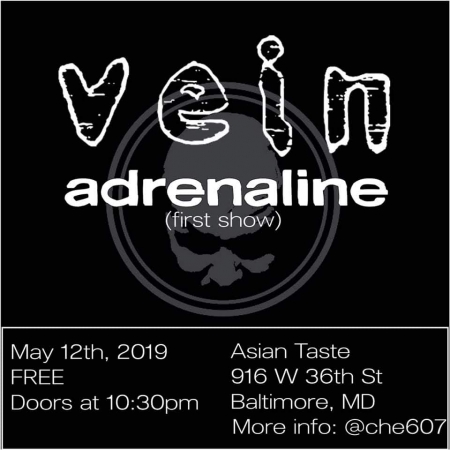 The rise of Vein post last year's errorzone has inarguably been a much deserved and exciting sight to behold. Alongside Turnstile, Power Trip, and Code Orange, their untamable and endless creative well has vaulted them onto the big stage. Ever true and loyal to small room hardcore, they swung through Baltimore Sunday on a break from their run on the Collapse the World Tour alongside heavyweights Killswitch Engage and Parkway Drive. Even Games of Thrones loyalists had no excuse to miss out on the makeshift mini venue bedlam, as the show didn't kick off until 10:30pm (punk time translation 11pm). The sidewalks were teeming with the rabid and impatient, the block was lined even before load-in. Did I mention that it was in a Chinese Restaurant? Did I mention that it was free? Vein rules. Che from Flatspot Records, who booked the show, rules.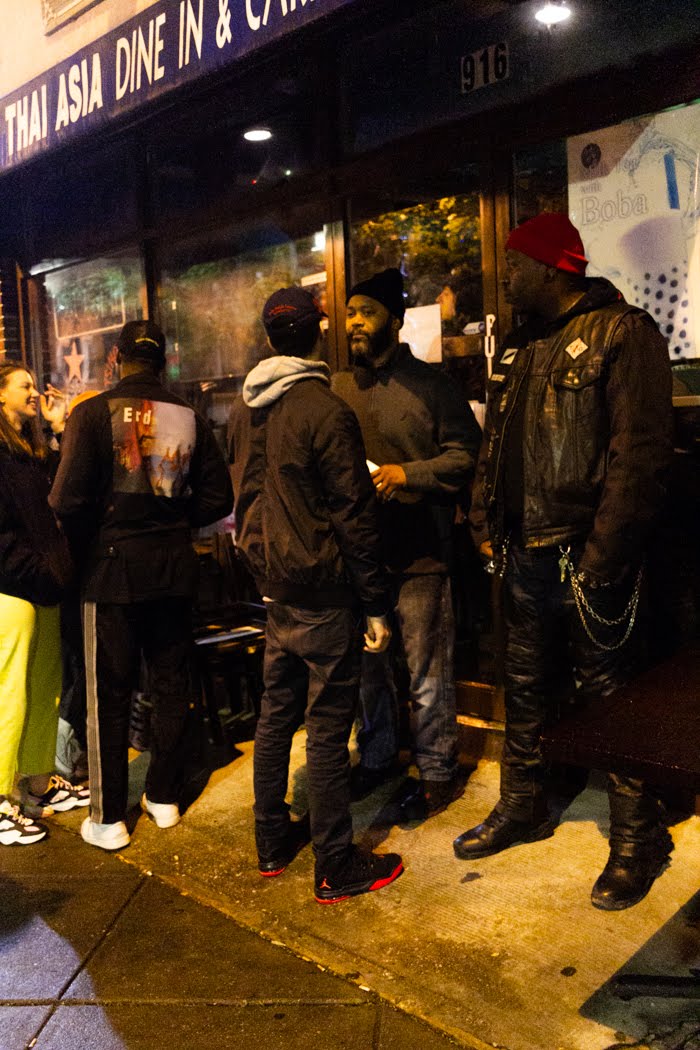 Adrenaline, recently profiled on this very site, nailed the opening slot on an impossibly rad first show. I was already stoked on their groove-laden, staccato barked hXc stylings via their "Masked Out" single on Flatspot and, if the remainder of their set is any indication, their looming EP will turn heads. Employing a furious mix of bounce, punk and '90s post-hardcore, they got the Charm City churning. Carlos' apt comparisons to Orange 9mm and Shelter proved true, their keen sense of melody shone triumphantly through. The clear chemistry between players splitting time with Baltimore's favorite sons Queensway was palpable. For a first show, they were already locked in and commanded the glorified stage (AKA floor!) in a manner that belies a seasoned band. Look out for the six songs to drop later in the month.
The whirlpool of bodies had barely subsided in time for the swift minds of Baltimore's aforementioned Queensway to drop a surprise mini-set, cherry picking their stellar debut LP for a four song rager. They brought the street-ready nihilism of their full-length in standard top tier fashion, trading vocal punches with the now frothing crowd, a mosh-ready gaggle of the converted. If and when we get a follow-up from these hometown heroes, look the fuck out.
I'm bad with numbers, y'all. There could have been 100 people or there could have been 250. All I know that the place was well over capacity and, by the time Vein took the floor, the indoor temperatures climbed with every added body begrudgingly packed into the room. Outside of what's typically a five table Pan-Asian bar and takeout restaurant, our intrepid photographer and diehard Jason Magid literally stood an hour in the chill of unforgiving Spring rain. Ultimately, he managed to cash in on the unspoken but understood "one-in/one-out" rule of overcrowded venues.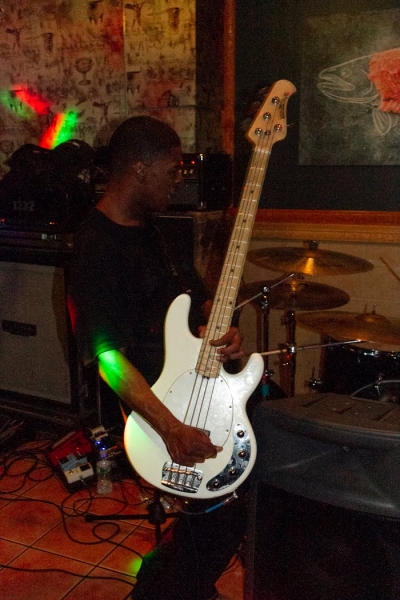 Pardon the groan inducing pun, but Vein injected a much needed dose of, well, "adrenaline" just as the clock struck Midnight. Vein were clearly energized by the primetime matinee-sized crowd that fucked off their Monday morning commute by moshing after midnight on a Sunday. They rewarded us with an utterly feral version of their now arena-worthy live show in a condensed and frenzied simulation of virus, vibrance, and violence.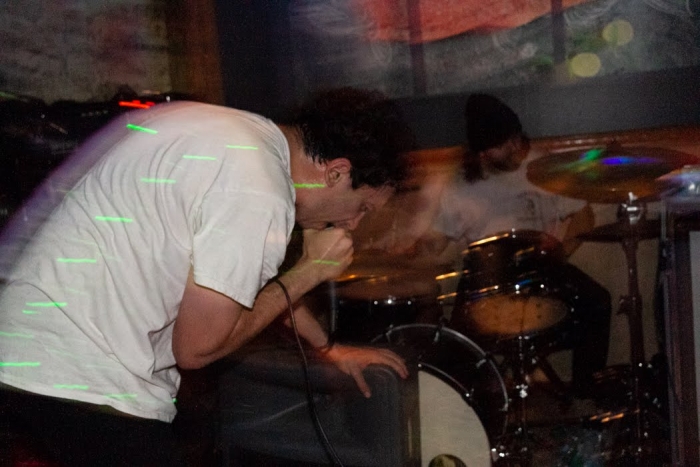 As is expected, they brought an acrobatic and unrestrained ferocity, their bodies and guitar strings bending in equally impossible ways. Didio found himself not so much in front of the crowd but "of the crowd." Vein gladly reminded us that, in addition to the adventurous end of their discography, they remain a heavy live proposition, all breakdown and reckless abandon. They've refined their sound and live attack in a manner that makes it altogether more intense and communally cathartic.
Blissfully free of the barricades, the literal and figurative distance between band and fan, and clockwork operation of their current tour, Vein rewarded the support of the folks that organically helped the meteoric rise. Vein are a gift, and yet again reminded me why we have to continue to help lift them up to the world. Few, if any, bands could make the waning and melancholic hours of the weekend's worst day feel like everyone's birthday. It's like what Nails says, but the opposite..." they'll always be one of us."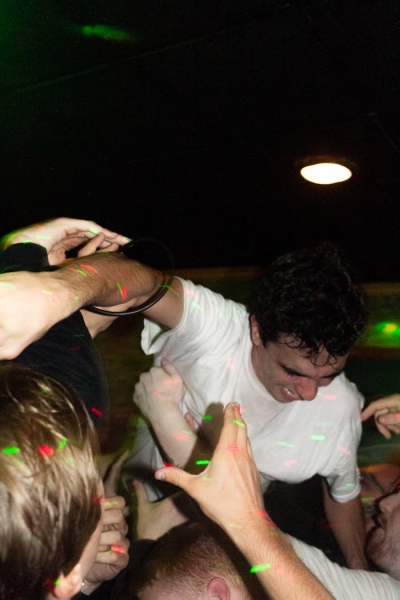 Tagged: vein