Sawblade is a new project featuring vocalist John Hoffman (Weekend Nachos, Ledge, Spine) and guitarist Morgan Carpenter (Hiva, Prison Shank, Bosnia). From the other groups they've been associated throughout the years, I'm sure you're not expecting Sawblade to sound like Texas is the Reason, not that there's anything wrong with that.
No, Sawblade sounds exactly like their name would imply: sharp and capable of causing tremodous damage.
"We met around the time Weekend Nachos was winding down," Morgan told No Echo via email last week. "Hive played their last Minnesota gig and we connected over a shared love for Japanese hardcore. The idea for Sawblade was largely John's, Who then recruited me to fully realize the sound.
"Recording the songs began right around the time of the COVID-19 lockdown and we volleyed it to each other to complete instruments."
As heard above, Sawblade's recently released demo showcases the duo's shared admiration for hardcore from the Far East, as Morgan explained: "The main influence going into it was Bastard's Wind of Pain album. The intention was to just play Bastard worship, but I think we came out of it with a bit more identity than just that.
"When people ask, I tell them it's hardcore for fans of Bastard, Negative Approach, Deathside, and Jerry's Kids. The '80s in America and the '90s in Japan."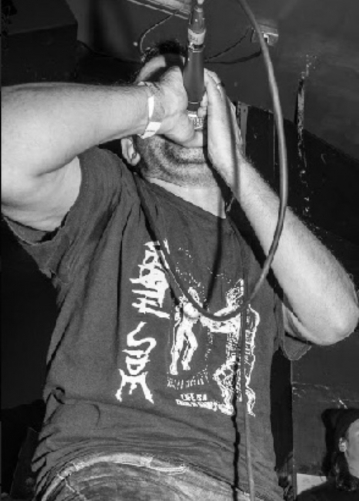 So, how did Morgan and John manage to get the demo done with the lockdown rules still in place? "It was all self recorded in our homes in Minneapolis and Chicago. John tracked the drums to a scratch track with nothing more than a cell phone and sent that to me. I tracked all of the guitar and bass and sent that to John, and he did the vocals. I did all the mixing at home as well. It's rough and raw, but captures what we were looking for."
No Echo asked Morgan if he thought Sawblade could develop into more of a full-on band situation down the line. "We began as Sawblade just being a means to stay active with music during lockdown. But, once the demo was finished we ended up with something we were pretty proud of.
"Now, we've already started writing material for whatever we do next, and want to evolve into a live band as well, whenever the world and our lives allow for that to start happening again."
***
The Sawblade demo is available on Bandcamp and Spotify.
***
Donate a few bucks to help with No Echo's operating costs:
***
Tagged: sawblade