August 6th eventually found me glued in place, jaw-dropped and thoroughly worn on the last stop of Birds In Row's current run of US dates in Baltimore. Rarely does a show's transcendent moments begin with the first note but I was happy to find an exception. No Echo contributing photographer Melissa Skinner was also there to capture images from the night.
BustDown is a Charm City three-piece that peddles an ugly, jagged version of catharsis. Self-described "cigarette core" that is equal parts screamo, hardcore, guitar fuckery, and sonic terrorism. Their potent mix lands them uniquely in territory both fragile and ferocious. Unassuming, raw, and deadly serious; BustDown are ones to watch.
Next up was another exemplary act hailing form the Old Line State and again one I'd shamefully never heard. Clearly adept at their brand of fiery post-hardcore/screamo with a dash of post-rock, it was between songs that Voyage In Coma truly won my heart, waxing in direct poetics on suicide and addiction.
In addition to their more melodic take on aggressive screamo and hardcore, there's an onstage camaraderie that revolves around and holds up their charismatic frontperson, a free-wheeling truth-sayer as content on the floor as he was on stage.
As melancholic and gorgeous as they were brutal, I won't get fooled again. I'm on board, Voyage.
Portrayal of Guilt have done more with a half dozen songs than some bands have done in a career. Assembled from both Illustrations and Lyed, two bands well worth seeking out, Portrayal of Guilt arrived fully sharpened and forged in chaos: equal parts emoviolence, screamo, hardcore, and nihilism done at an unnervingly high level.
Calling to mind pageninetynine, Orchid, and general feelings of misanthropy. Live? They're an anomaly. The stage, nearly empty save the backline and backlit by two industrial bulbs, all color and feeling was blanched... and then the music.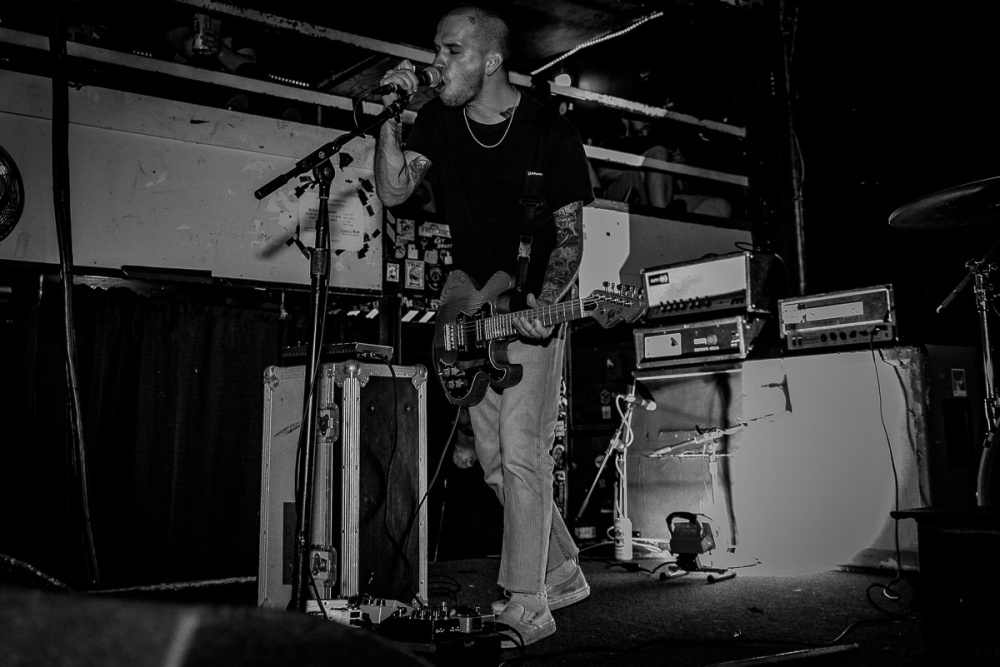 There's a rare and intangible bloodletting that I rarely get that manages to reach the tender but terrifying corner of my psyche that few bands touch. Portrayal of Guilt find the recesses and cloak them in purgation. They also seem to find an extra power in how little they moved onstage (save the relentless drummer), the concrete immovable pillars of the audio violence they construct are far too weighty for movement.
Instead, the waves of nausea beget a beauty rarely found in such rituals of emotional cleansing. Killer band with an exciting future, to be sure.
Birds In Row, the French post-hardcore/punk band, lives art first. Instead of appearing in glossy promotional pics, they identify as solely their first initials and, oftentimes, in photos that strategically obscure their faces, rendering their identities unimportant. And, while that might be true, their recently released second LP We Already Lost the War, is a spectacular feat by a band that knows exactly who they are. Lovingly reviewed last month in these very pages far better than I'm capable of.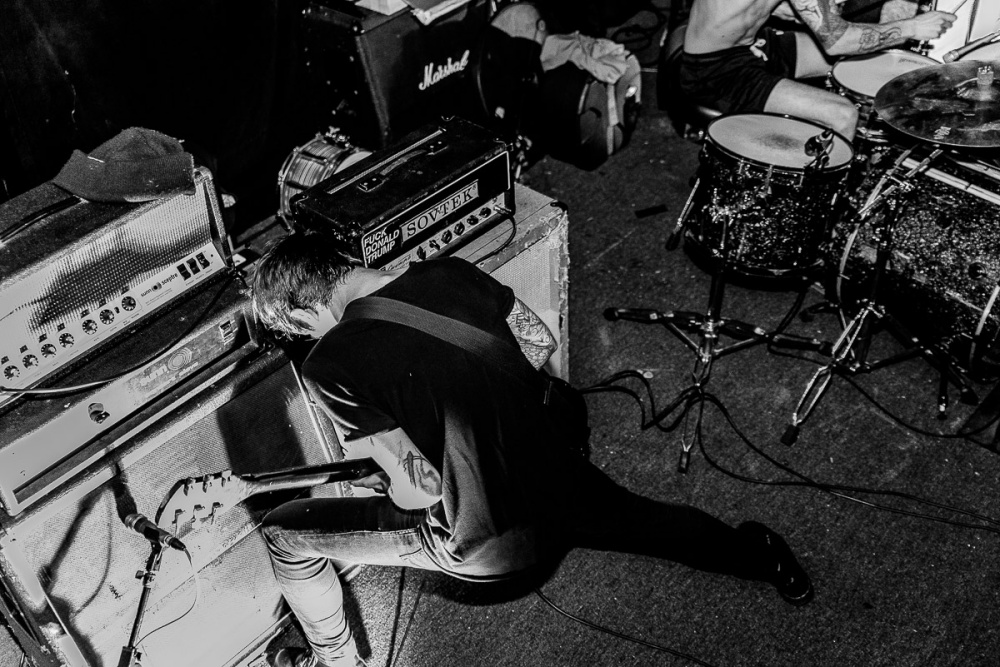 In keeping with the night thematically, they're a transfixing proposition. At times surgically precise and rhythmic, there's a groove that finds them in lock-step with each other, the moments of nuance and beauty from their current LP all the more affecting when bookended with an assault so visceral and earnest.
With a set that pulled from their debut and subsequent EP in addition to WALTW, Birds In Row bring a thoughtfulness to their chaos, a tenderness to the caterwauling frenzy of their shared vocals.
It was in moments like the tortured screams that catapult "We Vs. Us" into its sturm and drang closing, or the mid-set palette cleansing of indie leaning "15-38" that elevated the room. I was even more moved by their dedication to craft.
Birds In Row also brought a startling physicality to their live show that barely allowed the room to breathe. Bewitching and cathartic, there's clearly a reason they recently shared stages with the like-minded likes of Amenra, Neurosis, and Converge.
Not bad for a Monday.
***
Voyage In Coma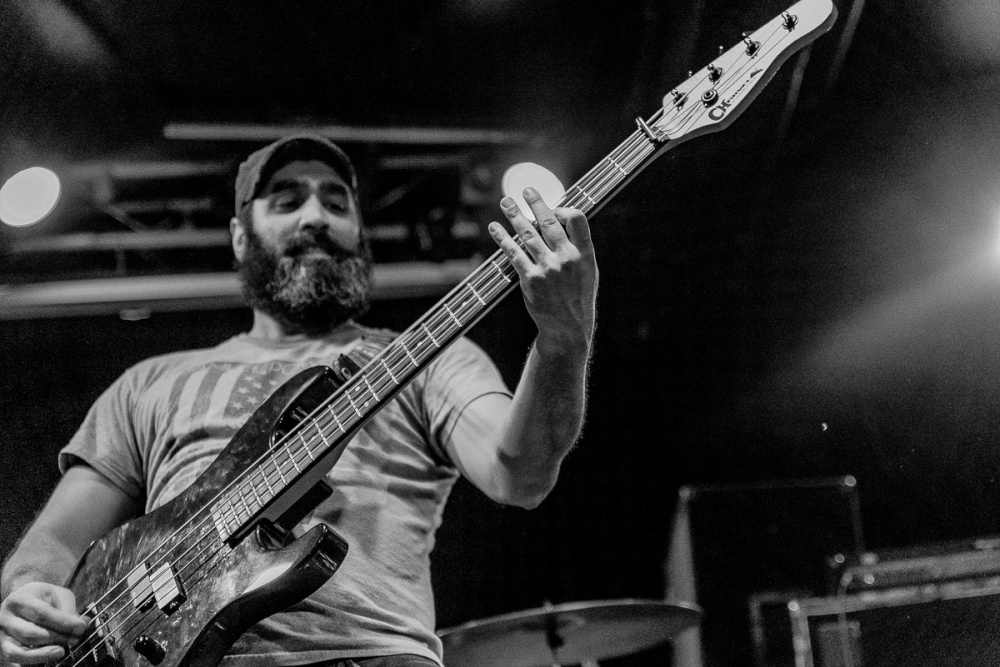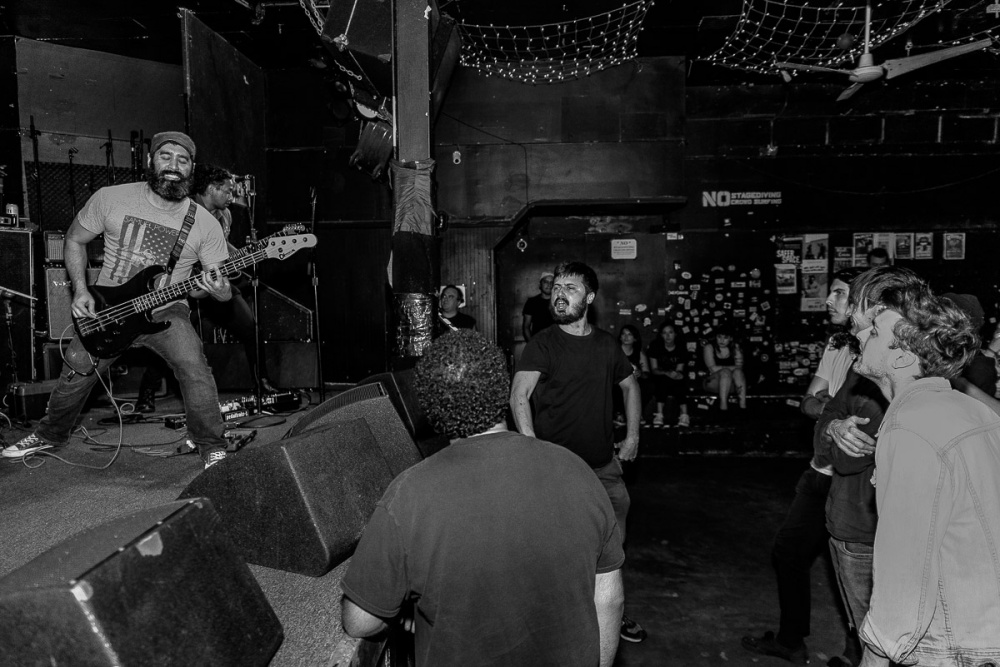 Portrayal of Guilt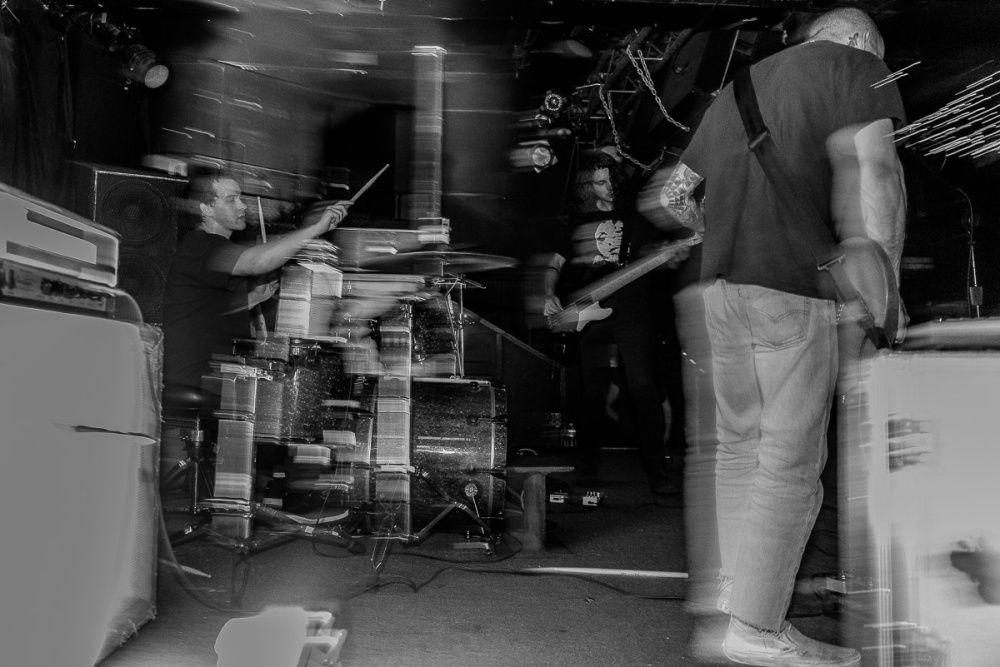 Birds In Row
Tagged: birds in row, portrayal of guilt, voyage in coma