I came across Sam Jameson's photographer work via Instagram earlier this year. His coverage of both the Southern and Northern California hardcore scenes is greatly appreciated by folks like myself who can't get out to shows as much as they would like. I recently reached out to Sam to let him know that I'm a fan of his work, and he was nice enough to say some kind things about No Echo.
Sam is the latest friend of the site to join the Photographer Spotlight club.
Where were you born and raised, and were your parents into the arts?
I've lived in California for my entire life. I was born in Santa Monica. Then I lived in Lomita for a few years before my parents moved to Torrance where I spent the majority of my upbringing. There steadfast was an emphasis on the importance of the arts in my family. My dad is a professional calligrapher and he also played piano and sang in a band called Jabberwock in the '90s. My dad always had a knack for buying lots of instruments so I pretty much grew up surrounded by music. My mom was never involved much with music but she was always pushed me to be involved with the arts and was always really supportive of the things got involved with.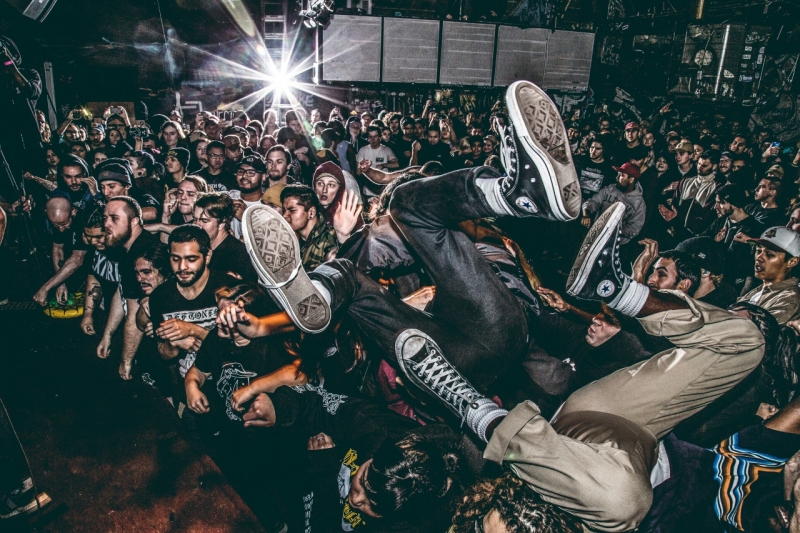 What came first, your love for music, or your love for photography?
My love for music definitely came around 10 years before my love for photography. My parents signed me up for piano lessons in early elementary school. I picked up the trumpet, guitar and percussion in middle school. And in high school I played in every musical group possible, ranging from jazz groups to drumline to wind ensembles. I actually found my first camera (a Canon Eos 600D) back in 2013 in the back of a bus that picked me up from LAX. I gave it to the bus company and the local police department to try to find the owner for around 9 months and nobody ended up claiming so I inherited it. I dated someone who was into photography for a bit so that sparked my interest in photography a lot more, and I'm really thankful for that. In early 2016, I'd loved going to shows but I was pretty burned out of destroying my body while always being in the front row. Photography was a solution to still being up where the action was while still retaining my facial configuration. Ever since I shot my first show in January 2016 I've been in love with it ever since.
How did you discover hardcore/punk?
My first memory of hardcore punk was when my close friend Ben Hirose (bassist of Diztort) played me the breakdown of Trapped Under Ice's "Pleased to Meet You" on a bus in France back in 2013. It was something really unique and different from anything I'd listen to before and it got me hooked. This was around the same time that Turnstile's Step 2 Rhythm EP came out and I attribute my interest in hardcore primarily with that album. My first hardcore show was Rotting Out and Homewrecker in a dance studio called the 418 Project in Santa Cruz back in 2014. I went to UC Santa Cruz from September 2014 to June 2016 and during my time there I got pretty involved with documentation of the revitalization of that local scene the spring of 2016.
Who were some of the photographers you looked up to during your formative years?
I don't really remember anyone specifically but in my formative years, I followed a lot of surf and landscape photography. I was in high school at the time that Instagram really started getting big and I definitely attribute an interest in photography to that platform and how assessable it made things.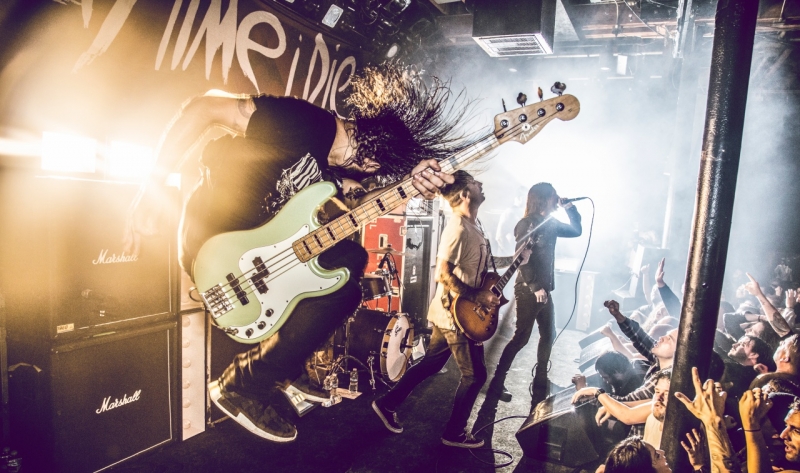 Were there any music-related photographers you followed?
Before I followed specific photographers, I remember following lots of bands and record labels and I always checked out the pics that they reposted. Some of the first music-related photographers I remember following were Adam Elmakias, Angela Owens, and Todd Pollock.
What is your camera and post set up?
I shoot with a Canon EOS 6D and a Canon EF 24-105L lens. I also shoot with 2 Canon 430EX iii Speedlites, one which mounts on top my camera and the other which I use as a slave. When it comes to editing, I focus on trying to make my style unique and very distinguishable with utilization of double raw filters and color blending. I do all of my concert photography editing in Photoshop. Even though editing in PS takes significantly longer than other programs like Lightroom, I find it substantially more useful for getting the kind of image I like.
Who are some of your favorite bands to shoot?
Some of my favorite bands to shoot are all bands on Pop Wig (Turnstile, Angel Du$t, Trapped Under Ice), Fury, Harms Way, Drain, Primal Rite, and Step 4 Change. I love shooting bands that showcase their energy in forms of physical motion, like jumping and stuff. The biggest pet peeve of mine is watching musicians that just stand still and play their instrument.
If you could go back in time, who are some bands that you would have loved to shoot?
I would have loved to have shot the Beastie Boys, Leeway, Bad Seed and Malfunction. I would have loved to be able to shoot Megadeth back when they first dropped Rust in Peace back in 1990. I also wish I could have shot My Chemical Romance back when they dropped The Black Parade. And I also wish I could have shot Fall Out Boy, Earth, Wind & Fire, Phil Collins, Joe Satriani and Miles Davis back in their prime.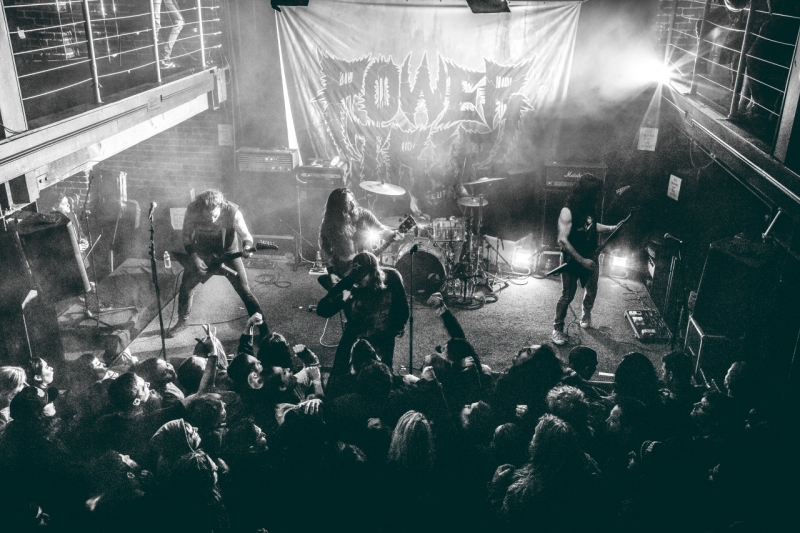 What are the toughest aspects to shooting hardcore/punk shows?
I'd say the most difficult part of shooting hardcore/punk shows is being consistently conscious of how to properly position yourself in the space you inhabit. I really hate getting in anyone's way, whether they're a band member or venue staff member. Since hardcore is a DIY genre, most venues are relatively small and don't have large and sophisticated stages, so a lot of times you have to put yourself in harm's way to get the good shots. Not being the biggest dude, I gotta constantly be really conscious of what's going on around me so I don't end up with either a broken camera or a broken face. A lot of times there are a good amount of other photographers shooting and sometimes it's difficult to maneuver through everybody while trying not to get in the way of anyone's shot or metaphorically stepping on anyone's toes.
Tell me about some newer bands that we should all be on the lookout for.
Drain, Diztort, Dead Heat, No Right, Judiciary, Momentum, Vein, Hands of God, Coolside, Queensway, and Ecostrike are all super sick. I definitely recommend checking all of them out.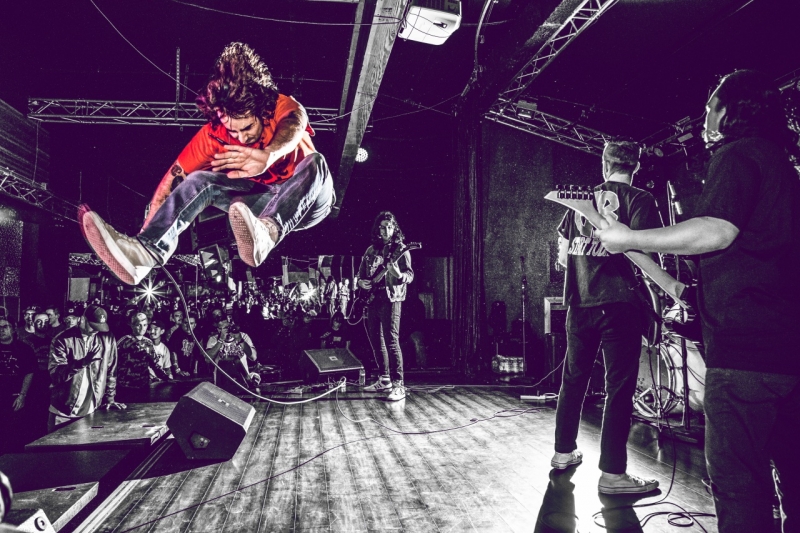 Who are some modern-day photographers that you admire?
Joe Calixto was the first concert photographer I met when I shot Mindset and Fury in Berkeley back in January of 2016. That was the first show I had ever shot and I remember being super nervous and intimidated, but he helped give me pointers and was super kind and supportive. I've got a lot of respect for him. Octavio Orduno is another close friend and very talented photographer that I've traveled with shooting shows throughout California with. I really admire Tyler Ross for his ability to capture the natural essence of a moment without heavily relying on flash lighting or heavy editing; he also is a very kindhearted and smart dude.
I really admire Gabe Becerra for his dedication to shooting shows all over Southern California and all the hard work he puts into his art. I admire Arron Herrera for his beautiful film photography work and his effort he put into planning his Sound and Fury sponsored photo show in LA. I also really admire Hailey Magoon, Wayne Ballard, Nate Zoeller, Todd Pollock, Tyler Bray, Miguel Del Angel, Jonathan Erik, Errick Easterday, Kyle Smutzki, Matt Gill, and Angela Owens.
If you had to pick one of your photos that best encapsulates why you love shooting hardcore bands, which one would it by and why?
This picture I took of Free during this year's Sound and Fury is probably one the photos that best encapsulates my love for shooting hardcore. Hardcore is all about a raw expression of emotion, and it's really cool that everyone expresses that emotion in unique physical and emotional forms. I think this photo captures a diverse variety of those forms of physical and emotional expression, as well as the intimacy that makes hardcore really unique. I try to use photography as a means of documentation so that people can look back and remember exactly how they felt in that moment. Every time look back on a picture, I remember exactly where I was and how I felt at that specific period in my life. I think it's really cool how photography in a sense can allow people to vicariously relive important moments and emotions in their lives, and that's exactly what I try to accomplish and share with my work.
***
Head to Sam's official website to see more of his work, and here he is on Instagram.
Tagged: photographer spotlight