In another excellent example of the hardcore community banding together for a common good, Safe Inside Records has announced a COVID-19 benefit compilation featuring 26 acts from the scene. No Echo has partnered with the label to help spread the word about the project, so check out previously unheard tracks from Chemical Fix, Sunset (ex-Harvest members), Faim, Stepping Stone, and Rejection Pact below.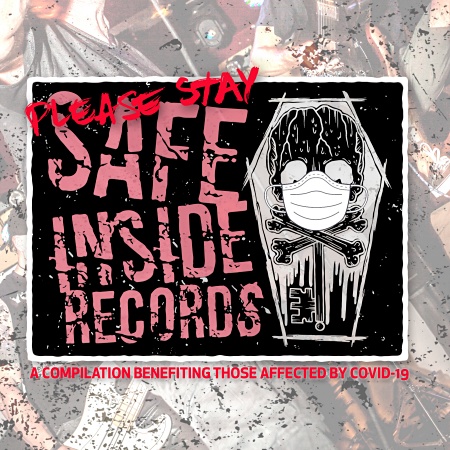 We'll let Thomas Vanderpol of Safe Inside Records explain how and why the compilation:
From Safe Inside Records:
Safe Inside is a unique label. We are "San Diego-based" because of Burt and Aaron's history in the SD hardcore scene (ex members of Built to Last and Over My Dead Body). In reality, Aaron is the only one who still lives in the area. Burt lives in Hawaii and I (Thomas) live in Portland, OR. Because of this, we have been able to maintain a network of friends from bands not only on the west coast, but throughout the US hardcore scene.
Like most labels, we had big plans for 2020. LPs by Faim, Stepping Stone, Chemical Fix, and the Sunset 7" had all been announced in one way or another. Then in March, we realized that the coronavirus outbreak was a serious reality and would affect not only our label, but other bands planning to release music this year. Because of this, we wanted to see what we could do to raise awareness and show support for people who have been affected by the virus.
In early April, we started reaching out to bands inside and outside of our label who were either friends or bands we admired to put together a COVID-19 benefit compilation. The response was very positive and met with a lot of excitement.
Content of the compilation:
Not only do we have unreleased tracks from the bands mentioned above, but NYC's Perfect World and Portland's Dry Socket also contributed unreleased tracks from their upcoming records. If you've seen Rejection Pact live, there's a good chance you've heard their Go It Alone cover, "Statement". We were excited that they recently recorded it and decided to include that on this comp too!
There are also a few great bands who have released music already this year that we wanted to include like Sissyfit, Initiate, Crafter, and Chopping Block. All have dropped either a demo, promo, or single that we felt needed to be heard and included! We made sure to include some of our favorite current San Diego bands on the comp like Bent Blue, Spirited Away, and Headcount, as well.
Note: The Bandcamp page is loaded with extras—lyrics, promo videos, links to bands' releases (physical and digital), and as much info as we could gather to give the comp substance.
Mission of the comp:
100% of the proceeds will be donated towards the San Diego COVID-19 Community Response Fund: San Diego Worker Assistance Initiative. The fund is for low-wage workers who need support for a limited but undetermined length of time and goes towards utilities and rent/mortgage payments in effort to complement the work of public health officials to prevent the need to enter the social services system of care and prevent homelessness. Learn more here.
The reason we chose to do a digital only comp, is because we wanted to make sure that ALL of the money going towards this release will go directly to the cause. Safe Inside will be matching all donations made. We also chose to make this comp "pay what you can", because we believe there should be no barriers of entry to participate in the support of this comp, these bands, and most importantly, the cause. We want to acknowledge the privilege of being able to donate to causes like this and know that setting a certain price might prevent people from being able to be involved.
Above all we want to encourage people to continue to practice social distancing, wear a mask in public, wear gloves at the store, and (if possible) STAY HOME. If you're able to, find out how to get involved and donate to other charities and benefits, make masks for those who don't have access, get involved with a mutual aid organization in your area, support touring musicians affected by COVID-19, and make sure that your day to day practices are healthy and safe for you and the people around you.
Download Please Stay Safe Inside: A Compilation Benefiting Those Affected by COVID-19 on Bandcamp today.
Track Listing:
1. Sunset - Red Eye
2. Stepping Stone - Escape From the Junkyard
3. Faim - Back on the Wall
4. Perfect World - I Walk
5. Dry Socket - Damn You
6. Sissyfit - Static Cage
7. Bent Blue - Echo Chamber
8. Last Gasp - The Taker
9. Chemical Fix - Confinement
10. Spirited Away - Identical
11. Chopping Block - Chopping Block
12. Initiate - What You Sow
13. Crafter - Discarding Arrows
14. Time & Pressure - Lost Boys
15. Blight Future - Drugs
16. Bystander - Sing With Me Tonight
17. Rejection Pact - Statement (Go It Alone Cover)
18. Cold Shoulder - Loudmouth
19. Outskirts - Tear It Out
20. Nowhere Roads - Prosper
21. Headcount - At What Cost?
22. Implied Risk - Trading Curses
23. Violencia - Canibal
24. LIFT - Pressure
25. Pain Strikes - As Days Pass
26. Dying for It - Light & Dark
Safe Inside Records on social media: Facebook | Instagram | Twitter
Tagged: chemical fix, sunset