In my endless journey of bringing you some of the most active photographers in the hardcore and punk scenes, I'm excited to introduce (at least some of you) to Arron Herrera. A Los Angeles native, Arron is a fixture at most shows that go down in his vicinity.
I'll let the Q&A below tell you more about Arron in this new Photographer Spotlight piece.
Where were you born and raised, and were your parents into the arts?
I was born the Los Angeles county, in a city called Bellflower. I would eventually be raised in a nearby city called Norwalk for the majority of my life. My parents had no interest in any arts, but they were always surrounding themselves with music. Bands like U2, The Smiths, The Intruders, Gang Starr, and Thee Midniters, were some of the artists that they would listen to when I was a kid.
What came first, your love of music or your love for photography?
Music definitely came first for me. Growing up with a wide range in music tastes, thanks to my parents, and also my brother, who majored in music and exposed me to bands like The Clash, Warsaw, Death In June, and Bjork. It wasn't till I was in my senior year of high school when I picked up a Minolta OM-10 from a friend. From there, I just casually took pictures of my family, dog, and eventually shows. Right after high school, I took a Intro to Photography course which solely focused on developing film, honing skills, and darkroom printing.
How did you get into hardcore?
I must have been in 7th or 8th grade when I got into hardcore. My uncle, who had a very pivotal influence in my life, showed me a band called More to Pride, and I was immediately drawn in to the energy of the band. Soon after that, I discovered other bands like Internal Affairs and Like It or Not. I also was going to church around this time and met my friend Anthony who was also into hardcore and he introduced me to bands like the The Rival Mob, Shipwreck A.D, and Swamp Thing.
Who were some of the photographers who inspired you during your younger years?
During college, I had really looked up to my uncle Alex who had been shooting weddings and taking photos at motorcycle events. His drive to pursue his own business and create awesome images really inspired me to stick to photography. Other photographers that also paved the way for me we're Ed Templeton, Todd Hido, Vivian Maier, and Chris Suspect.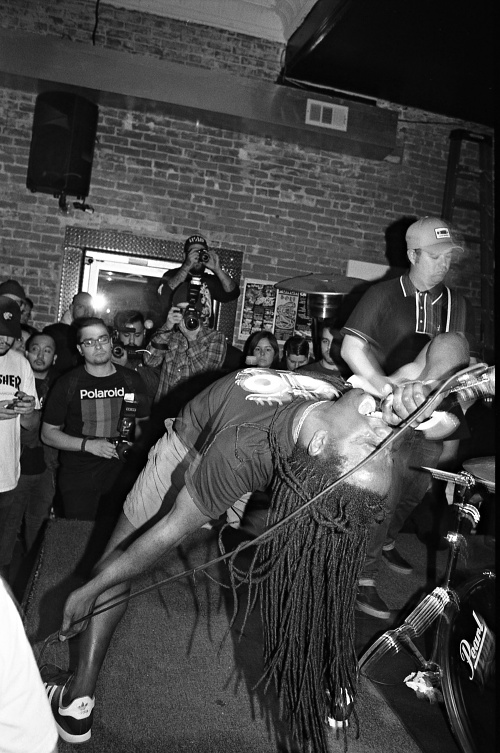 What is your gear set up?
I have been shooting with the 35mm Nikon F100. My gear consists of a 50mm, 28mm, 35mm, and the SB-600. As far as developing goes, I don't develop my own film yet, but I do plan on it. I use the Epson V600 to scan my film and during that process I don't like to make any edits unless it is absolutely necessary.
Who are some of your favorite bands to shoot lately?
My favorite bands to shoot are Lock, Red Death, Power Trip, Take Offense, Gag, Foundation, and Lower Species. There are two bands that to me are my absolute favorite bands to photograph. Fury brings out an energy from the crowd that is almost surreal and they always seem to blow me away. I just saw More to Pride at Sound and Fury a couple of weeks ago and I had so much fun not only taking pictures, but also being apart of the crowd for a change.
If you could go back in time, which bands would you have loved to photograph?
I would have loved to have shot the Bad Brains, Uniform Choice, The Cramps, Dead Kennedys, Champion, Outburst, and Inside Out. Aside from hardcore, I would have loved to have photographed Gang Starr, Public Enemy, A Tribe Called Quest, B.B. King, and Muddy Waters.
What are some of the hardest aspects of shooting hardcore shows?
Getting roughed by the crowd definitely has to be a huge challenge. Anything can happen when you are either on stage or in the crowd trying to get shots. I've had stage divers dive straight into my flash and been pushed to where I've hit the ground and the flash brakes right off.
Who are some newer bands we should all check out?
Their are a lot of bands popping up right now like Diztort, Abuse of Power, Ecostrike, Lower Species, Day by Day, Deflect, Throwed Off, Sacred Fire, Substance, Dare, Overload of Natural Energy, and Unified Right is coming out with that LP soon.
Tell me about your upcoming show.
Yeah, I'm hosting a photo gallery on July 22 with a bunch of friends, and I have to say that everyone featured in this pop-up gallery is an amazing human being and photographer. Five photographers are missing from the flier, and I'm in the process of updating that. Another photographer that I'd have to say is an inspiration is Reid Haithcock, another film photographer from the Boston area that continues to put out amazing work.
If you had to pick one photo you've taken that best captures the spirit of what hardcore means to you, which one would it be and why?
I took a photo of Fury at Chain Reaction when they played with Mindset for their last West Coast tour and it completely blows my mind how that photo was used for their album, Paramount. Around this time, I was going for a new look in my photos and it was a success. I am really proud to see this photo on not only a shirt but a promotional poster. I am eternally grateful for the guys in Fury for not only their music, but also their interest in my work.
***
Follow Arron on Instagram to see more of his work.
Tagged: arron herrera, photographer spotlight