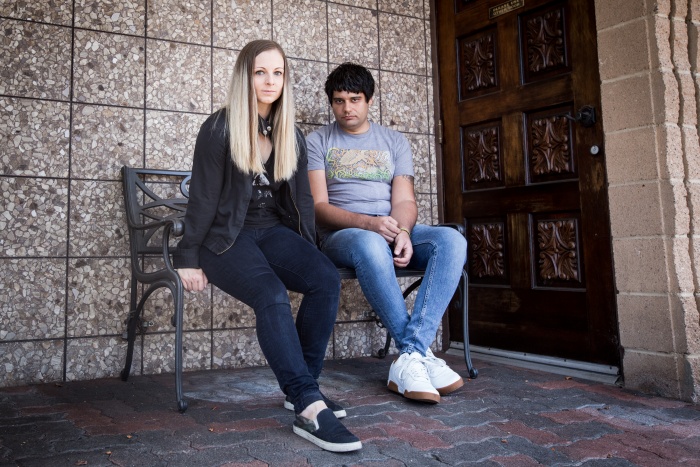 Paris Hilton on Fire originally started in 2006 by musicians Brandon Brunt, Ryan Aarset, and Ryan Guillermo in Lakewood, CA. The band ended up dissolving a couple of years later, but with the support of his former band mates, Brandon has created a new recording project under the same name.
The 2019 version of Paris Hilton on Fire finds Brandon collaborating with vocalist Veronika Reinert joining him on vocals. A talented photographer, No Echo readers might recognize Veronika from her interview on the site last year. Paris Hilton on Fire finds the two musicians delivering chaotic screamo that wouldn't have sounded out of place on Old Glory Records, circa 1994. Check out "Apparitions to Silhouettes" below and see what I mean:
"I try to make the songs living, breathing entities where everything comes together and makes a full picture," says Brandon, who wrote and recorded all the instrument tracks in the project's debut 2-song demo. "The sea is really interesting to me—I could write about pirates searching for buried treasure or the changing tides of the ocean or the things that are unknown to us. I really just try to make a story out of what I do."
Heard below, "Like Salt" is another track from the aforementioned Paris Hilton on Fire demo:
"This song is about a very toxic person that was once in my life who caused a great amount of frustration and unhappiness," Veronika says about "Like Salt" and its lyrics. "I had this image of a vampire in my head as I was writing it, as I kinda felt like this person sucked the life out of me when they were around, or sucked the fun out of things."
Paris Hilton on Fire plan to release a 6-song EP by the end of the year, but at this time chooses to remain purely a recording project unless circumstances change. Follow them on Instagram and Bandcamp.
***
If you dig No Echo, you can donate a few bucks to help with the site's operating costs:
Tagged: paris hilton on fire