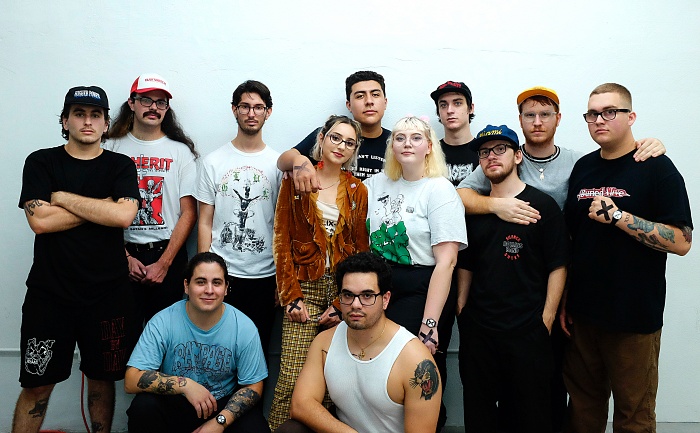 In terms of contribution to the hardcore community, Florida has been on a roll these past few years. On the band front, Ecostrike, Protocol, Dominant Force, and Day By Day have shown the scene's diversity, while labels like Plead Your Case and Eighty-Sixed Records [I profiled both labels here and here] have also done their part to spread the love.
IOU Records is another Florida label doing great things for hardcore, and since they're ramping things up with their first vinyl release in the form of Method of Doubt's Accepting What We Know 7", I decided it was perfect timing to chat with label founder Innie (he's also a member of the bands Be All End All, Field Agent, and Big Mack).
Tell me a bit about how IOU Records started and what inspired you to do the label in the first place.
Even though it wasn't that long ago, it's hard to remember exactly what started it. The label is run by myself, Brooke, Steve, and Gus mostly, but tons of other people help with it. I guess I just felt there was this lull in the scene down here, especially for bands that are more influenced by late '80s hardcore. There was already a few cool hardcore labels doing their thing like Plead Your Case and Eight-Sixed Records, but they were either past or not interested in the demo tape aspect of things. The label was a way to give representation to bands that were sick but weren't big enough for actual pressed vinyl releases.
The label started with three new bands that brought a new spirit back into the scene: Big Mack, Result of Choice, and Field Agent. It was the perfect way to kick everything off and establish ourselves. Not only were these bands new and bringing back a certain sound and feeling into the scene, they were also filled with young members and giving them a platform for the first time.
How do you go about finding the bands you want to work? Would you say there's a certain thing that ties all of the bands you've released?
I definitely am focused on the sound and energy of the band first and foremost. In the beginning, I tried to keep a more narrow sound range on all the bands, but it's really hard to do that without immensely pigeonholing yourself. I didn't want people to get kind of a one note feel from all the bands, so as the releases went on I've definitely broadened my idea of what an IOU band could sound like. I just want the whole experience to be fun and exciting.
Of all the label's previous releases, which one would you say got the most traction, in terms of visibility and sales?
There are some obvious bands that blew up from us like Result of Choice and the new MOD 7'', but the most surprising one was the Be All End All demo tape. At the time it came out, the label was releasing tons of shit and I didn't really know how to plan for the release of this since I kinda thought we were beating the "market" up with a bunch of new releases. So I made a pretty small run of the demo tapes and put em online with just a Bandcamp stream and it ended up selling out in like a day or two, which was awesome.
What was it about Method of Doubt and the Accepting What We Know material that made you decide that you wanted to get into the vinyl business?
Before I had ever heard the record or anything we had all agreed that the next MOD release was gonna be pressed on IOU, it was time for the label to step up and do something bigger than it had. Just based off the reception of the band and who they are and what they represent I was already on board with it. Months after I was already verbally committed to the release I finally heard it and was definitely taken back by the large risks they took on the album, in a way it made me very excited but also extremely nervous about the release — I really thought it was gonna be one of those "really hate it or really love it" type of things. But once I got the final mastered mixes of the record I knew I had something special.
I think stepping up from mostly demo tapes to actual pressed records was something that I always knew would happen if the label kept going steady, it's been a great thing so far I couldn't be happier that our first release on actual vinyl was this groundbreaking record.
Does this mean that IOU will be releasing everything from this point on in the vinyl format?
Definitely not. There's so much more that goes into an actual record versus a tape. Aside from the obvious large difference in money required, there's much more planning and promotion and a whole bunch of other shit that a record takes, especially from a small label like us. There's just something so awesomely casual about a cassette release and that's what this label was based around at first. "Just put out some tapes play some shows and see where it goes," that's the mentality I love to see from hardcore bands.
What other stuff can we expect from the label in the coming year?
Right now there's a few releases I know we have planned that I'm excited for, one band is new to the label and the other is a familiar face that put out a 3-song demo with us. There was gonna be two other bands we've put out previously that I was gonna press records for but Triple-B stole them from us, which is fine considering I'm in those bands. Other than that, I'm always open to checking out something new and potentially releasing it, the future is wide open.
Which IOU release do you think deserves way more attention than it has received so far and why?
It's hard to say. I think every IOU band should be ten time bigger than what they are, especially when I see bands that (I think) suck ass blowing up left and right. I guess if I had to pick one it'd be True Form, not to say that people aren't already checking for them but their potential is endless, I really think their next release is gonna make some waves.
***
Stream all of the IOU Records releases on their Bandcamp page. For physical, head to their online store.
Tagged: be all end all, big mack, field agent, method of doubt, record label profile, result of choice, true form