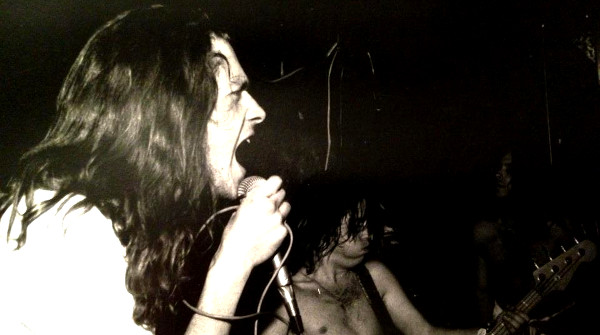 When it came to melodic punk in the early '90s, few bands did it better than Big DRILL Car. Alongside like-minded acts like ALL, Doughboys, and Pegboy, the Southern Californian combo dropped a steady stream of releases that were packed with mega hooks and unforgettable guitar riffs. Big DRILL Car's singing duties were handled by Frank Daly, a songwriter that has a keen sense for melody, always delivering the most glistening of vocal lines.
After the band broke up in the mid-'90s, Daly continued on in All Systems Go!, a group that also included his Big DRILL Car bandmate, guitarist Mark Arnold, and two members from the aforementioned Doughboys.
I have recently been on a Big DRILL Car kick, so I decided to reach out to Daly to see if he would be down to do an interview for the site. In the Q&A below, we talk about Daly's beginnings in the SoCal punk scene of the '80s, his professional music career, and what he's been up to as of late.
Were you born and raised in Orange County?
No, I was actually born in Elizabeth, New Jersey and moved to Costa Mesa, California when I was 12.
I've lived in Southern California for the last decade, but I was curious to get your take on the Orange County of your teen years versus the way it is now.
I can only really speak about Costa Mesa, it's gotten a lot more crowded and a lot more expensive. Costa Mesa used to be like Newport Beach's ugly little sister, but she went and got a lot of plastic surgery and now she thinks she's all that.
SEE ALSO: 2016 interview with Al Quint (Suburban Voice Zine).
What was your gateway into punk rock?
You know, I never really sought out punk rock, punk rock kind of found me. I was more of a Joy Division, The Cure, The Jam, The Pretenders, Devo, and B-52s kind of kid. KROQ was a really good radio station back then.
When did you start playing bass, and what bands did you play in before M.I.A. brought you into the fold?
I started playing bass in high school. I was in a band called X-1 White-Man. We were like Joy Division and The Cure, you know? I quit X-1 and then started playing in a band called Raw Material. Incidentally, when I quit X-1, Bob Thomson started to play bass in the band. Anyway, playing in Raw Material is how I met Mark Arnold. The singer of that band was a guy named Jim Clinton. Jim and Mark had the most insane record collections and that's when my musical tastes really broadened. We were listening to Wire, Television, Magazine, The Residents, Tuxedomoon, and stuff like that. Jim really knew his music and he picked out Radio Tokyo for Raw Material to record an EP. That was 1985.
The only album I've ever heard from M.I.A. was the one you played on, After the Fact. That one was recorded in 1986, also at Radio Tokyo in Venice, California. What do you remember about the sessions? That's a studio name I've seen many times in liner notes.
Yeah, Radio Tokyo was a really cool little studio. Ethan James owned it. It was inside this little bungalow, you would've never known there was a studio inside. It wasn't the kind of place with all the latest and greatest gear. But they had decent board, a 2" tape machine, and a guy named Rich Andrews. He really knew that room and knew how to get good sounds. I remember getting viral meningitis three days before we were supposed to track and having insane headaches.
SEE ALSO: Punk Posers on Parade
How did Big DRILL Car come to be? Also, how did you guys come up with the band name?
M.I.A. got home from the final Descendents tour and Mark and I wrote a few songs and Mike Connelly didn't really like them. He said, "If you want to sing so bad, why don't you start your own band?" So we did that. The name was just a brain fart by a friend of ours named Boris.
The first thing the group released was the Small Block EP in 1988. What was the reaction like from the public? Were you guys playing out a ton at that point?
Mostly we were just playing backyard parties and warehouses and a couple club dates, anyone that would have us. You had to have a label in those days, otherwise all you could do was make cassettes and try to get shows. Our manager, Greg Jacobs, got one of our tapes in the hands of a guy name Kane. Kane offered a press and distribute deal to us, so we started our own label called Variant Records, and that's how it was first released: vinyl 12" only, all the songs were on one side and the other side was blank. Incidentally, Greg Jacobs also passed The Offspring to Kane, and he put out their first record. That's how that whole relationship got started. We put them on a bill with us at the Anti-Club in L.A. That had to be around 1988.
After the EP, you started working with Greg Ginn's Cruz Records, an offshoot of SST. A lot has been said about Ginn over the years, but what was your impression of him back then?
Greg Ginn was a stony guy. We just thought we were all bitchin' because we were hanging out with the guitar player from Black Flag. I don't know, a lot of people bag on the guy, but he gave us a chance and we got paid, so I don't really have anything bad to say about him.
In 1989, Stephen Egerton of ALL/Descendents co-produced Big DRILL Car's first album, Album Type Thing. What were those sessions like? Are you happy with the way everything sounded on that one?
Yeah, I was super stoked. It was Stephen and Rich Andrews who worked on the Raw Material and M.I.A. stuff. We tracked it all at Radio Tokyo; and those guys, with Bill Stevenson, took those tapes to Westbeach Studio in Redondo Beach and mixed it in a day. All in all, I think it's still stands up okay.
Egerton stuck around for the next album, Batch, but you also brought in Bill Stevenson to help oversee the production. That record opens with one of my favorite Big DRILL Car songs, "Take Away."
Yeah, "Take Away," that's a fun song. I still like it, even though I can't sing it anymore, my voice changed finally. That version on Batch is actually the second time we recorded that song. The original is on The Big One compilation that Flipside Records put out [embedded below]. Smooth was our tour manager, Skippy Smooth to be exact. He was part of the Virginia wrecking crew, Bug Phace Gooch, and Skippy. We had an acoustic guitar laying around in the van and Skippy would pick it up and play the opening guitar lick. Really we wrote the song around that.
What kind of touring was the band doing during this era? Were you predominately sharing bills with melodic punk bands, or were you also playing with "alternative rock" type acts?
We were touring a lot. We were opening for ALL and doing some of our own headlining tours. We shared bills with whoever. You know, looking back, we really didn't fit on any bill. Our hair was too long for the punkers, and we played too fast for the hessians.
SEE ALSO: 2015 interview with Jake Kiley (Strung Out).
For Big DRILL Car's third studio album, No Worse for the Wear, the band signed on with Headhunter Records, a label out of San Diego. You also had a new rhythm section in bassist Darrin Norris and drummer Keith Fallis. This was in 1994. At that point, did you feel a renewed sense of energy in the group?
Yeah, we signed with Headhunter. The label was started by that same guy Kane who put out Small Block for us. I don't know if we had a renewed sense of energy, but we just felt like we shouldn't stop making records, we had all those songs, so what the heck.
To my ears, there's material like "Friend of Mine" on No Worse for the Wear that should have done well on college rock and alternative FM radio at that time.
You know, the whole music industry really changed, I mean like shifted on its axis, after Nirvana's Nevermind came out. It's almost like the whole genre of college music changed and everyone started calling it "alternative," and it became heavy rotation on commercial radio. Unless you were on a major label, you weren't going to get played on commercial radio. College radio was pretty much dead by that point, so we just got stuck in between stations as it were.
Did Big DRILL Car get courted by any major labels during that timeframe?
Yeah, we kind of did get looked at a little bit by a few labels, but nothing really ever came of it. A lot of bands, by that time, signed to majors and it killed them. We were of the mindset that we should stick to a smaller label and just go with what we knew.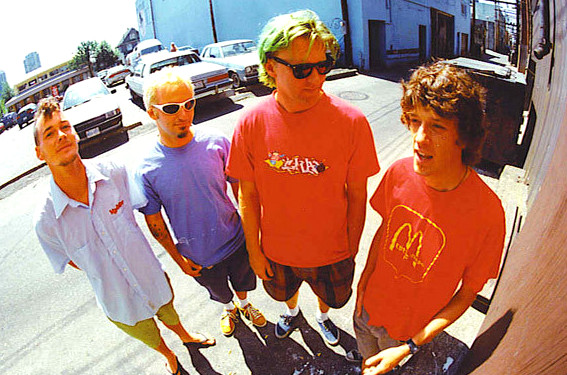 What brought on the band's break-up in 1995?
The band broke up in 1995 basically because Mark and I just didn't want to do it anymore. No Worse for the Wear was the first record we made that didn't sell twice as many records as the one released before it, so we kind of took it as a sign that maybe this whole thing had run its course.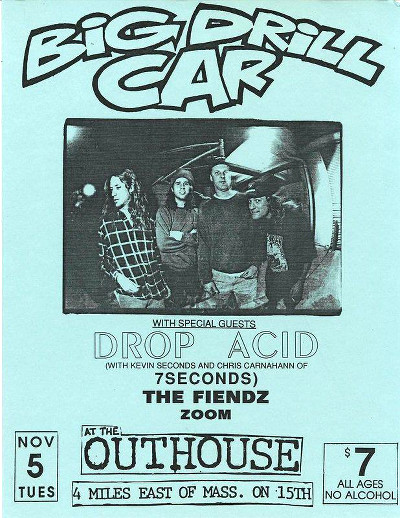 Your next band, All Systems Go!, was interesting since it saw you and Big DRILL Car guitarist Mark Arnold join forces with John Kastner and Peter Arsenault, two former members of Doughboys, a Canadian punk band.
We met John and the Doughboys in 1987 when Mark and I were still in M.I.A. touring with Descendents. Their album Whatever had just come out and they were so good and such great guys. So when Big DRILL Car put out Small Block, Doughboys offered to take us on tour. I'm not exactly sure how Mark and Jon got together, but they had written a bunch of songs and passed the cassette tape on to me and I wrote some basslines and melodies to them, and John invited me up to Toronto to rehearse with the band. I lived up there for three months or so, and we rehearsed and recorded and did it that way.
The only All Systems Go! album you appeared on was the 1999 eponymous album. That was produced by Daniel Rey, a guy who worked extensively with the Ramones.
Yeah, that album was a mixture between Daniel Ray and Andy Baker. I think that was his name. He worked a lot with Ted Niceley when all those Dischord Records bands were coming out and that DC sound was so popular. Anyway, Daniel is a super cool guy with really good intuition, and he helped with some of the arrangements. Andy was a cool bloke, too.
Why did you leave All Systems Go! in 2000?
I don't know, I could say creative differences, I could say I didn't want to be in a band anymore, I could say I was in love and didn't want to be touring anymore, I could say it was the Warped Tour that drove me crazy. You pick.
SEE ALSO: 2014 interview with Jon Bunch (Sense Field, Reason to Believe, Further Seems Forever, War Generation).
Did you try and form any bands after that? Did you keep writing?
I moved to Indiana in 2000 with my girlfriend, who became my wife, and we made a pretty good life for ourselves there in Bloomington. I played bass in a Bloomington band called Throwing Stars. It was a cool little band, female singer, really strong songs. I know they released some stuff, but I don't know if you could find it. I think it might be on Bandcamp or something like that. I did keep writing songs, but not for a band, just more out of amusement.
What inspired the Big DRILL Car reunion shows in 2008? How did it feel to get back in the rehearsal room with the guys?
The reunion show in 2008 happened because Mike Conley, the singer of M.I.A., died and we were going to play a benefit show for his kids. Ultimately, we didn't end up playing that benefit, but we did reunite anyway. It was very special to get back together with the original lineup. We parted ways with Bob and Danny, not on the best terms. The reunion was almost like rewriting the end of the book. Instead of a sour ending, we rewrote it into a happy ending. I really love those guys.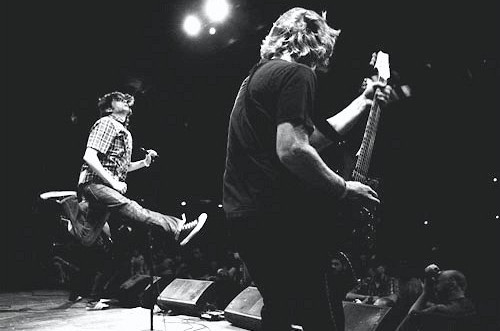 In 2009, the band released a compilation album called A Never Ending Endeavor which featured five new tracks.
Those were some of the songs I had written while living in Bloomington. Some were written specifically for the record. One of the songs was written by a close friend of mine, Clay Petersen. Clay and I are currently in a band together called Noble Fir.
What's the status of Big DRILL Car today? I know you played a show in the beginning of 2016.
The status of Big DRILL Car today is, well, I'll put it like this: the Big DRILL Car has a non-operational registration right now. That's not to say never, but it is to say not today.
What are you up to these days? I know you're a family man.
I'm living back in Southern California again. An unfortunate family situation brings me back here, it's not my preference. I'm a single dad. My kids are 10, 12, and 14, and they keep me pretty darn busy. They are my worldly treasures.
SEE ALSO: 2016 interview with Andy Jackson (Hot Rod Circuit, Sloss Minor, Terrible Things, Death in the Park).
If you had to pick one Big DRILL Car song that best represents the band, what would it be and why?
One Big DRILL Car song, that's a great question. I guess off the top of my head I would have to pick "If it's Poison," from the Batch record. I chose that one because it has all three gears the Big DRILL Car operated in. You've got your fast and heavy down strokes, you've got your half-time stomp, and you've got your hooky chorus. You can call it what you will, the good life, or over the hill.
***
Head to Big DRILL Car's Facebook page to learn more about the band.
Tagged: all systems go, big drill car, interview, punk