Nashville son, Dan Emery, pounds his bass and shreds his vocal chords for his band, Thetan. Proving the bass to be a treacherous lead instrument and not simply a rhythm or time keeper, Thetan is a duo of just drums and bass. Lo-fi power violence is resides at the pith of each short spanned track, if you need to name it. Even the longer songs, with sludgey meandering and plodding timing cap under 90 seconds. Dan answered some quick email questions with depth and sincerity.
The circumstances help explain the curious decision to omit a guitar in Thetan's bastardization of grindcore. When deciding to continue with partner Chad L'Plattenier when their first band crumbled, Emery paints a vital picture. "When we started the band, Chad and I had just recently been playing together in a band called Sanctions, which was a three piece. After the guitarist, Ryan, moved out of state for work, we decided to try and play as a two piece. That was eight years ago. We've had opportunities to add a guitarist, but I feel that we are both comfortable with only having to bounce ideas and schedules between the two of us. We are always into the idea of collaborating with other musicians, but I personally like it more if they play an instrument that's unorthodox for our style. Any rad theremin players out there, get at me."
And the name, Thetan? "The name, Thetan, was actually lifted from Scientology. It's their concept of the soul, or something to that effect. A few years back a friend of mine and I would go to the Celebrity Center here in town every day, and pretend that we were interested in joining. We would give them different fake names every day, and pretty much repeat the routine verbatim. It was like the movie, Groundhog Day. The first couple times we did it, they actually entertained our interest, and sat us down to fill out paperwork. Lots of paperwork. After a few days they stopped being so open to us. They were some very intense people. Ever since then, I've been interested in them."
Thetan's choice of a moniker representing a human soul is distorted through their belligerence and repugnance. The grueling animus captured on tape here is confrontational and malicious. The songs here are brilliant in their brevity. Devastating riffs played with speed on low-tuned bass over spastic drums truly delivers 18 blazing gems in 17 minutes. Abysmal, the band's second proper full-length, was recorded by Eliott Virula at Shed Recordings and mastered by Dan Emery himself at his own Black Matter Mastering. Expanding on their hefty low-frequency sonic assault on the senses, after three killer splits and great records like Laughed at By the Gods (LP, 2014) and Welcome to Whine Country (7", 2014), Abysmal represents an arduous task comprised of the last few years' challenges in the duo's life. Emery was relieved at the actual recording process though which was an exericise in relinquishing some control; this time not doing it all himself and bringing in Virula.
"Recording went really smooth on this record. We definitely move quickly. Especially with the instrumentation. There was a pretty sizable gap in the middle of finishing the vocals, but that is mainly my fault. This was the first record I've done in a long time where I just focused on playing my instrument and doing vocals. Typically, I find myself taking on a lot of the engineering duties, but on this one I intentionally sat back, and didn't get too involved in that. At least for the tracking. Once we got into post production, I turned back into my control freak self. I have come to learn that there is a balance in these processes. At least for me. There is a certain degree of me shutting the fuck up and letting other people steer the ship, and a certain degree of me taking over and doing things my way.
"I think with this one I learned to become obsessive towards the end. Working with Eliott is great. We have done a few projects at his place over the past few years. He gets better with everyone. I think he now has a pretty good understanding of what we are setting out to achieve, and handles everything well when I reach for the steering wheel. Some people aren't able to do that. Some people let their ego get too much traction when the artist tells them that they want to take more control. Recording is 50% technical knowledge of equipment and the science of sound and 50% psychology. If you as an engineer don't know how to manage the head-spaces of the people you are recording, things have a tendency to get messy."
Check out the track "Put Out to Pasture" from Abysmal below:
On the surface, the songs themselves exhibit an abhorrence for weakness with titles like "Pathetic", "Weakling", "Scapegoat," and "Punching Bag". But digging beyond the surface one finds the enmity is a two away street; and one of substantially more substance than an initial evaluation allows. Emery admits, "Actually, the lyrics on this album are a lot more personal than I have ever let them be in the past. Much of the lyrical content of the songs focuses on my teenage years in foster care. There is a bit of self-deprecating defiance to it. It's not necessarily totally self-loathsome, but more of a 'fuck you' to the people who would tell me that I wouldn't amount to shit or that I'd be in prison or dead by 21. At the same time it is also a kind of assessment of where I am in life now in comparison to where other people my age are in life who had a more stable, nurturing environment. It's not all positive. It's mostly awful in context. It's sort of an exorcising of personal demons in a creative, non-self-destructive way. The title for the album was chosen as a single word to sum up how everything in the lyrical aspect of the album makes me feel."
The 17-minute journey through Abysmal is an ominous trek. Pain is palpable in each note and caustic growl. Disgust and vile spite are distilled and projected. But in the barrage is a human curiosity soaked in evaluation. Emery continues, "I did venture out of that box on a few songs though. 'Singularity' is about human's reliance on technology and how we would be completely lost without it. Specifically on quality of life and will to live. If the internet were shut down and eliminated permanently, people would be flinging themselves off fucking bridges by the dozen. It is nuts just how dependent we are on things. 'Null And Void' explores the social aspects of that technological reliance, and how social media is shaping people's personalities. There are a few others on there as well that are a total deviation from the introspective angle that is on many of the songs. I draw influence mainly from things that weigh on my mind.
"Ugly music is a great way to vent. This shit is therapeutic to me. People spend good money to have a psychologist give them permission to scream until they feel better. I get paid tens of dollars to do it."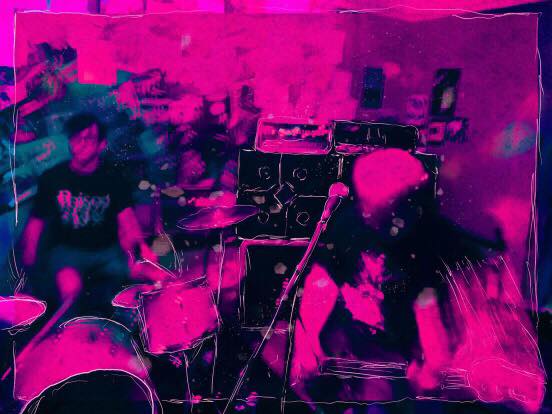 Pondering these aspects of our current society inevitably leads to judgment. One's character is defined by our tendency to condemn those who choose different or more selfish paths. Our news and timelines are consistently filled with the worst of people; often then exacerbated by 'comments' from even worse humans. That can blur the border between our being realistic and being cynical. Emery reacts openly, "I walk a fine line between cynicism and sincerity. It sometimes gets me in trouble. Sometimes, I cross a line or am misread. For the most part I try to maintain being a dickhead with good intentions. It's really easy to let a fucked up sense of humor turn into a way to abuse your friends. I feel that if I can make someone smile, regardless of what outlandish shit I say, then I'm doing alright."
Musically, Thetan exemplify music made truly to vent; selecting moments and emotions rather than conforming to genre defined parameters. They go beyond power violence/grind and indulge in some sludge moments and hardcore moments. Thetan is a pair of malcontents set on making ugly, angry music regardless of a style name dictating the tempo or tone ("Shitdozer" or "Welcome to Your Stupid Life"). Emery indulges on their mindset when they write. "You nailed it. I just like to keep things interesting on my end. Chad also comes with a lot of the ideas musically. We don't really prepare riffs or anything before writing.
"It usually starts with a very loose concept that we try to fine tune. When we recorded our first EP (Welcome to Whine Country), we would show up to practice totally unprepared, and set out to have a new song by the end of the night. We have taken a little more of a nuanced approach on the past few releases, but we still show up pretty much empty brained. We keep recording devices in our practice space. Those are our lifeline. We would probably have six songs otherwise, because I would forget everything by the next morning. See, even we are slaves to technology. Maybe "Singularity" was an introspective song after all.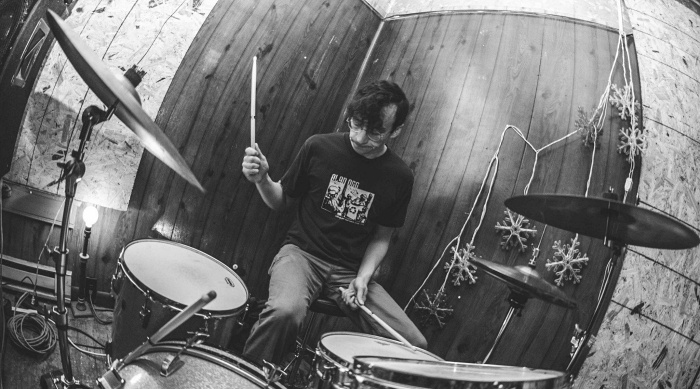 This sentiment is no way a reflection of Emery disregarding bands who fit in a genre easily. Hell, we all love certain bands for doing the same type of album repeatedly. I don't want to pick up a Terror album or a Kill Your Idols record and find they need to express themselves in Pink Floyd type exploration. Emery concurs. "I think that genre limitations work well for some bands, and bucking against them works well for others. I always appreciate when a band can go so far in one direction that they set the bar way out of reach. Imagine if Agathocles had random ska songs. That shit would be weird as hell. So, I think that mindset works for some people."
Although, the benefit is certainly getting fans of the emotional state of the anger and the experience. Anyone from the '90s hardcore scene certainly recalls the jumbled, indiscriminate bills of heavy shows. Mixing local friends that spanned every section of the punk and metal spectrum. Thetan get to live that experience. Especially tucked on the Mason Dixon line where extreme underground music fans must want to experience any mote of aggressive non-mainstream version of music. "We play a bunch of eclectic shows. I think the ones that have surprisingly awesome response are the shows with metal bands. Probably because metal is so hyper-focused on guitarists, that it catches people off guard when they see one that doesn't have a guitarist at all, but still doesn't sound like the weather channel. But for the most part, we see a pretty mixed bag of punks and metal heads at our shows.
"The Nashville scene goes through waves. It seems to be on an upswing right now; which is great. Our friends who run the DIY venue DRKMTTR just got a new location. They are re-opening. That is super awesome. Things are looking positive. The local scene here has pretty much molded my focus from day 1. Back when I first started coming to shows, our two biggest hardcore/metal bands were Asschapel and From Ashes Rise. Getting to see those bands and the power they brought really set me in the direction I am going, musically. I have been chasing their energy ever since. One day I may catch it."
As Abysmal drops, the word needs to be spread. But I imagine the live fury of Thetan needs be seen, heard and felt. Emery speaks on supporting Abysmal. "We are in the process of putting together some sporadic dates. Between me running a business and having a small child and Chad's career, we don't really try to do any long strenuous runs. We'd rather spread things out, and still have home lives to come back to. But we will definitely be doing a bunch of short runs throughout 2019."
Aside from all of this, Emery is a recording engineer and runs his own mastering company, Black Matter Mastering. Certainly draining his energy but somehow he finds time for it all. And does each aspect of his life well. As emery operates Black Matter Mastering, he also does a lot of stuff with etched vinyl, parallel grooves, odd vinyl and mastering detailing. "I started Black Matter in 2012, when my wife was pregnant. I had been a recording engineer since 2000, and was also doing live production. My schedule was stupid. So, I decided to switch focus to something that was still in my career path, but let me be more independent with my schedule. The business running side was the hardest part for me.
"When I started recording, it was just for fun. I'd have a session every couple weeks or so. Now I have projects every day. So, it took some self-discipline to get me in order, but I love what I do. So, I have zero complaints. I now get paid to do something that 18 years ago, I would have paid someone to let me do. Plus the vinyl etching side of BMM has taken off pretty well. It is very much full time. Between that, running the Anti-Corp label and the other stuff I do, I work a lot. A LOOOOOT."
***
Abysmal will see release on digital and animated-etched LP on Feb. 1 via Anti-Corporate Music and can be pre-ordered at Bandcamp and the label webshop.
Tagged: thetan