After taking aim at cop culture with their debut release, the 4-track Service Weapon EP, Bay Area bruisers SPY are back on the scene and ready to bust heads once more.
To Live a Lie Records are set to release the group's follow-up EP, Habitual Offender, on October 1st. The new 6-track collection showcases what SPY do best: hyper-aggressive, explicitly political, visceral hardcore punk overflowing with white-knuckle riffs and passionate, enraged lyricism.
Watch the video for the EP's first single, "Exceptional American," below:
Listening to Habitual Offender, it's easy to see why the hype surrounding SPY is already so fervent at this early stage. Even with only one EP, a few shows under their collective belts, and less than two years of experience together, the group's commitment to their craft is undeniable, practically bleeding sincerity with every caustic instrumental tumult and barbed lyric.
"When I started listening to punk, I always gravitated toward the stuff that was very political or intentional in some way," says vocalist, songwriter and band brainchild Peter Pawlak. "In my mind, the genre is inherently political—it makes sense to me that if you're making angry music then you're gonna be yelling about something you have genuine rage about."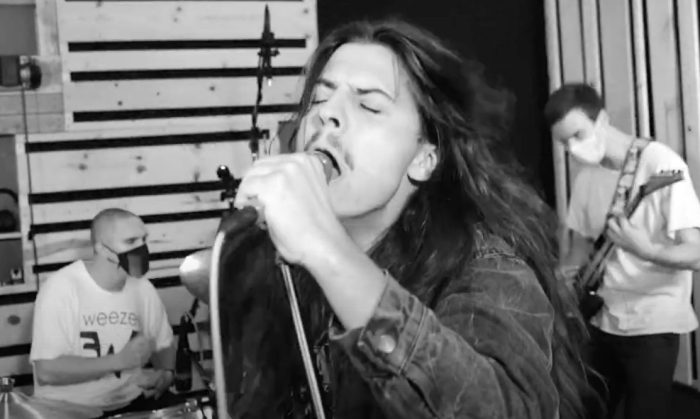 On "Exceptional American," SPY—rounded out by guitarists Drew Satterlund and Cody Kryst, and drummer Cole Gilbert—direct their rage at the media machine and propaganda-inflicted mentality of American Empire before letting it rip for 2 blistering minutes.
"There are so many issues and things that could be better in America, whether it's people's personal existences or financial situations or wider social issues like policing—and it's all connected," Pawlak explains.
"It's okay to be critical of the place you live in. People just don't want to admit that things are wrong in America, they're afraid to talk about it because it's seen as anti-American and it's super frustrating. There's so much polarity and oversimplification going on—in reality, every little thing is so deeply contextual and there are so many layers to unravel. But being convinced of these really straightforward opinions with no room for acknowledgement that anything could be improved is just so unhelpful."
Recorded, mixed, and mastered by engineer Charles Toshio (Sunami, Gulch, World Peace) at Panda Studios, Habitual Offender is 10 minutes of righteous, full-throated fury, destined to leave its mark on hardcore fans and cement SPY as a force unto themselves in the years to come.
Habitual Offender is out October 1st and you can pre-order it on vinyl via To Live a Lie Records.
***
Help Support What No Echo Does via Patreon:
***
Tagged: spy