Safe is a German hardcore band that inititally started as a studio project of Dharmavit Das, a native of Italy and Krishna devotee. The group recently released a 3-song EP called Stay Strong that has raised their profile throughout the hardcore scene. I recently chatted with Dharmavit about all-things Safe and the first thing I wanted to know was how tough it was to find the musicians to fill out the lineup once he decided he wanted to pursue it as proper band. "Well, like you say, in the beginning Safe was only a little side project of mine," the singer told me. "I asked my friend Marco if he wanted to be part of Safe because he is really a great musician. We changed frequently changed drummers for the first releases (Make a Move EP, plus the Not Alone and Ride a New Season records). When Ride a New Season was out, we decided to fix the lineup.
"We played several shows until we recorded the Stay Strong EP with Matteo on drums and Chris on guitar in November 2017. But this solid lineup had logistic problems because I live in Germany now and the rest of the band was in Italy. After some time of reflection, we thought it was better to separate our collaboration. Nevertheless, only Matteo wanted to stay. I asked two friends of mine here in Germany to join Safe and it was done! Sebastian is the new bass player and Joffrey the guitar player. To be honest, I couldn't ask for anything better to happen. These guys are great! We do all appreciate Matteos' dedication because he has to travel a lot to Germany for practices and gigs.
"I know that the band is known to be a Krishna-core band, even if I prefer to call Safe a "PMA hardcore band."
Speaking of Germany, I asked Dharmavit why he decided to move there, whether it was a work-related situation or if he was seeking out something else. "The only reason I moved to Germany is that my sweet half-heart, Ellen lives here. After one year of back and forth between Italy and Germany, we thought it was time to decide where we want to live together. So, I moved to Germany two years ago. I really love this area of Southern Germany where we live. It's on the edges of the Black Forrest and since we love to be in nature, it's perfect for walks, hikes, and meditation."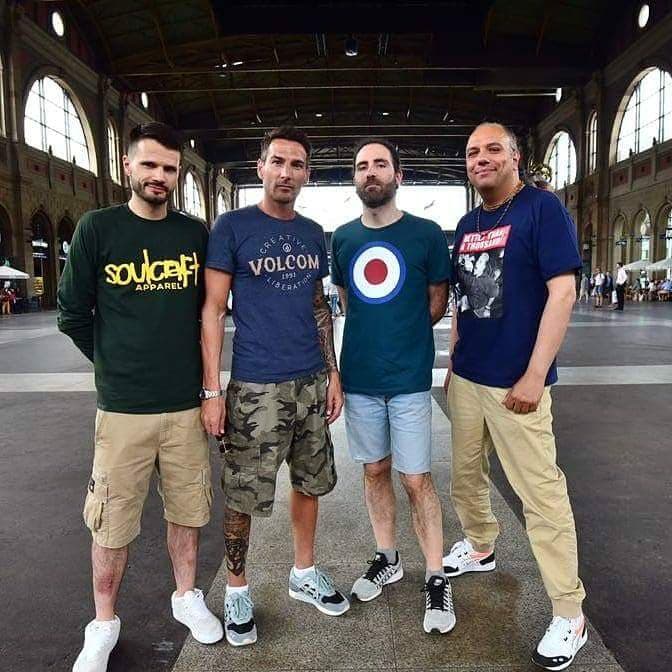 Dharmavit and Ellen are the co-owners of House of Devarishi, the umbrella for which a clothing line, record label (Youth Crew Records), and online store featuring books, zines, and other items connected to the couple's devotion to Krishna conciousness. I was curious to find out when he first became aware of Krishna. "I started actively with Krishna consciousness in 1992. But I was introduced way earlier by my aunt who became a devotee in the '70s. Before '92, I really wasn't interested and attracted to this form of spirituality. Maybe I was too young in the late '80s to understand most of the essential things about Bhakti-Yoga. My friend Sergio took me to a Iskcon Temple in Milan sometime in 1991. I started reading the books of AC Bhaktivedanta Swami Prabhupada and many things were more clear and logical to me. I understood step by step that all my questions were answered. In 1998 I met my Diksha Guru HG Shriman Matsyavatara Prabhu and I received the first initiation in 2005.
"The Hare Krishna Maha-Mantra accompanies my life since twenty six years now."
Shifting back to Safe, I asked Dharmavit about the band's live performances and what the crowd reaction was like to their music. "Since 2015 we've played shows in Germany and Italy. I remember in particular two great Italian shows with Set Me Free and Maze. They were a lot of fun and many kids came out those shows! We've recently played with some good German bands like Tides Denied, Giver, Exposure, and we just played in Zürich, Switzerland with Break Away of React! Records. The response at all the shows has been really great and full of positive vibes."
Lastly, I asked the vocalist about some of Safe's musical inspirations. "I think I can speak for all the guys in Safe in saying that we all grew up on hardcore of the late '80s, especially the Youth Crew wave. Youth of Today and Up Front have a special place in our hearts. Other bands we really dig are Dag Nasty and Verbal Assault. The groups that inspired me to form Safe were the ones with a spiritual message like Shelter, 108, Refuse to Fall, and Prema. The sound of Safe is more hardcore now, which is way straighter than it was in the past where every song was about the melodies."
Stay Strong EP is available now from House of Devarishi on vinyl, and you can also download it via Bandcamp. Safe will be performing with Shelter in Berline on Aug 9 and tickets can be purchased here.
Tagged: safe