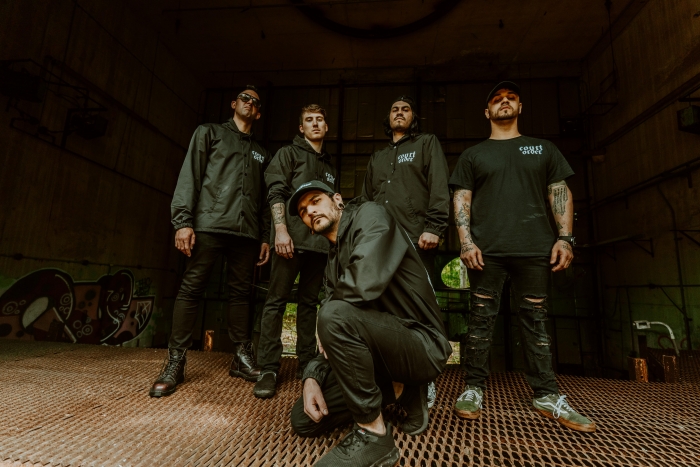 Hardcore and metal music had a hell of a year, that is until the 2020 COVID-19 Pandemic sweapt the nation and cancelled countless shows across the world leaving us at a standstill. Well known bands and local bands, for the first time were forced to find other resources and ways to make money while also providing new material and a new way to experience their performances.
The local unsigned hardcore/metalcore band, Court Order from Brooklyn, New York (and New Jersey) weren't going to allow a pandemic to stop them. Back in March, they got together to record and release a live performance to share with their fans due to the uncertainty of when shows would become a part of our lives again.
Since that time, they have worked harder than ever to sell merch, roll out new singles, releasing their very first music video, and prep for the release of their self-titled EP due out next month. I decided to take this time to catch up with the guys since we had last seen each other just before the pandemic struck.
Can you guys introduce yourselves to the readers of No Echo?
We are Court Order, a metal band based out of Brooklyn, NY that consists of JJ on lead Vocals, Zay and JD on Guitars, Ace on drums, and Oscar on bass.
How did you guys meet and get started on your music journey? Tell us how Court Order came into existence.
Zay: Hello readers of No Echo! My name is Zay and I write music in Court Order. Ace and I knew each other from mutual friends, We both had a lot of material so when we got together to jam we just naturally hit it off. The first song we wrote was "Hit Harder." Down the line, through more mutual connections and shows, we met Oscar (our bass) Jd (our guitarist) and JJ (vocals).
Ace: I think I responded to an anonymous "drummer wanted" Craigslist ad Zay posted. A classic story. Then realized I actually knew Zay from another band. Friends and family helped fill in assorted roles through mutual acquaintances until first Oscar, then JJ, and then finally JD rounded out the lineup. There was a whole movement around us becoming a band, and the support was consistent to keep things going until our roster finally settled, which took almost two years.
As the shows started racking up I realized I was working with a super group of hard working musicians who were committed to making it happen. We hammered out songs that we worked on for two years and they were all finally captured on our new record.
JJ: Before I joined Court Order, the vocalist before me that did "Hit Harder," mentioned me to the guys and the rest was history.
Oscar: I came to Court Order when it was just Ace , Zay and Joe (former singer) in January 2019 We played a couple of shows in April and March and then JD came in and the last one to join was JJ..
JD: When I joined the band it was only Zay, Oscar, Ace, and their original vocalist. This lineup only consisted of 2 guitarists and no bass player. My old band had opened up for them once. After my band disbanded, seeing the shows Court Order was playing and their hustle I asked to join as a bass player.
Based on your sound, do you guys consider yourselves a hardcore band or more of a hardcore/metalcore hybrid? (If you do consider yourselves hardcore, would it be classified as New York hardcore or New Jersey hardcore?)
JJ: The word hardcore is different for every person. But for me it's that weird realm of hardcore/metalcore.
JD: I would consider us metalcore/hardcore influence. As a band I believe our influences would be The Acacia Strain, Hatebreed, and Poison the Well. My personal influences are a difficult one so I just go back to the bands that first made me want to pick up a guitar. I grew up listening to a lot of the '90s and early '00s nu-metal. Deftones, Korn, Coal Chamber, Kittie, Static-X, and Slipknot are my biggest ones. Each of us all listen to different styles of metal, which I believe you can hear in the new record.
Ace: It's tough because how you categorize the band has such an impact on what shows promoters will book for you, and sometimes they will not even listen to you and go based on that alone, which could easily make or break opportunities. I grew up listening to Converge and Poison the Well and going to metalcore, metal and hardcore shows and always wanting to be a part of that community and be more than a spectator in a scene that was so robust in art and passion.
As Court Order continued writing and playing more shows, we realized we couldn't be lumped in with traditional NYHC like Agnostic Front or Biohazard, and we're also doing something a little different than the modern metallic hardcore revival. To say we're a metalcore or a traditional hardcore band would be tough for us. Metal is a super broad term, and it draws an incredible community and gives the flexibility to deliver whatever songs we want and play on a wider range of shows to support us. We figure that's the best way to classify the band.
Zay: I don't like putting labels on artists. I won't be that douchebag correcting someone telling them how it's deathcore and not metal, etc. Creating music as a group has given me a lot of insight into how bands work. Personally, I play what I like to hear. I love breakdowns I like when music makes you move and the enjoyment you get from hearing it. Whether its labeled hardcore or New Jersey hardcore or whatever, I just like making music that I want to hear.
Oscar: I feel like we started as a metalcore band but we've been evolving as a band and also as individuals. I'd consider us now as hardcore with work some '90s metal influences. We're definitely part of both scenes, New York and New Jersey. My influences are definitely more hardcore punk like H2O, Suicidal Tendencies, and Sick of It All.
Although the COVID-19 pandemic has put a damper on touring and playing shows, you guys have remained vigilant and on top of your game. How has the quarantine been treating you all? Have you been working on anything in particular that you would like to share?
Zay: First off thanks for that compliment, it's really nice to hear things like that. Quarantine has been interesting, A lot of time to think. The band is currently working on a new track that I'm very excited about.
JJ: It's treated me ok, just focusing on myself and the band. We've been thinking of new and different ways to promote our new releases. We're writing songs, and the grind doesn't stop.
JD: As a band we're always working on something when we get together, so yes there is always something on the back burner. We like to look at the bright side of things and COVID-19 has been a great way to sit down and write and get better at what we do.
Ace: We recorded Court Order in early February before things turned and were fortunate to have finished it. With every aspect of our world slowing down, getting simple things done, and even getting together became so difficult. We released Court Order Live in late March and the whole thing felt rushed, but looking back at that set in that room, I feel like it really captured the chaos of early March. When we didn't know if we'd be working together for the foreseeable future.
The video for "Poor Excuse" was dope and got us back to working together after months apart, and now we're focusing on the release of the new record, but also writing and planning to record the next single. The band has helped me stay focused on things I can control, while also being distracted creatively and distant from the daily stream of misguided information shared publicly on a daily basis.
Oscar: I feel quarantine hit us really hard because we had so many plans for this summer, but the good thing about Court Order is that we never stop working. JD has been writing riffs, Ace is working non stop on our image and we're always talking about the next thing we want to do. Our EP is coming out August 7 and we just released our first real music video and we have been working on new material.
"Poor Excuse" is the second single you released from the forthcoming EP. Can you give us a little background on the video, song itself, and what it means for you?
JD: The video was shot at, I believe, an abandoned water mill in Rockaway, New Jersey. The shooting of this video was really fun to make but took a lot of hard work. We had to throw heavy guitar and drum equipment over a 7-8 ft. tall fence to get inside but not only doing that we had to walk at least a mile with all the equipment to get to the film location and take multiple trips back to grab the rest of the equipment. I think as far as the video and song is that we'll do whatever it takes to succeed in what we want to do in a world that wants to bring us down.
Ace: I'd never worked harder in all my life. We brought our entire backline, miles into the woods and played the song for ten hours until we got the shots right. It's true what they say "love what you do and you'll never work a day in your life." You couldn't have paid me to work that hard for anything or anyone else but this band. The lyrics are my favorite on the entire record and are classic uplifting hardcore, like the kind that can be found on early Hatebreed albums.
JJ: To me, it's like I'm yelling at myself in the mirror. We all have things that we aren't proud of and I just want that as a message coming from me. But for the style of the video as in the area it was shot at, it felt like an empty mind with that one instance that you can't stop thinking about until you're finally able to release it.
Zay: It was an amazing video and a really fun experience to make. We couldn't thank everyone enough who helped us on that day! We have some of the greatest friends. I'm very excited to have this song in our catalogue, and also want to thank Kurt and Eduardo for their guidance with the music video. They took it to another level with the finished version.
Oscar: "Poor Excuse" is one of the best tracks of the EP, in my opinion. The good thing about Court Order is that we write new material really easily. I think that's part of the chemistry that we have. We always get together for practice and ideas start coming out and we start putting everything together. That's how most of our music comes to life.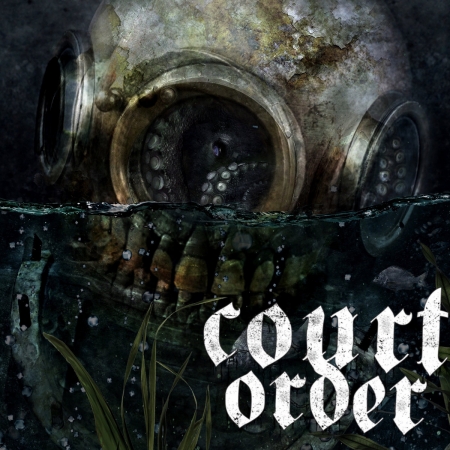 Tell us about the writing process of your latest EP, what were some of the challenges you faced and what ultimately helped you guys to see your vision?
JD: Writing the EP was an overall great experience. What really helped shape our sound was being locked in a room most days for 10 hours indulging into our most creative side of writing. The hard part about it was after a long day in the studio, we would go back to the hotel room and continue to write and shape up our songs at midnight to go back in at 8-9am ready to go. It was very exhausting but the best feeling after creating some of the best work we will have out to date.
Ace: Zay and I had been working on a few of the songs since we first started working together. It was nice to finally see them come to life in their true form. We tracked it in three days, drums on Friday night in a few hours, guitars throughout Saturday, and JJ did the entire vocal performance in one session on Sunday. I'd have to say it was a huge breakthrough for me, working with the guys over the course of a long weekend.
We also tried new vocals performances that I took extreme leaps on. The confidence and the trust the band had to go there together were really rewarding and made me feel proud to be working with this group who took risks in the studio to achieve a common goal and carry the band to new terrain.
Zay: When we wrote the EP we took the traditional route. We all had material and songs we've been working on. We booked a studio for 3 days and literally from morning to night we would just track and track. Go back to the hotel and practice some instrumentals, go back the next day, and get it down. It was a very intense but joyful experience that I'm glad I got to share. We're an extremely fortunate group. We all communicate openly and have no egos. Everyone in the band is down to earth and respectful. I couldn't ask for a better team.
Oscar: Our writing process is super easy. For the new EP we had some ideas and some songs almost ready but they decided to isolate for a whole weekend to put it together. We stayed up late the first night to finish some riffs in the hotel room. The next day we started early and we finished almost everything by the third day, where it was all vocals.
Since you guys are still new on the scene as a band, you have grown tremendously over the last year and a half. Do you think with this new EP that you guys have found your sound or do you think you will keep experimenting to produce material that'll surprise your fans?
Ace: After recording Court Order I expect that we'll continue to challenge ourselves to elevate our sound and our songwriting and continue to take things to the next level. I never expected to sing on the album, and I've got three tracks with vocals on them. We've learned a lot about each other and what our strengths are in the studio and we plan on nurturing that as we progress. We've also shed vulnerability and are more comfortable sharing ideas that may have previously been out of the question. But we'll definitely always be a heavy band, there is no doubt about that.
Zay: Personally, I love exploring new artists and seeing what people come up with creatively. I want to explore as much as I can with Court Order. More strings, more effects, etc. It's a never-ending experience. I don't personally think the band has found a "sound" yet (hell, I don't think I even found a guitar tone I'm completely satisfied with). Every time we get comfortable one of us brings in a new riff or a new idea, We entertain it and it ends up becoming part of who the band is. The new EP will be miles apart from our first release, Infinite Decay.
JD: As musicians we always try to improve ourselves from what we did last. So experimenting with something different and trying new things is always a part of our writing process. Even this EP will be night and day compared to the earlier material.
Oscar: I feel we found a base sound, something we feel comfortable with but we're always trying to find new things to surprise our fans.
Speaking of, how has this last year been for you guys getting out there and what has it taught each of you?
JJ: At every show we have played, I always saw one thing in common, love for the scene and community. The last show we did in Philly before this pandemic happened, there were people that said "we only came for you." I'm still shocked at how much we made an impact on those people when they heard our music.
Ace: It's true, it's really surprising once you start getting out there and realizing that your music is actually having an impact on others. It's absolutely mind blowing. But also, know that no one will do the work for you. Print your own merch. Book your own shows. Hustle your band and be your own promoter and get your friends and family on board, then watch mountains move.
We do whatever it takes to get to the finish line, even if that means dragging each other's dead weight as we go along. We are in it together and we are a unit and there is nothing we cannot do when we come together to represent Court Order.
Zay: It has taught me to always think first about how my decisions affect the people around me. You build connections with a lot of people including your bandmates (hopefully). I love the fact that I am able to go to different venues and meet different people and just bond with them through our music. That's an experience that money can't buy. Touring? Pack light, Don't spend your money on stupid shit, have an emergency fund.
JD: Starting out in a new band is always rough. Getting the right shows, knowing the right people, and knowing how to manage the band in business sides of things come with experience and trial and error. We are still learning. We are very fortunate and excited to see so much positive feedback this past year and a half and look forward to seeing what happens the rest of 2020.
Oscar: Last year was great for Court Order. We played roughly 30 shows and we had some great shows for early 2020 before everything got cancelled. I learned that if you work really hard as we do you can achieve everything to want to. If you keep close to your roots you will find the taught way.
You guys have played a bunch of shows since last year so I'm certain you guys have some stories to tell. Do you have any that you want to share?
Oscar: The funniest story and also the most annoying for me was playing the Slaughter to Prevail show in Reading. We got there a bit late due to bad weather and the promoter was giving us a hard time. The thing is we played first and it was a great performance. But the second band was the worst. It was a Slipknot/Limp Bizkit cover band and they were not even playing, it was all backing tracks. At the end we were just thankful for the opportunity to open for Slaughter, but it was definitely tough to swallow.
Ace: I left work at noon on a Thursday and took a cab to then rent an SUV in Laguardia for $250 to carpool the band and our entire backline through New Jersey to Reading, PA to get to that Slaughter gig to be back at work in Midtown Manhattan again the next morning at 8am. That's the "luxury" of being a Brooklyn-based band. We take cabs to rentals to trains to subways through bridges and tunnels to move our shit along.
It was a long and almost impossible day and I didn't get back to my apartment until four in the morning after dropping off the car and unloading the equipment back in storage. For a working class band like us we have to take the opportunities that we get in our region and maximize them even if that means sandwiching them in between our daily lives and sneaking around real life schedules. They don't call it hardcore because it's easy.
JD: There have been many funny moments that have happened on the road. We were playing a festival in Long Island with some or our friends and during their set I ended up moshing into JJ pretty hard into an inconveniently placed pole in the middle of the floor and actually hit his leg real bad and ended messing up my elbow during the process. We were both really bloody. I had to walk him backstage to see if everything was alright. It was funny because it drew so much attention and we got crazy looks as if we were fighting. Now we have a rule that we can't mosh hard before our set.
Zay: This is literally a question I dreamed of answering since I was young and knew I wanted to do music, One time we played Long Island's Revolution venue and 2 songs into our set I threw my back out. Of course, I finished the set (duh) after the set the boys helped me bring the gear to a cab (from long island to jersey mind you, you know Lyft had a field day with my Credit card. That's where the emergency funds come into play) I take this 2.5-hour drive back home literally laying down in pain the entire trip (yes there was traffic, Yes I was miserable).
The driver was the real hero. He was a metalhead who migrated from Haiti. We talked about music and played songs for each other the entire ride back, he even helped my wife carry the amp head and my guitar. John if you ever read this you're the absolute best and I hope you and your family are doing well buddy, we still have to go catch a show together!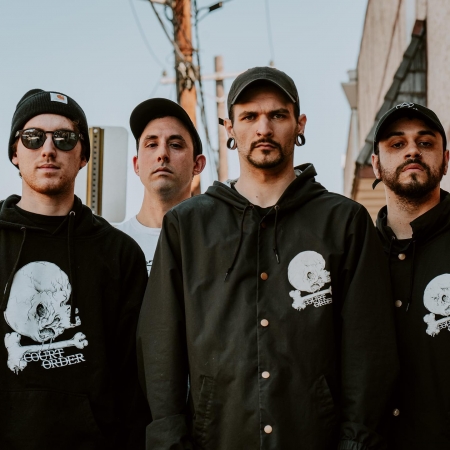 I have to ask, out of the EP as whole, which song do you each individually enjoy most of all and why?
JD: They were all really fun to make but the one that will always stick to me is "resurfaced". When we were at the studio I didn't even want to record it. I hated it so much. But during our long days recording we revised it to the point where it's now my favorite song on the EP. It's just something so different compared to our discography we have now.
Ace: "Night Trash" is my first time on vocals. Big deal for me. I'd been trying to sort that melodic part out since we wrote the song two years ago and it finally came together in the studio.
JJ: "Given Enough" which is the first song to set the mood. It's just so in your face and makes you want even more. The second being "Resurfaced." It's so different from anything we released and quite melodic. I'm really into melodic music.
Zay: For me personally it's "Night Trash." I essentially wrote that song structure before I even met Ace, what the guys did with the song, and Jerry with the mixing. Man, it's an entirely new song and It's a reminder that there's always room to improve.
Oscar: I really love the whole EP but if I have to pick one song I will say "Given Enough." I love the main riff because it was just an intro we used to play in the early Court Order shows and it made it on the album as its own track.
What are your plans for a follow up? Any ideas you want to tease the readers with? In passing I vaguely remember JJ mentioning he had some ideas.
Ace: We already have a new single in the mix, and scheduled studio time. We're hoping we can continue to deliver strong with a quality catalog as things progress, but we also don't want to flood our fans. I'd rather us have fewer quality songs, then just a bunch of half hearted ideas we didn't fully realize.
JJ: I want to do like little giveaways over the course of the year to give back to the people, our listeners, and our followers.
Zay: The same as always, man...Just keep charging head-on. We're a working-class band, Everything we've done up to this point is all because of ourselves. We met some really amazing people who share our vision and brand. We snowballed hard up until the pandemic and that traction hasn't gone anywhere as you can tell from the ep and the music video. I'm just as excited as everyone else to get out there and start playing again.
Oscar: We have so many new ideas for new materias, including music, videos, merch, etc . We're always thinking what is the next thing for Court Order so keep us on your radar because you're going to keep hearing from us.
JD: Yes, we're always working on something new so there is already new material on the back burner we can't wait to share.
Do you guys have any advice to any musician who wants to start making music or start a band? Something you wish someone had told you?
Zay: Starting out in a band?
1. Leave your ego at the door when you come into the practice session, be humble, and go in with the thought process that these people may well become a big part of your life.
2. You have a huge responsibility. I don't care if people don't agree with me on this one but being in a band is a career. Be sharp, make people feel welcomed when they greet you at shows (or anywhere) Inventory, planning for out of state shows, Gear maintenance that's just the tip of the iceberg.
3. You need to be patient and you need to genuinely want to understand people. Remember 5+ people in a car or van with full gear and a 7-hour drive sounds easy peasy. Keyword being "sounds".
4. Just do it! "Hit Harder" "Night Trash" and essentially most of the tracks on infinite decay were either songs or riffs I had stored away. Don't worry about what people will think. you don't need much to get started. I started playing with a fender squire starter pack to youtube backing tracks. Be easy on yourself you will not get this immediately. The most important lesson though?? USE...A...METRONOME & RECORD EVERYTHING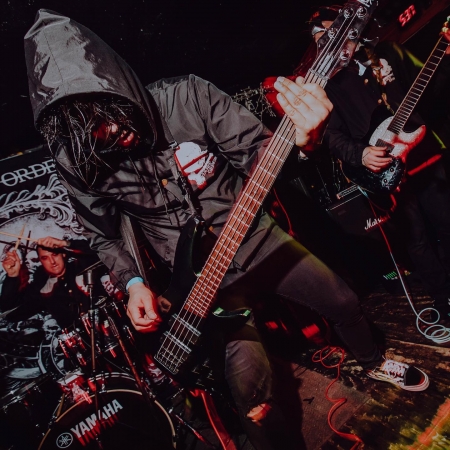 JJ: Start with a sound that you'd like to work towards. Find committed people that are into that sound. Friends, family or even someone that responded to an ad you put up somewhere. Follow your heart and mind. Stay on track. And most of all, have fun with it.
Oscar: I will say don't ever stop doing stuff and something we always about that Ace mentions, is don't expect that everyone is going to agree on everything. Bring stuff to the table and if you think it will benefit the band just make it happen. Whatever it takes.
JD: Just go out there and do it, learn from what your favorite bands are doing. Meet as many people as possible. We are still learning and still trying to improve. It's just like anything, you have to put 100% commitment into it to see the results.
Ace: No one will do the work for you. As long as you follow your heart, have a vision and work to improve, anything is possible. Hard work over time has to pay off. It just has to.
***
Court Order on social media: Facebook | Twitter | Instagram
***
Donate a few bucks to help with No Echo's operating costs:
***
Tagged: court order