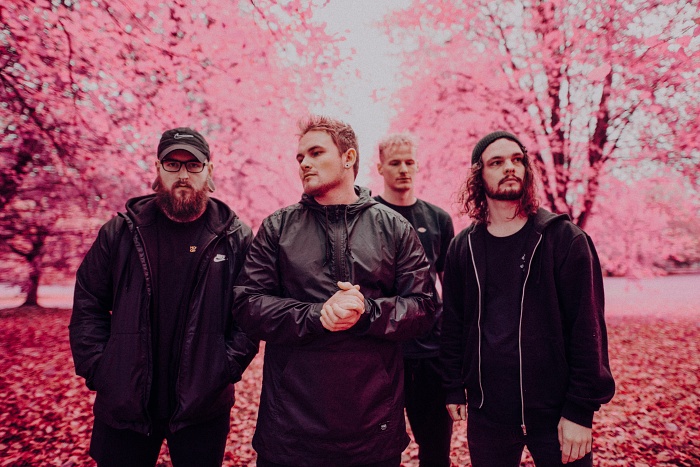 Though they specialize in a style that sits comfortably in the metalcore lane, Immerse guitarist Tim Brown's earliest influences were rooted in a much different base. "Pop punk was the first genre I fell in love with," the UK-based musician tells No Echo. "Listening to bands like Good Charlotte and blink-182 from an early age has really effected the way I write music.
"My main focus is melody when I write songs. Guitar layers playing off one another is the foundation of our sound. As I got older, bands like Slipknot and Parkway Drive inspired me to write heavier riffs and pay more attention to making an epic live show. The combination of these two things has helped me create our own spin on my favorite musical elements."
Listeners will get a new chance to hear Tim and Immerse's progression through The Weight That Holds Me Here, the British outfit's forthcoming sophomore album. Check out the Shaun Hodson-directed music video for the track "23/19" below:
The album follows Immerse's previous outing, 2018's Suffer. "The Weight That Holds Me Here is a darker album than our previous release," says Tim. "It was written at a time where each of us were going through difficult situations in our lives.
"Themes of loss, depression and anger fuel the record. There are a few tracks full of positivity and optimism for the future — so its not all doom and gloom!"
No Echo asks Tim about Immerse and how he thinks they fit into their local music scene. "We love playing shows in our home city of Bristol. The venues are world class and it's great to get our local friends along to see us. The crowd participation is always amazing!
"There seems to be a lot less metal bands than there used to be in Bristol, unfortunately. Everyone knows each other in the local scene though and it is a great vibe. Some mates of ours that you should check out are On Hollow Ground, RXPTRS, and Phoxjaw."
The Weight That Holds Me Here will be released on March 26th. Hit the pre-order link to support.
Immerse on social media: Facebook |Instagram
***
No Echo has launched a Patreon with 3 tiers offering all kinds of hardcore-related goodies to help support the site:
***
Tagged: immerse