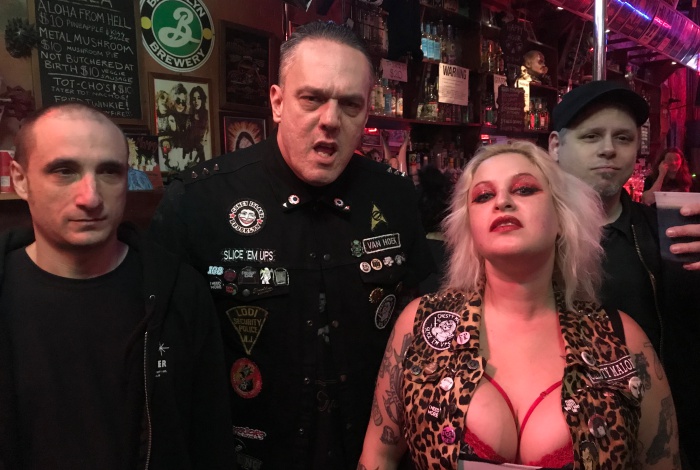 Formed in 2006 in my beloved hometown of Queens, NYC, Chesty Malone and the Slice 'em Ups is a band that mines from the bowels of everything from '80s punk and metal, trashy horror flicks, and rockabilly. With three LPs under their collective belt—Now We're Gonna See What Disaster Really Means (2008), Torture Rock (2011), and We're Still Dead (2017)—the quartet have kept busy playing every club, dive bar, alleyway that will let them plug in and rip shit up.
The group will be releasing a 3-song 7" next month and wanted to share its title track with the No Echo faithful, so ladies and gents, check out the appropiately titled "Satanic Brooklyn Scum" below to hear what these heathens are all about:
"It's hard to say where the inspiration for 'Satanic Brooklyn Scum' came from," Chesty Malone vocalist Jaqueline Blownaparte says. "It could be the rats and filth encountered on the streets daily or maybe the bums and filthy, poor excuses for humanity who spill out of all the bars and subways constantly. And the fear religion has placed on whores and housewives. Satanic Brooklyn Scum is written about the horror of Brooklyn's underbelly and the Satanic scum whom inhabit it. We mean us!"
The Satanic Brooklyn Scum 7" will be out in early April via 1332 Records and can be pre-ordered here. Give Chesty Malone and the Slice 'em Ups a follow on Facebook and their official site is also a great place to dig into.
***
If you're shopping for vinyl, CD, and cassette hardcore titles, head to No Echo's partner store, Reverb LP, to see what they have available. Every purchase you make helps No Echo with site costs.