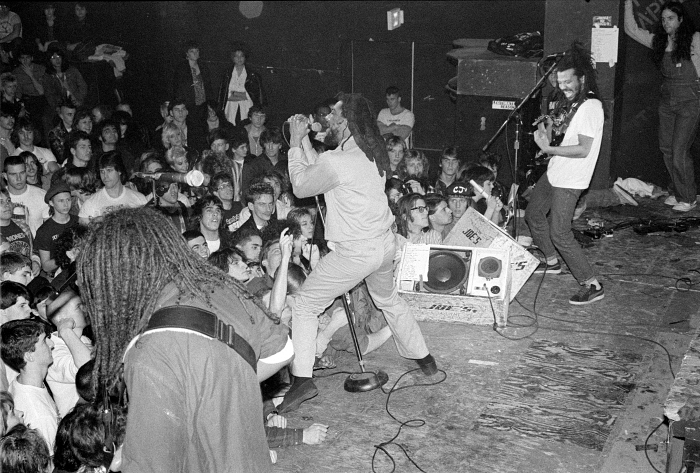 Darryl Jenifer has recorded and created music with everyone from Ric Ocasek (The Cars) to ILL BILL. The Washington, DC native is an esteemed musician, bassist, producer, and television personality known for appearances on TV's Illest Minority Moments Presented by Ego Trip and Ego Trip's Race-O-Rama.
Best known as longtime bassist and founding member of Bad Brains, the influential band has also played under the names Mind Power and Soul Brains at various points throughout their 47-year career. Bad Brains have unleashed nine studio albums spanning everything from hardcore punk to jazz fusion, as well as reggae, funk, heavy metal, soul, and hip-hop.
Though they've endured numerous breakups and lineup changes through the decades, Jenifer is joined in Bad Brains by vocalist Paul D. Hudson (H.R.), guitarist Gary Miller (Dr. Know), and drummer Earl "The Pearl" Hudson.
Since 2021, Bad Brains has joined forces with ORG Music to officially re-launch their long-defunct label imprint, Bad Brains Records. So far, Bad Brains Records/ORG Music have shared fine-tuned, carefully-orchestrated vinyl and CD reissues of the Pay to Cum 7-inch, Bad Brains, I & I Survive, Rock For Light, and Quickness; select reissued titles are additionally part of the Punk Note Series orchestrated by John Yates (Stealworks) and boasting exclusive re-imagined artwork inspired by iconic Blue Note Records releases.
For the sixth release in this "re-everything" campaign and first of 2023, Bad Brains Records and ORG Music are preparing a proper re-release for 1990's The Youth Are Getting Restless (Live at The Paradiso, Amsterdam, 1987).
The reissue was carefully re-mastered by Dave Gardner (7 Seconds, Dillinger Four) at Infrasonic Mastering and pressed onto vinyl at Furnace Record Pressing. It's now available on CD and a multitude of vibrantly-colored limited edition vinyl record variant options.
Ahead of its January 20th release, I got the unique opportunity to speak with Darryl Jenifer himself about the making of The Youth Are Getting Restless. We also spoke about the other forthcoming Bad Brains Records reissues and what's planned next for the iconic band.
What initially inspired you guys to re-master, re-package, and properly re-release Bad Brains' nine studio albums and more on Bad Brains Records in conjunction with ORG Music?

All of the questions you asked above about the [re-etc.] of Bad Brains' albums seemed to us/me to be the logical thing to do for our fans and supporters. I was introduced to ORG Music by a mutual friend.

What can you tell us about the time around the recording of the The Youth Are Getting Restless?

That year we were on a grueling European tour full of zany rock ["n"] roll experiences, breaking ground, and pioneering our sound abroad. I remember us being in top form, in our prime, [and] firing on all cylinders and beyond.

Thinking back, can you recall anything specific about the Paradiso Theater show in Amsterdam that makes it such a timeless sonic artifact?
In 1987, Bad Brains were at the peak of our mission. We were spiritually, physically, and somewhat mentally sound; we were extra mad at Babylon during this time.
How would you say (in your expert opinion) does the 2023 Bad Brains Records version of The Youth Are Getting Restless differ from the 1990 original?

I never listen to Bad Brains' recordings, but when I listened to this recent record, all of the energy and passion that it took for us to be Bad Brains rose up in my [62-year-old] spirit... cool!

What's the story behind the iconic cover image strewn across The Youth Are Getting Restless as photographed by BJ Papas?

BJ is our sister; our Bad Brains family photographer. Any images captured by BJ will tell the story of Bad Brains. Big up to BJ Papas.
[Editor's note: Here's what BJ told me when I asked her about her album cover photo:

"That's Dr. Know playing his guitar, but I can't remember what show that was taken from. Their manager Anthony County picked that one out. I never really liked shooting in color back then, so I was trying to get a long shutter in that one so it looked a bit more interesting than just using a flash. That's probably why the guitar looks so crazy in that shot. The pattern in the background is Doc's shirt [laughs]. It was like a tie-dye kind of thing."

-Carlos/No Echo]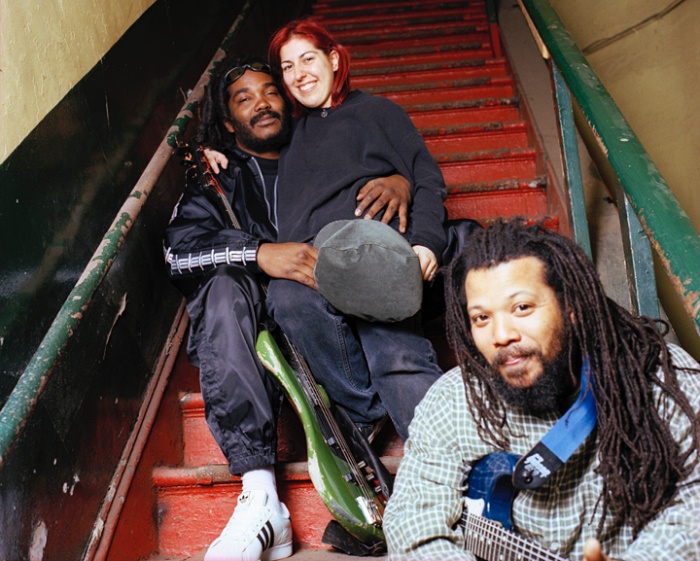 How would you say your bass playing and live technique has progressed, changed, and evolved since recording of The Youth Are Getting Restless?

My bass work just gets easier over time; the lines I chose to create, the varied dynamics I choose to use. Nowadays, I am interested in the language of music and the upright bass. Over the many, many years, I have been a guy with a knack to play various instruments. Sorta like an instrument player and artist; not anything close to a "musician." Max respect to all musicians. I'll catch up real soon.

How did you guys link up with graphic artist John Yates for your collaborative Punk Note series of re-issues with re-designed covers for Bad Brains Records?

We linked up with John Yates through some mutual contacts. Talented graphic artists. I love the covers on this stuff.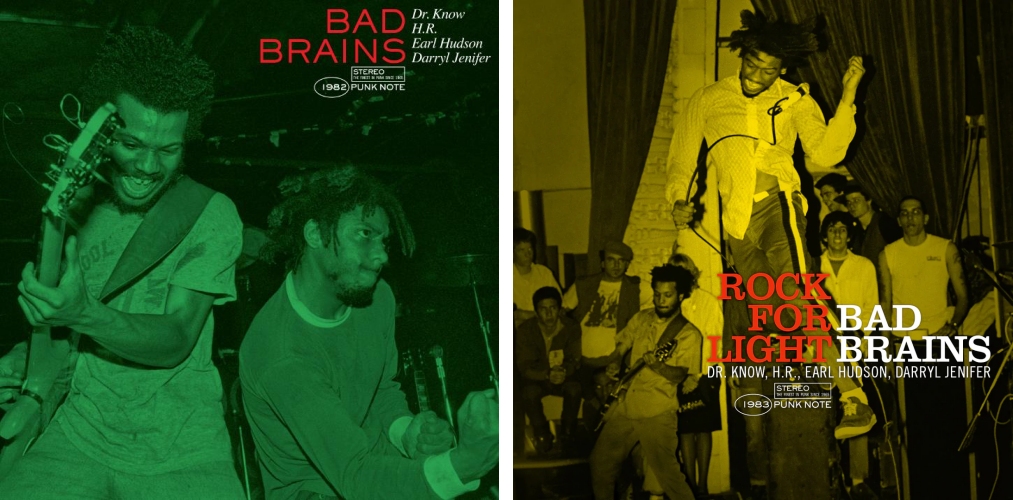 Since we're on the topic of (re-)releasing classic material, what are the odds of fans eventually getting a proper release of recording from your short-lived group, Brooklyn, with Beastie Boy Adam "MCA" Yauch, Tom Cushman, and Murphy's Law's Doug "Doug E. Beans" Thompson?

Brooklyn was a band that was ahead its time. Adam and [Tom] were the conceptualist of this sound. I don't think Yauch was feeling his vocals, of which I think are extra cool. The Beastie [Boys] Estate will have to want a release of that album. Personally, I think it's some of best bass work.

When can we expect to receive a proper follow-up to your 2010 solo effort, In Search of Black Judas?

Thanks for asking. I have been compiling a new solo release and hope to release it in '23. I have been jamming with Lenny White, Jack DeJohnette, Ben Perwosky, John Medeski, Jamie Saft, and a host of talented musicians, cooking up some soul rubba-dub smooth shit hybrids.
What can fans expect to see and hear next from Bad Brains Records and ORG Music's reissue, re-packaging, and remastered campaign.

The ancient Omega Sessions is on deck. I'm excited to resurrect these recordings. Big up to Mo Sussman [from Bad Brains: A Band In DC], a true visionary and Bad Brains hero.

Do you still have any plans to record and release a proper follow-up to your 2012 studio album, Into the Future, in tribute to Bad Brains' original and short-lived moniker, Mind Power?

Bad Brains [is] spiritually-driven; only Jah knows the future.
What's planned next for both Bad Brains and Bad Brains Records?

I'd love to see Bad Brains Records as the home of all members' solo productions, endeavors, Earl [Hudson]'s reggae record—Earl is a fire Reggae singer and producer—[Dr. Know]'s guitar record, and my O.G. smooth sh*t record… but, again, only Jah knows what is ahead.
We give thanks for what was behind and appreciate your interest in right now. Much love and respect to all that know of or heard Bad Brains. PMA!
***
The Youth Are Getting Restless (Live at The Paradiso, Amsterdam, 1987) reissue will be out on January 20th via Bad Brains Records and ORG Music (pre-order).
***
Help Support What No Echo Does via Patreon:
***
Tagged: bad brains