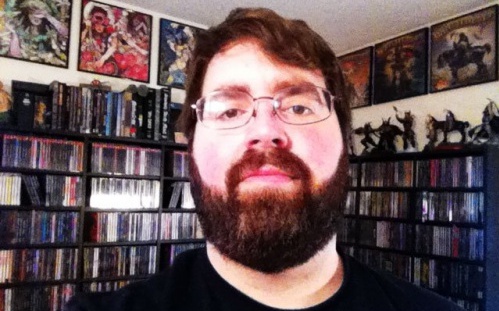 Matt Rudzinski is one of the most passionate music fans I know. We first met back when I was running Noisecreep.com for AOL back around 2010. Since then, I've written the liner notes to many of the CD reissues on Rudzinski's Divebomb Records, a label he started to pay tribute to some of his favorite metal and hard rock bands from the '80s and '90s. He's also behind the long-running Tribunal Records label, and Killwhitneydead, a metal band he's fronted since 2002. In his spare time, Rudzinski collects CDs from various genres of music. Part of his North Carolina home resembles a Tower Records CD section, circa the early '90s. Seriously.
Since he's got such a massive CD collection, I knew I had to include him in our Record Collector series.
How long have you been collecting CDs?
The first CD I bought was Dio's Sacred Heart, so I guess I have been collecting since then. Was that 1985? After that it was game on for sure. All the money I made cutting lawns was going into buying CDs. Hell, it still is today, but just don't tell my wife [laughs].
Where/how do you usually find your CDs?
I look everywhere that I might be able find them. However, I am a new dad, so my time has become more limited but I shop online, in stores, pawn shops, Goodwill, etc. If they have CDs I will dig through them.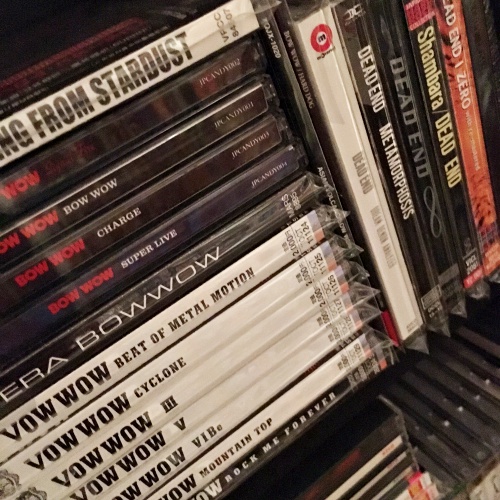 What is the most you paid for a single album, where/how did you obtain it, and what was it?
The most I paid was for a Japanese copy of Uncle Slam's Say Uncle CD. I had plans to reissue it and I needed source audio and since it was the only territory that had a CD release in the '80s I had to have it. I found a sealed copy on eBay and paid just over $300 for it. As far as something for me personally, and not business related, I paid about $150 for a Franke & The Knockouts reissue since at that time they were extremely hard to come by. Now I see them online for less, but I have played mine to death so it was well worth my original purchase price.
What is your most prized CD and why?
Now that one is so hard to answer. I have thousands of CDs and so many cool ones. Do I pick one because it has the coolest story, or was one of the ones that was hardest to find originally?
I guess I will go with my advance promo copy of Journey's comeback album, Arrival. I worked in music retail for like 15 years and at that time I had to beg everyone I knew at Sony for an advance of that album, but as I was finding out it was pretty top secret. Needless to say, I am a super huge Journey fan, so as their first new album in years was upon us fans I kind of went a little crazy and kept pestering everyone. One day this package showed up and in it was the advance I had been asking around about. I was shocked I actually got a copy since I was merely just "retail worker [laughs]."
Well, my history is a bit fuzzy but if I am not mistaken the album leaked out and people were bummed about the tracks and there not being enough uptempo material on the album. So the release was delayed and the running order on my promo scrapped and they went back and recorded more songs. So, this promo is kind of cool in that way. The running order isn't final and they added some tracks and removed one in the end. However, the missing track did end up on the final Japanese pressing, which of course, I have [laughs].
Outside of the money you spend, what do you hate most about CD collecting?
That labels sit on their catalog and don't keep things in print. This comes as a collector and as a record label guy who currently specializes in getting out of print material back into the marketplace. The amount of stuff gathering dust is just absolutely frustrating.
Which albums are still on your want list that you've had a tough time tracking down through the years?
The Choirboys debut album right now is being a bugger to find. I am sure there will be another one that pops up that I want and come to find it too is impossible to get my hands on it. That is what is so fun about collecting...it really never ends.
***
Head to both the Divebomb Records and Tribunal Records websites to find out more about their respective catalogs.
Tagged: aor, crossover, divebomb records, killwhitneydead, metal, record collector, rock, thrash, tribunal records