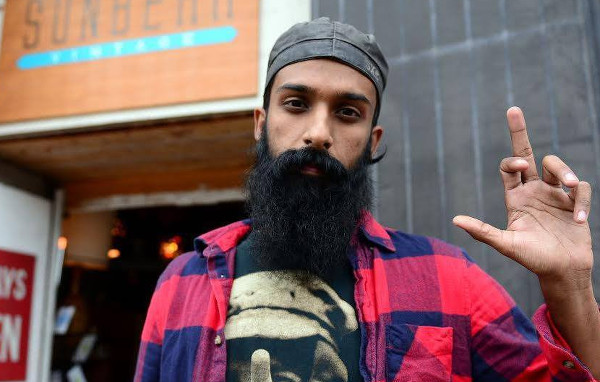 Sunny Singh is doing God's work. The 29-year-old is the founder and videographer behind Hate5Six.com, the internet's richest resource of live hardcore performance footage. The site offers full setlists from the hardcore, metal, and punk world—everything from as old school as Agnostic Front and Cock Sparrer to up-and-comers like Turnstile and Violent Reaction. Founded in 2002, Hate5Six.com is "released to the public for free and always available to anyone in the world with an internet connection."
As a longtime admirer of his site, I reached out to Singh to find out more about his work and the inspiration behind it.
How did you come to discover hardcore? I know for a lot of us, it came through a love of heavy metal. But I figured I'd ask you.
I had a deep appreciation for hip-hop and hard rock, and some metal, thanks to my older brother. The list included Rage Against the Machine, which is the band that stuck out for me. Through them I discovered Inside Out and my life has been wild ever since. Around the same time I saw Hatebreed on the small stage at Ozzfest, and also began going to shows near my home—everything from punk to ska to indie to hardcore. It was through all those experiences that I really began to dig into hardcore.
Where did you grow up?
New Jersey, about 20 - 30 minutes from Philly. Area code 856, hence the name of the site!
On your website you explain that you've always been obsessed with collecting live music. Do you remember a specific show or VHS recording that had a big impact on you?
I collected a fuck ton of Rage Against the Machine and Inside Out audio and video bootlegs. Anyone who knows me is aware of my respect and admiration for Zack de la Rocha and his many projects. I don't know if I have a specific favorite, but each of those sets helped establish my fascination with documenting music. I was particularly fond of RATM sets from 1996 - 1997, which was when they were at their peak, in my estimation. The 1993 Inside Out reunion sets, specifically the Salt Lake City ones, contained some really raw speeches that felt like I had gotten punched in the stomach.
You learned by filming local bands in the South Jersey area back in the early '00s. Looking back at that footage now, do you view it much like a musician would look at their first band? You know, harshly!
I wasn't really going for a style back then, but these days I feel like I have a certain aesthetic in mind when I film. Focusing on certain things during the set, panning/whipping the camera in time with the music, etc. I'm not ashamed by my early work, but watching it now leaves me wondering how else I could have documented the set, which choices I could have made differently, etc.
Is there a live set you filmed that you can point to where you feel that you upped your game in a big way?
It's hard to say given the number of sets I film. Trial from Burning Fight in 2009 was my first "holy shit" moment. Mindset from June 18, 2014 in Haverhill, MA is one where I felt like I had timed all my pans and zooms and focuses perfectly, though there are a lot of brief moments in dozens of other sets where things felt right, but that Mindset video has a pretty high density. All Else Failed from This is Hardcore 2014 is another one, but is a set I only partially filmed since I ended up passing my camera off so I could go off in the pit. That is a rare thing for me to do! Another edit that I think best showcases my work is Incendiary from TIHC 2014. I still get a visceral reaction when I watch that set. In any case, I think the way that I edited those multi-cams is so true to the experience of the set. I couldn't have cut the sets any other way while retaining that organic sense of urgency, for both All Else Failed and Incendiary. I don't know if I'll top those edits...
What's your equipment breakdown for a typical live set? Are you grabbing the sound straight from the board? The audio mixes are so crisp!
Since 2011 I've been shooting with a Canon XF100 and a Zoom H4N audio recorder mounted on top. For bigger events like This is Hardcore I will grab the soundboard feed and have them professionally mixed and mastered. Every now and then I'll grab board recordings for smaller shows and mix them myself, or solicit help from some audio engineers like Len Carmichael or Jeremy Eger or Dylan Tasch. I'd say the bulk of what I film is without a board feed, though, and that makes my turnaround much faster.
SEE ALSO: 2015 interview with Chaka Malik (Burn, Orange 9mm)
Why did you opt to go with Vimeo instead of YouTube for your uploads?
When I first started, Vimeo had a better compression algorithm and their public API made it easy for me to build my actual website around it. Much of my site is pulled from data hosted by Vimeo and it wouldn't have been as simple with YouTube. In the end, it was a matter of quality, wanting to build a site around my content without hosting it myself, and displaying my work in a clean and ad-free environment. YouTube might have better quality and broader accessibility now, but I'm not interested in migrating everything over. It'd be a massive undertaking and I don't have the time or resources at the moment.
Generally speaking, I'm sure the bands you want to film know you, and love the fact that you're going to capture their performance in a professional kind of way. That said, have you had any bad experiences filming any bands, and have any bands denied you access?
Paint it Black is the only band that has verbally and physically expressed distaste for me filming them. For years I would film against their wishes, citing the simple fact that this is hardcore and anyone can be active how they see fit (within reason, obviously). I think this pissed them off and there were some occasions where I was spat at, intentionally touched by a band member, etc. I have no interest in filming them or any associated band again, and prefer to spend that energy documenting underrepresented hardcore/punk bands.
SEE ALSO: Backpatches of the 2015 Maryland Deathfest (PHOTOS)
I've been to hardcore shows where there are six or seven people up or around the stage filming. Does it ever get ugly up there, jockeying for positioning?
Thankfully most of the people I shoot alongside have a sense of etiquette when it comes to documenting bands. Very rarely, in my case at least, have people interfered with me filming. I stay alert and aware of my surroundings when I film and am always adapting to things that change during a set.
Have you ever been injured while filming a show?
Nothing too serious, but I get kicked in the stomach and groin by stagedivers pretty frequently. And I got speared off stage by someone at Rainfest. It was scary since I was looking up into the viewfinder of my camera, which was held above my head. Thankfully neither I nor my camera were damaged.
If you could pick one dream band, regardless of genre or popularity, to film live, who would it be?
Rage Against the Machine circa 1996 or Inside Out with Vic. But then, in both cases, chances are my camera would immediately land on the ground at the first note and the next thing it would record would be the image of me dousing myself with gasoline, lighting a match, and diving into the crowd to meet my maker.
***
Head over to Hate5Six.com to watch the finest live hardcore sets you'll see anywhere on the web.