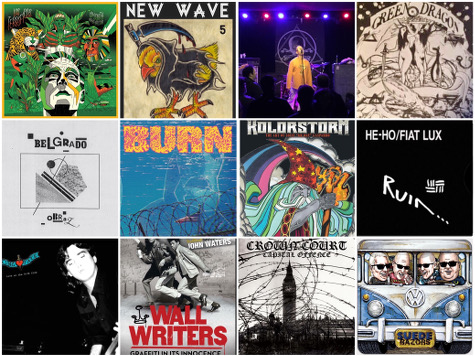 Burn, ...From the Ashes (Bridge 9 Records)
Full disclosure: I sang backups on this record, I've known the band since their inception, and singer Chaka Malik and guitarist Gavin Van Vlack are some of my oldest friends in the NYHC scene. Having said that, I do think that without all of these associations, this recording would still blow me away. It's rare for bands from decades past to come back with relevant material. It helps that two of the songs ("We Don't Stand a Chance," "You Can't Stop Me") are from Burn's back catalog that never got properly recorded, with one new—pardon the pun—incendiary track, "Novelist (Drums of War)." Here's to a welcomed return to form for the band. Myself along with a good number of people are anxiously awaiting Burn's full-length debut album, which is scheduled to be released in the coming year.
[Order ...From the Ashes here.]
Belgrado, Obraz (La Vida es un Mus)
The Polish post-punkers in Belgrado have created a hypnotic, swirling, kaleidoscopic masterpiece that builds on their cold, early '80s Manchester-influenced sound. Obraz incorporates elements of dub/funk/dance music in a nuanced and minimal fashion. I can't understand a word being said, as they're sung in their native Polish tongue, but no matter—singer Patrycja Proniewska blends her voice into the mix like another instrument, adding to the overall aural, disembodied vibe. Kudos to the dubby reggae production values that complement and expand this exciting synthesis of atypical reference points.
[Order Obraz here.]
Kolorstorm: The Art of Louie "KR.ONE" Gasparro
(Schiffer Publishing)
Louie "KR.ONE" Gasparro is an original late '70s/early '80s graffiti writer from Astoria, Queens, NYC. This beautiful, glossy, full-color and large-sized book collects not only the classic graffiti he's done on trains, walls, and paper, but also his astounding drawings of animated characters—which the artist labels as "graffantasy." Louie is also an accomplished musician, and he shares artwork for some of the bands he's played in like Murphy's Law, Blitzspeer, and Psycho 69. Let this book serve as proof positive that talented graffiti writers can—if they wish—work on more traditional visual avenues without sacrificing the influence of the streets. Louie succeeds at this and then some in what is a quintessential American art form known as graffiti.
[Order Kolorstorm... here.]
Crown Court, Capital Offence (Katorga Works)
I've been raving about these London boot boys since hearing their demo tape a couple of years ago. Ever since that momentous release, they've put out single after single that places them as the premier outfit worthy of carrying the Oi! banner. This full-length album cements Crown Court's place as being one of the only bands I can think of these days that are as good as their influences, without reverting to a blatant copycat sound. One of the catch-22 aspects of Oi! is its narrow sonic confines. If one doesn't play the basic formula, well then it's not Oi! Too many people are content to do rote, by-the-numbers, pale imitations of their influences, not adding anything new to the canon. Thankfully, the Crown Court lads avoid this and come up with catchy and inventive anthems reflecting skilled musical skills, as well as an astute understanding of the past. Cheers!
[Order Capital Offence here.]
The Proletariat @ St Vitus w/ F.U.'s and Extended Hell
(November 5th, Brooklyn, NYC)
As much as I dig the DYS/SSD contingent, my favorite band from Boston has always been The Proletariat. Their Indifference LP from 1986 ranks among the finest in political post-punk and post-hardcore stylings—a cut above what most bands were doing in those times. This show, part of a short reunion tour, was a welcomed surprise seeing as that—according to singer Richard Brown—the last time they played New York was in '83. Their patented angular riffs, emotional vocals, and poignant lyrics cut through the club's sound system in a restrained display of righteous outrage at the powers that be. For a band that formed in Reagan's America, the pointed missives are not that far removed from the dire circumstances we face come Inauguration Day. They played a new song as well, so let's hope they provide a soundtrack to the forthcoming orange one's reign of terror.
King Face, Live at the 9:30 Club (Not Like You)
Here's a smoking live set from 1988 by Washington, DC's King Face. If there ever was a band that successfully combined Van Halen's rock 'n' roll chops with the emotional dynamics of Rites of Spring, it's these guys. I appreciated the fact that while NYC in '88 was in the midst of a straightforward hardcore frenzy, these guys—and others in DC—were doing their own thing. Hardcore and punk are wide enough to embrace different ways for bands to express themselves, here's to a group that did it their way, and a record label with a long memory—plus the good taste—to release this.
[Order Live at the 9:30 Club here.]
Terrificos, Go South/Vaya Pa'l Sur (Peace & Rhythm)
It's hard to believe that one of the main players (Ray Lugo) on this double LP cut his teeth in the mid-'80s Lower East Side skinhead scene via his association with legendary NYHC outfit Warzone. The sound he makes these days is an amazing blend of tropical Latin American rhythms like cumbia, chicha, and vallenato crossed with psychedelic electronica that's a soundtrack to the best surf/western hallucinogenic epic you've never heard of. Peace & Rhythm really outdid themselves on the packaging department with a glossy gatefold and cool liner notes. It's a perfect record with equal parts that are suitable for headphone listening and dance floor grooving.
[Order Go South/Vaya P'al Sur here]
New Wave Chicken Fanzine, Issue #5
Here's a killer fanzine in the vein of hardcore zines from the '80s and some of the more personal zines from the '90s. Done by a scenester from way back, New Wave Chicken features poignant observations on growing up, getting into hardcore, and its subsequent effect on later pursuits. There are interviews with Chris BCT and his legendary cassette label, The Instigators, Econochrist, Raw Power, A State of Mind, and a newer outfit called Kim Phuc—who are new to me, but I checked them out and they definitely rock. It's cool to see printed zines in this age of mass online overload on just about any subject under the sun. The active art of picking up papers to thumb through are a soothing balm in sharp contrast to what is—most of the time—a passive experience in cyberland. Long live the printed matter!
[Head to New Wave Chicken's Facebook page for more info.]
Green Dragon, Green Dragon (Gern Blandsten/Gloom)
Old hardcore/punk enthusiasts move to the suburbs, start families, and work "straight" jobs to pay the bills. Somewhere along the line, they can't escape the call of the past, so a new project is formed. The rhythms may not be as fast as the days of yore, but the power and passion are still there—albeit with an added layer of heaviness as befitting their shared love for all things Sabbath. Time and experience have a way of tempering your expectations. The cultures you subscribed to in one's youth may always be a part of one's identity, but there's no need anymore for outward or obvious displays of allegiance. Green Dragon plays this sound because they have to. There are no friends or scenes to impress. It's a much-needed outlet for expression. There's tension and release in every note, reflecting a music played for its own sake, irregardless of public opinion. It doesn't get more hardcore/punk than that.
[Order Green Dragon here.]
Suede Razors, Berlin or Bust (Contra Records /Longshot Music)
These boot boy glam rockers made my Top 12 list last year, and once again they manage to deliver the goods. I can't think of any current band in the punk or hardcore realm that delivers one incredibly catchy 45 after another. Mixing the best elements of Oi!, pub, and glam rock, these guys are pretty much unstoppable. They may be our generation's Slade or Sham 69, as far as nonstop sing-along anthems. Kudos to this bovver brigade. Looking forward to the next scheduled release: a four- to six-song 12".
[Order Berlin or Bust here.]
Wall Writers: Graffiti in its Innocence, directed by Roger Gastman
This incredible documentary follows on the heels of the book of the same name. Profiling the original writers that started the graffiti movement—we're talking really early, like 1965/1966-ish—and the ensuing years up to 1972. That's the year the film states that graffiti lost its innocence once the first piece was sold. There's some amazing previously unseen footage from that era, plus you get to see the writers that lived it and survived it telling their stories. It's awesome to see and hear legendary writers like TAKI 183, BAMA, CORNBREAD, PHIL T GREEK, GREG 69, and others in this doc. Wall Writers is being shown in limited screenings throughout the country and abroad, but you can download it directly on iTunes come December 18.
[Head to the official Wall Writers website.]
Ruin, He Ho/Fiat Lux (Southern Lord)
This '80s hardcore scene's best Buddhist-influenced, Leonard Cohen-covering, genre-bending, instrumentally multi-faceted band's entire output has just been reissued. Do yourself a favor and pick it up if you're not familiar with the record. Or, if you are, it's even more of a reason to get it again. The few bands that experimented outside of hardcore's comfort zone in the '80s deserve credit for being against the grain within a supposedly nonconformist movement. Ruin did it first, and better than most of their contemporaries, and the proof is in these two wonderful LPs that are seeing the light of the day thanks to the fans with long memories at Southern Lord. You know what to do.
[Order He Ho/Fiat Lux here.]