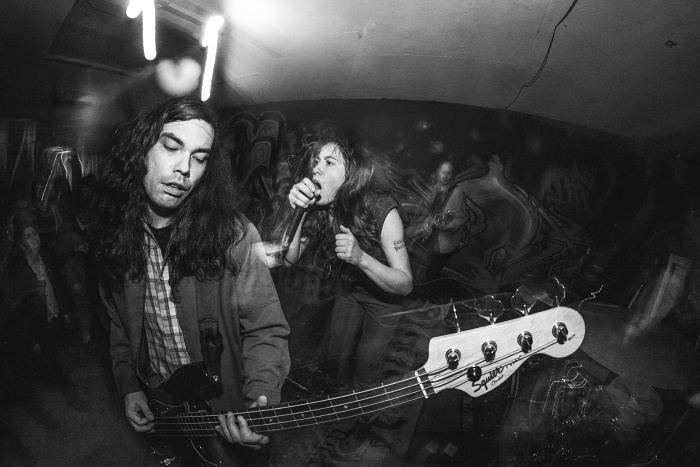 Drug Apts is a punk combo from Sacramento that isn't all that easy to describe but what is 100% certain is they don't seem to give a fuck about stylistic parameters. Elements of '80s hardcore, Nuggets-worthy garage, and grungy punk all seep there way into the group's attack. Frontwoman Whitney Kebschull ties everything together with her gnarly vocals and pushes her instrument as hard as the guitars and drums do.
After two EPs on Tyler Pope's (LCD Soundsystem, !!!) Interference Pattern Records, Drug Apts will be releasing their debut album, Clean Living Under Difficult Circumstances, next month. The collection was tracked at Louder Studios in San Francisco with Tim Green (Christian Mistress, Early Graves). "Straight Shooter" comes off the forthcoming LP and serves as a fitting introduction to the band to No Echo readers:
"'Straight Shooter' is the first song we wrote with our current lineup with Matt K on bass," says the band in a statement. "It's a more simple classic song format compared to the what we have been writing in the past and was the jumping point for the rest of clean living. The name was just what we called it before it had a name. 'Lets play that straight shooter song' was said a lot. I think Whit coined it. Most of the song titles on this record have nothing to do with the lyrics. They are funny working titles that end up sticking for no real reason.
"There is a riff in 'Straight Shooter' that was used as a sample by Death Grips. Actually, it was taken from a random jam session that half of Drug Apts, Zach and Andy from Death Grips and Justin from Unwound were involved in a couple years back that they used on the 'Crouching Tiger' record. We took the riff from that session as well and used it in this song. 'Straight Shooter' is a classic fight song about how we all become deaf, dumb, and blind in conflict."
Clean Living Under Difficult Circumstances will be out on LP + digital on March 23 via Mt.St.Mtn. Catch Drug Apts on tour at one of the dates below, and follow the band on Facebook and Instagram.
Drug Apts tour dates:
Fri 3/1- Oakland, CA - Eli's w/ Coke
Thur 3/21 - Boise, ID - Treefort Music Festival
Sat 3/23 - Sacramento, CA - Red <useum w/ Nocturnal Habits
Sun 3/24 - Berkely, CA - Ivy Room w/ Nocturnal Habits
Mon 3/25 - San Diego, CA - Whistle Stop w/ Nocturnal Habits
Tue 3/26 - Los Angeles, CA - Zebulon w/ Nocturnal Habits
Wed 3/27 - Ventura, CA - The Tavern w/ Sweet Reaper
Fri 3/29 - Santa Cruz, CA - Blue Lagoon w/ Hod and the Helpers
Tue 4/23 - Sacramento, CA - Harlow's w/ the Messthetics
***
If you're shopping for vinyl, CD, and cassette hardcore titles, head to No Echo's partner store, Reverb LP, to see what they have available. Every purchase you make helps No Echo with site costs.
Tagged: drug apts