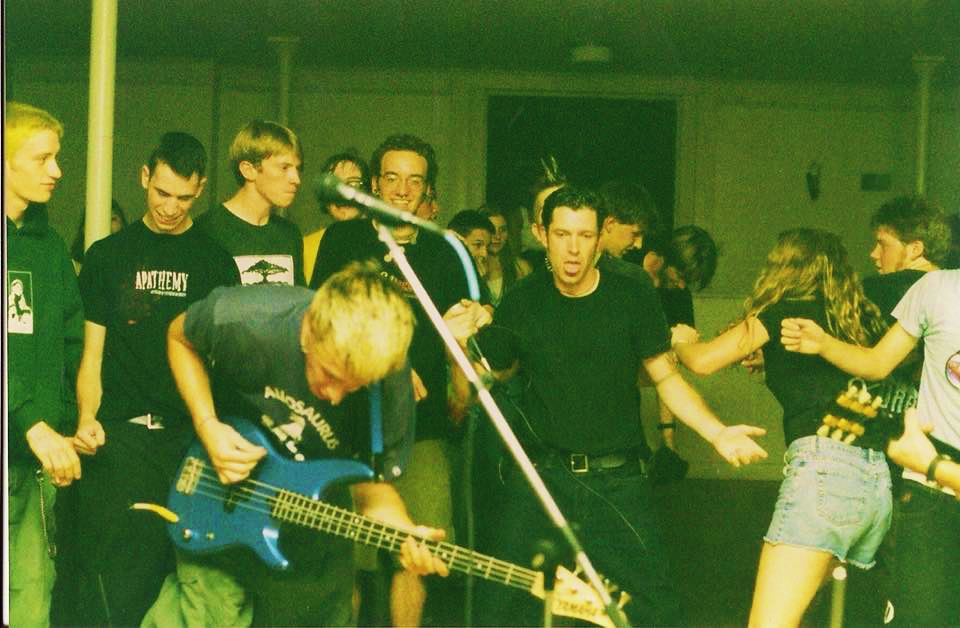 Originally released in 1998, Busy Signal at the Suicide Hotline is one of the crown jewels of the Hydra Head Records catalog. The album found the Vermont-based band weaving a cacaphony of metallic hardcore, tech-metal, screamo, noise-rock, and sludge.
Yet, through all of its dizzying arrangement shifts, Busy Signal at the Suicide Hotline never felt like a mere riff salad sort of situation. Songs like "Condoning the Use of Inhalants" and "Sadder Than Saturday" were hooky in their own fucked up way.
Iodine Recordings will be reissuing Busy Signal at the Suicide Hotline for its 24th anniversary, and they got Jack Shirley (Deafheaven, Gouge Away) to remaster it. The reissue will also include two bonus tracks: "My First Restraining Order" (from Drowningman's split with Dillinger Escape Plan) and "Like Taking out Stitches with a Fork (Needle and Thread)" from out of print Metal Is A Tough Business compilation.
Drowningman recently dropped an excellent two-track single, but for today's proceedings, I spoke with vocalist Simon Brody about the Busy Signal at the Suicide Hotline days to celebrate the new reissue.
What do you remember about the hardcore scene around the time when you were writing the material for Busy Signal? I was playing in a band at the time and remember shows being really diverse, and Drowningman seemed to getting on interesting bills.
Prior to Drowningman some of us were playing in a more emo-focused band in Boston. Frankly, we were pretty over the idea of hardcore as it seemed really restrictive and all about the mosh and youth crew revival.
As that band in Boston was petering out. Bands like Deadguy, Cable, and Unbroken really blew my mind, and it really seemed like there was a burst of creativity and re-thinking of what was possible for a hardcore band.
Since we are closer to the Canadian border bands like Grade and Shotmaker, also showed us that more was possible with any emo inclinations we had. I think Busy Signal was around the time we were settling into a sound. We had previously put out demo tapes, and it wasn't until that first Hydra Head 7-inch that we started to develop what Drowningman came to be.
The early Hydra Head catalog, I think, demonstrates pretty well the diversity of what hardcore/punk could encompass. And yeah, then we ended up playing wild lineups like Black Army Jacket, Rye Coalition, Sheer Terror, and Kiss it Goodbye. [NYC show booker from that era] Tyler King is a maniac for booking that.
The thing I remember most about the show is that Paul Bearer brought his A-game. No one talks shit on the mic like him. He is a master of his craft.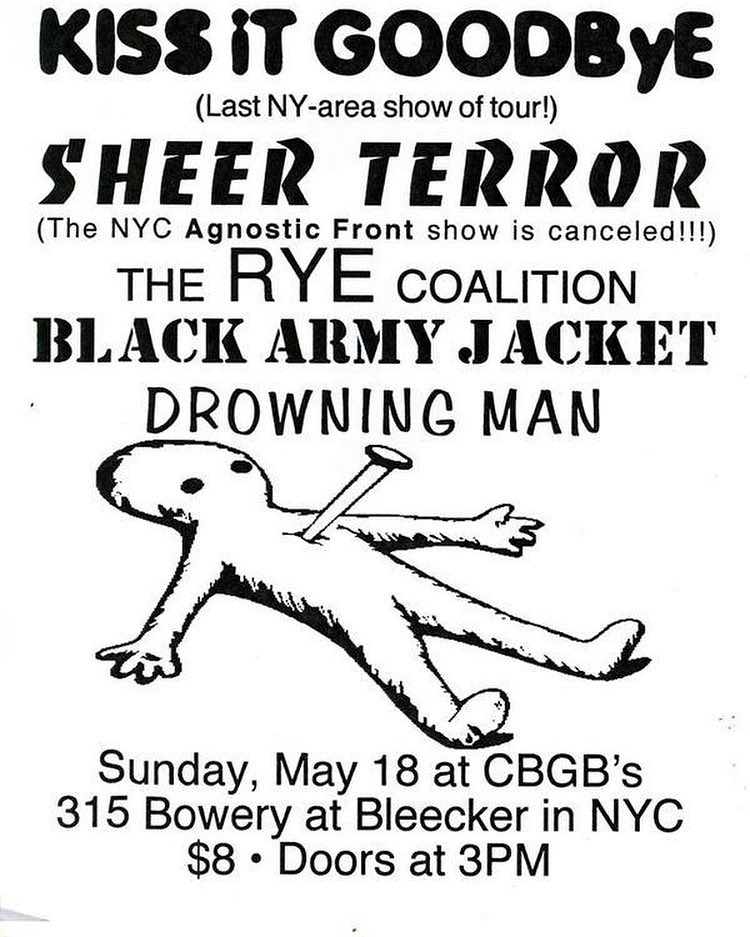 Thinking back, was being based out of Vermont a good thing in the sense that you were largely isolated away from the usual scene bullshit in bigger cities?
Early on we discovered that trying to be a Vermont band, was going to make it pretty difficult to play outside of Vermont. In those early days, since I had just moved back from Boston we played Boston just as frequently. There was also a period of time, around the time Busy Signal was being recorded that we played Upstate (Syracuse and Buffalo) more than we played Vermont.
Vermont is a wonderful place to live, but we were removed from these larger scenes, yet still playing in these bigger cities. Yet, not playing in Vermont very much.
We didn't really belong to a scene. We still don't. That hasn't changed. We like to operate on the periphery.


Did you feel extra pressure going into making the album since you were on a high-profile label at the time in Hydra Head? Also, I think hiring Steve Evetts to mix the sessions at Trax East was a great move. How did that come about? Were you fans of his work with bands like Human Remains already or did the label suggest him?
We recorded locally in Vermont. To be honest, we had lost one of our main songwriters (up until that point). I remember [Hydra Head foundder] Aaron [Turner] being kind of iffy on whether or not we could still deliver. We worked those songs over in the studio, and we contacted Steve about mixing it. We had loved what he had done for Deadguy and Lifetime, it seemed like he was the logical choice. It was definitely our decision to ask him, Aaron fully supported it, and probably set it up.
We showed up with raw tracks of songs that we were iffy on. We just weren't sure if what we were putting down was coming across, and we had spent a considerable amount of time in the studio. We had been sure we had something that was going to be pretty good, but about two hours into mixing, I am listening to what Steve was doing with that stuff, and was astounded. He somehow innately understood what we were trying to do. It was a moment... hearing those songs come to life.
When the album was finished, and we played it for Aaron from Hydra Head. He was really excited. We haven't done a record that was quite like that since. Daryl and Javin were a great song-writing team. None of it came easy, but there are some people that would argue this was our best record ("I like their early stuff") in this case I wouldn't entirely disagree.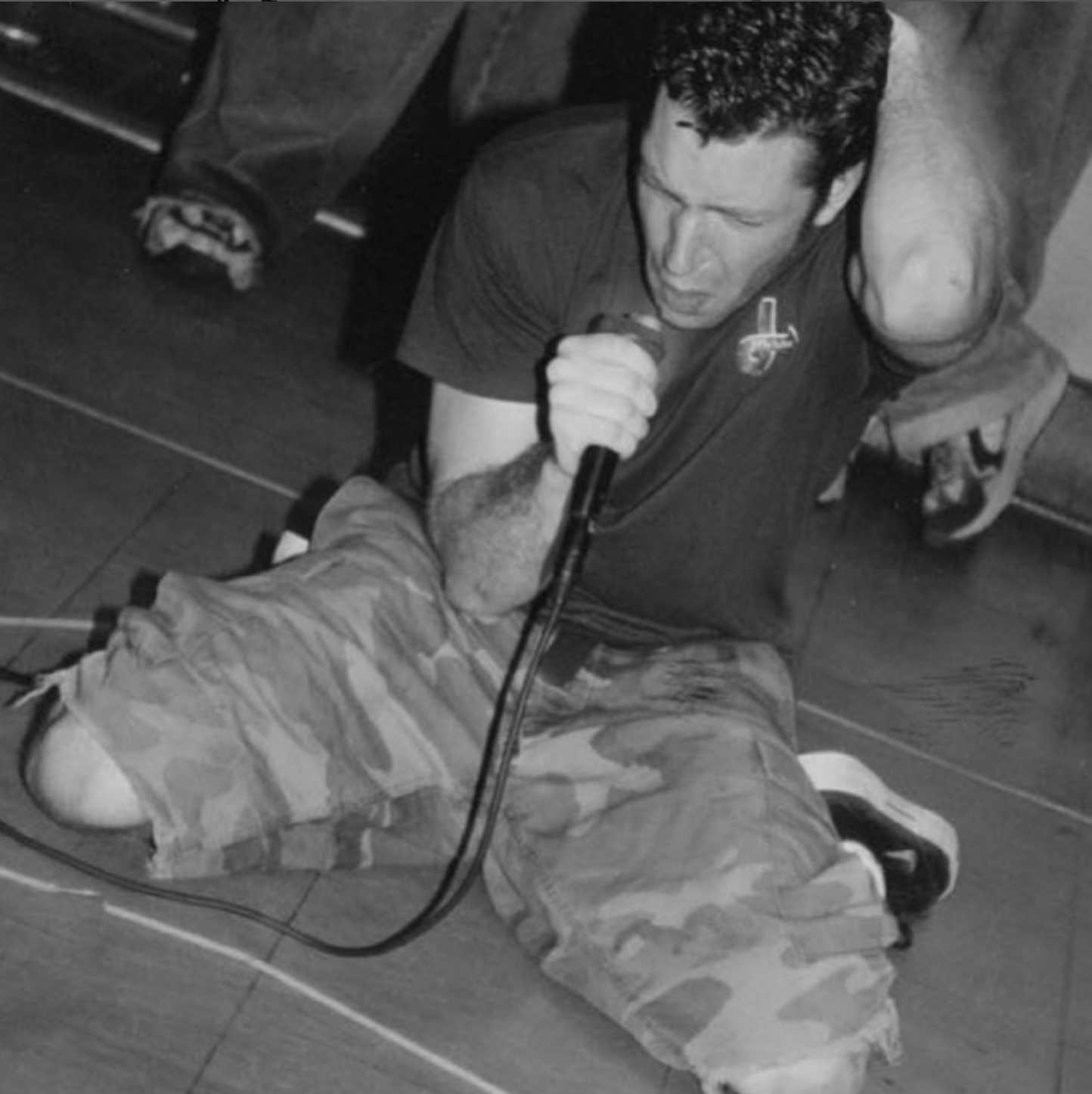 Listening to Busy Signal today, what goes through your mind? Do you hear a part and instantly get transported back to that period? Are there things that you would change about it if you could?
I think Iodine Recordings getting Jack Shirley to remaster it, corrected what would have been my main criticism, that the vocals were too low in the mix. I am listening to the remastered versions and hearing guitar stuff that had been buried or obscured previously. Yes, it does transport me back to a period, which I have complicated feelings about.
When we started doing this again, it was our intention to not be a "reunion band," we have the new EP we put out, those are my favorite songs to play. What resonated with me 20+ years ago, isn't where I am at now. We are sharpening new knives. We are excited to be going back to work with Steve again with our new drummer, Jon and our bass player TJ.
In a way I think some of what we are doing now harkens back to Busy Signal more than anything we did after that record.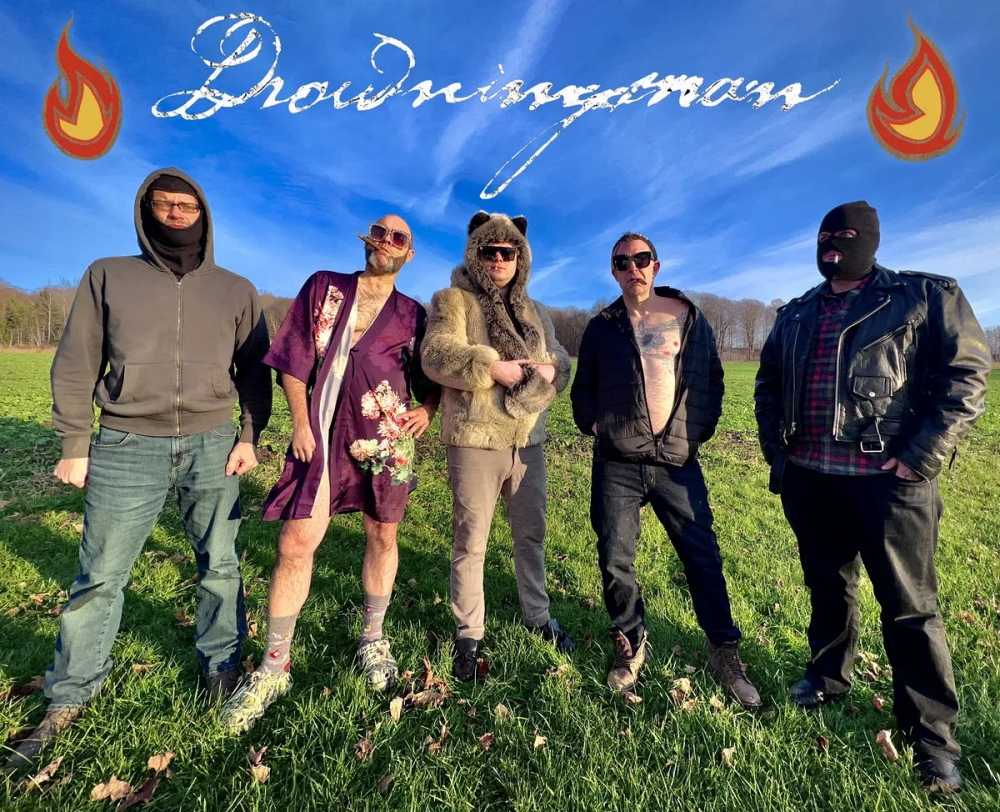 If you had to choose one track from the album that best represents Drowningman during that era, which one would it be and why?
That is a nearly impossible thing to answer. We have always tried to keep people guessing, including ourselves. There is nothing off-limits in a Drowningman song. I think this record was where we really cemented that.
If we are going for maximum hostility I would have to say "Clothesline," that was where the tongue in cheek violence really started. However, "Sadder Than Saturday" is a Drowningman set staple. It's on of those songs where the sarcasm is replaced with sincere angst. It really set the benchmark for dynamic shifts within a song, and was an indicator of where we would eventually going.
Plus, that song is about my favorite cereal bowl from childhood being launched at the back of my dome-piece. So I would have to say for sentimental reasons, it would be "Sadder Than Saturday." RIP that cereal bowl.
***
The Busy Signal at the Suicide Hotline reissue hits streaming outlets on May 24th. Iodine Recordings will be releasing the vinyl in early 2023.
***
Help Support What No Echo Does via Patreon:
***
Tagged: drowningman