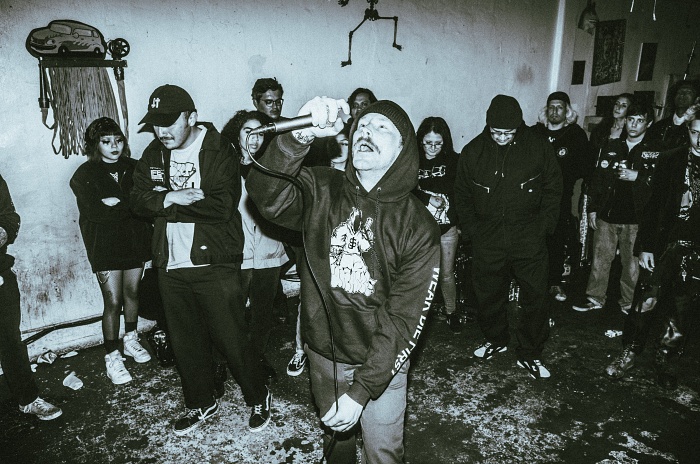 "In 2018, I was working with [Cole] Rodgers [vocals, noise] at this specialty coffee shop, and we started joking about doing a satirical metal band for a Halloween house party," says Scalp guitarist Devan Fuentes, not exactly the kind of thing usually inspires me to check a group out, but I'm sure glad I did.
The Southern California outfit absolutely slays, spewing forth elements of power violence, death metal, hardcore, and sludge in a truly terrifying way.
But let's let Devan continue telling the Scalp back story: "We named the band Hellboob, and we promoted it through the coffee shop where we saw our friends come in often. We landed the show at the weirdest dive bar in Southern California and the show blew up.
"Joke aside, the show was so intense with all the people going nuts in costume, blood, chains, strobe lights and fog, Hellraiser samples and torture sound clips. I think the silliness of the whole thing is what got people interested in the fun of it all, I don't think if we had a 'serious' band it wouldn't have turned out as successful.
"After Halloween, [Cole] Sattler [bass] and I met [drummer] Luke [Smith] by mutual musicians at Flora Fest in Fontana. He was only an acquaintance we just met when he jumped on the drums to cover for the band Poor Timing. He started warming up and joked around doing crazy fills and blast beats and Sattler and I looked at each other and had the same thought.
"Sattler and I talked about his wanting to play bass if we could find a drummer. We watched him kill that set and told him about our project we wanted to continue. It didn't take any convincing for Luke, he was just down as soon as we described what we wanted to do. Days later we started going over some riffs and agreed to call the band Scalp."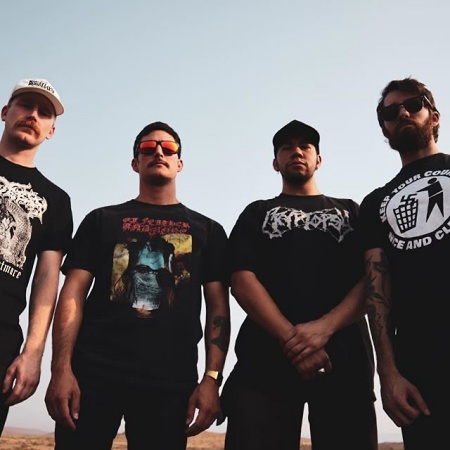 Hitting stores next month, Domestic Extremity is the debut album from Scalp, a 10-song strike to the senses that will certainly land on the year-end extreme music lists the following month. No Echo is proud to present the premiere of "Depleted Mass," the record's ominous closing track.
I did my best to describe it at the top of this piece, but how would Devan explain the Scalp sound? "We call scalp 'death violence' simply because it's a hardcore band that favors death metal and power violence.
"To get down to it, we take inspiration from Dead In the Dirt, Nails, Full of Hell, Dystopia, and our own tastes in death metal."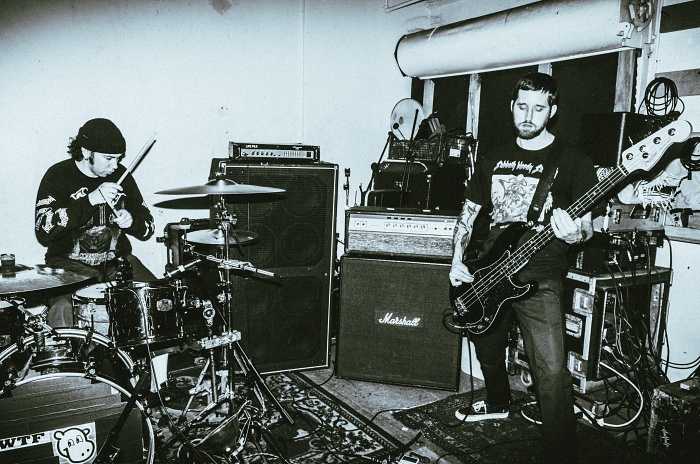 Domestic Extremity was recorded by Taylor Young, a musician (Nails, Twitching Tongues) and engineer who has also worked with such bands as Regional Justice Center, Xibalba, and Cannabis Corpse. "I'd say we left the studio feeling like better musicians," Devan says about working with Taylor. "Not simply because he made our tracks sound good, but because we learned so much about recording.
"We used an insane number of amps, all about 200 watts each with 2 612 cabs and my oversized 412, and of course Taylor was just down with no hesitation, some engineers would just complain of the hassle.
"He's also a drummer so he understands how to help you get the sounds you're looking for with technique and mixes drums so well. He has afterwards become a coach and friend of ours, we go to him for advice often, and he wore gym shorts when he engineered the record.... so coach is the right word."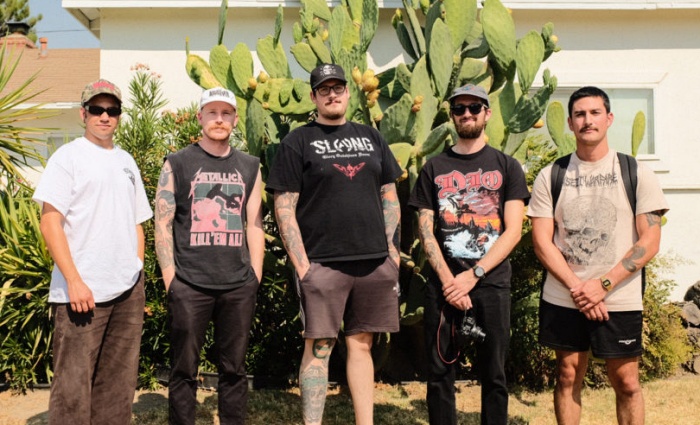 With Domestic Extremity getting closer to its release day, I ask Devan how Scalp has been recieved by the SoCal hardcore/metal scene so far. "We've always had a better than expected response from shows," the guitarist says. "We're from South Orange County, mostly, so we're used to shows being an uphill battle.
"For Scalp, though, it's been very easy to get our name across. The hardcore fanbase is very welcoming and hospitable. If your songs are good, people will know about them, hardcore fans spread music around so quickly."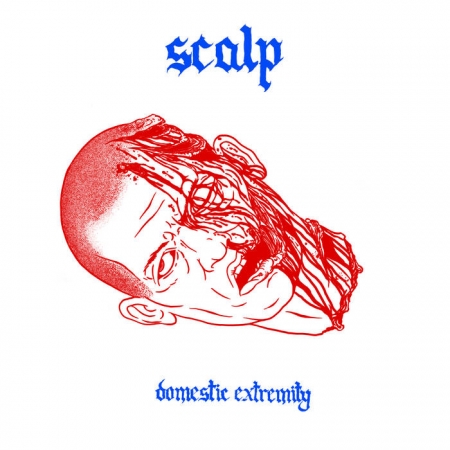 Domestic Extremity will be out on November 13th via Creator-Destructor Records. Pre-order the vinyl directly from the label, and if you want the album on digital, hit the Bandcamp link.
Scalp on social media: Instagram | Bandcamp
***
Donate a few bucks to help with No Echo's operating costs:
***
Tagged: scalp