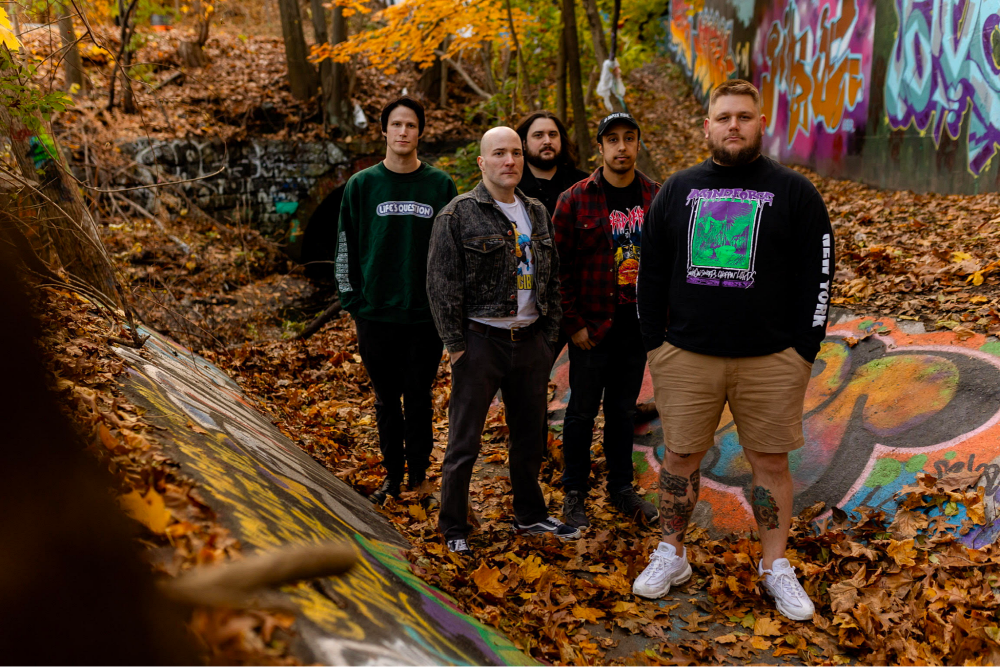 Do you like your hardcore seasoned with a bit of thrash metal? Do you also have a severe fear that crossover thrash is for '80s grandpas who still rock the D.R.I. and C.O.C. patches on their vests and don't listen to anything else? Well fear not hardcore kids because it's the 21st Century and crossover is cool again thanks to bands playing the genre properly over the last couple decades.
Whenever new crossover comes into the conversation I generally think of bands like Power Trip, Dead Heat, Iron Age, and even Bones Brigade from Boston, despite them being before my time; these bands are just a few of the ones mentioned when I interviewed thrash newcomers Death Strider.
I first came across this band when a friend reposted their announcement of the release of their debut EP which dropped on New Years Day. I'd known a couple of the members from other bands and was eager to check this EP out and when I did I was treated to a refreshing taste of all-go-no-slow hardcore thrash metal that really brings out the best in us all.
Formed by vocalist Jesse Dampolo and Jack Collins in 2019, mere months before the pandemic began, the two had shared an interest in heavy music for years before forming a band and beginning writing the bands EP:
Jesse describes the band coming together as:
"I'd worked with Jack for a few years and we got to know each other through talking about music all the time, he'd wear Megadeth and other '80s thrash band shirts and I came up in the Boston hardcore scene so after years of knowing each other we decided to start a band in the vein of like '80s crossover bands."
Jack, the band's lead guitarist, adds that he was surprised at the idea of forming a thrash band, stating:
"I'm kind of out of the loop with newer heavy bands, my influence usually comes from the mid-'80s and early '90s thrash metal but the guys will send me stuff every once in a while and Jesse thankfully showed me Power Trip and I was blown away because I didn't think anyone did this kind of music anymore."
While the two had also brought in bassist Andy Hume during that time the group was put on pause due to the early onset of the COVID-19 pandemic in March of 2020. "We kind of stopped for a while during the initial panic of the whole world trying to figure out what to do. There were some moments where things calmed down a bit and we'd get together, just the two of us and play some riffs or I'd send him bits of a riff over the phone and eventually we'd piece it all together," explains Jack.
After some time the two recruited Olin May and Christian Koomey both from the bands Ghost Fame and Crossed. The band also hooked up with Nick Cates, the drummer for Mouthbreather, to produce the EP. This time in isolation allowed the band to turn the EP into what you hear: a turbo boosted, whirlwind, and overall chaotic slice of hardcore thrash done properly.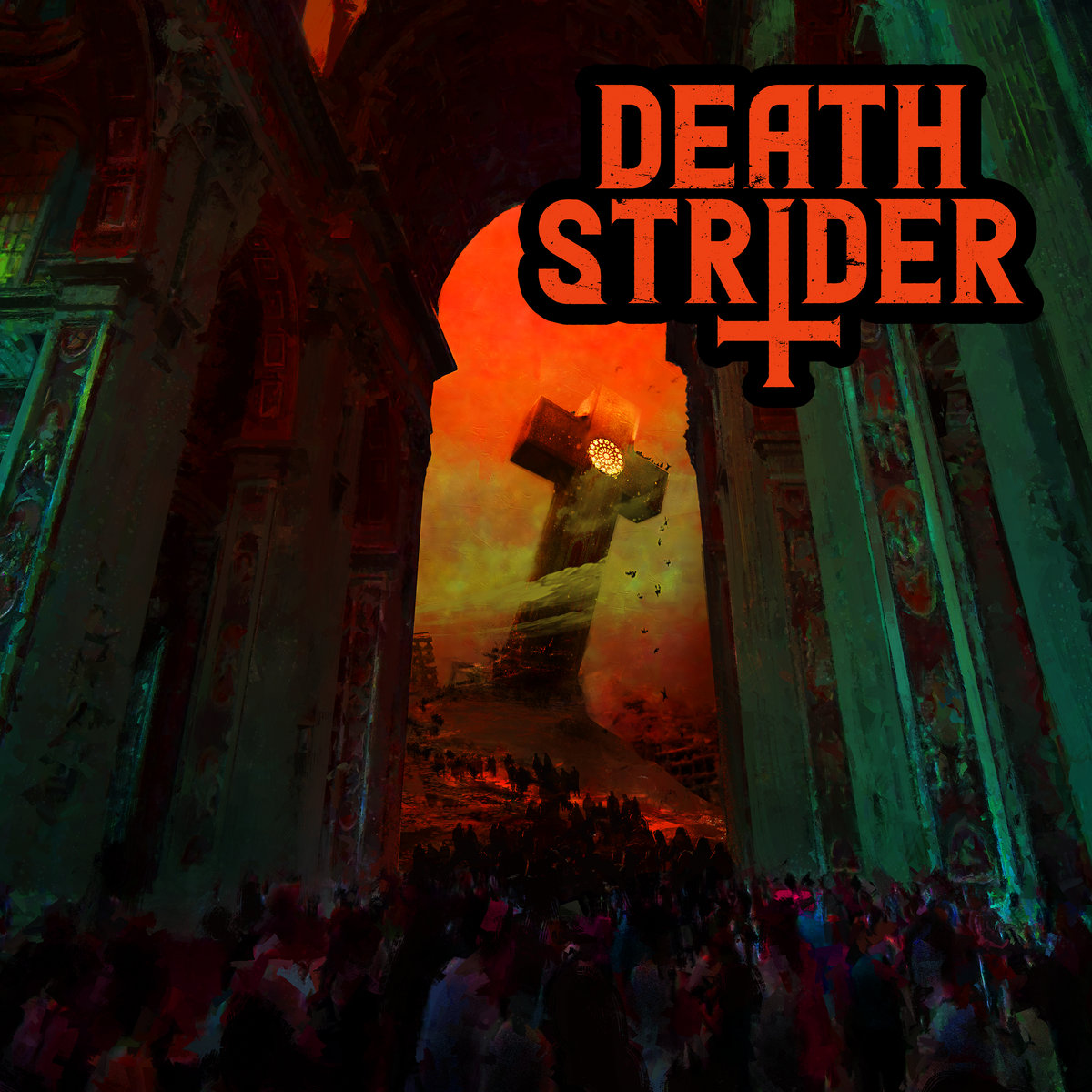 The Opening of the first song "Deadlands" builds into a crescendo of winding guitar riffs and pounding drums, sure to get the pit split down the middle once it's played in front of some eager miscreants in the crowd. In the midst of the tension you can hear soundbites of news clips about the current status of our fucked up and crumbling society playing, layering the coming strikes with a sort of venom that makes the blows even harder when they hit your ears.
As the song takes off like a saw to a tree Jesse's vocals come screaming into the mix, packing some youthful confusion and paranoia reminiscent to that of Mike Muir of Suicidal Tendencies while also carrying the songs with a sense of urgency in his lyrics. The song ends with an endearing promise to the oppressors of our current society, "We'll strip your titles and tear down your homes/ Start it over, we're starting from scratch/ The old world is never coming back!"
When talking about "Deadlands" Jesse remarked, "Funny enough, I was influenced by a concept for a short film I came up with about living in a post apocalyptic world, like The Road and Children of Men and such. I wrote it based on that idea but now looking at the world we're not really that far off, honestly." The lyrics Jesse boasts on the EP are heavily inspired by our current reality but also pack in a slice of fantasy, sounding the bells of society's damnation. For whom the bell tolls? Our oppressive world leaders.
The second song on the EP, "Icebreaker," in particular, launches its attack on the ICE detention centers that came about during the Trump presidency. There haven't been many songs or even much attention on the inhumane conditions of the facilities which are known for separating immigrant parents from their children, sexual assault at the hands of armed ICE officers and the disappearance of children in the custody of the centers.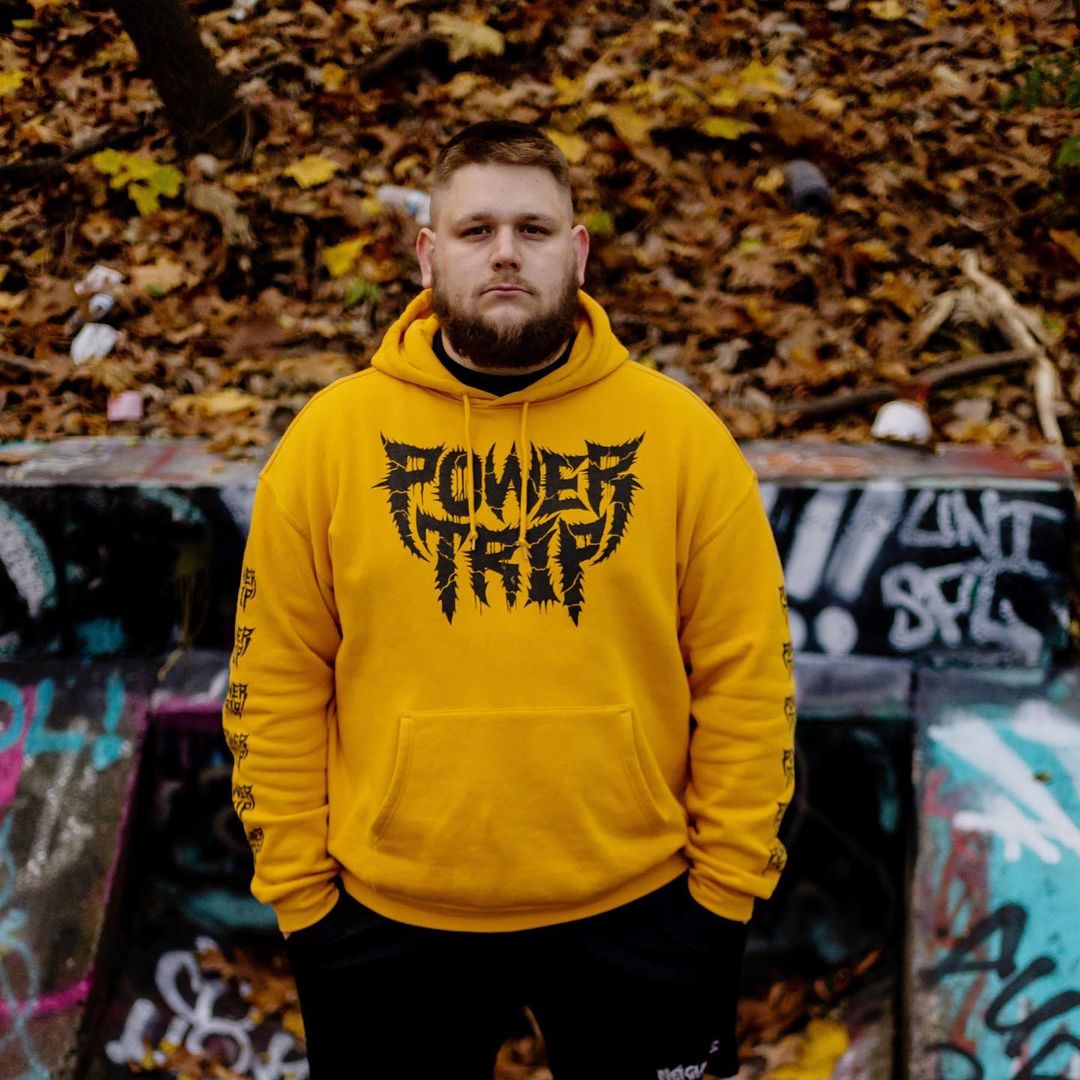 "When I was first writing this there was a sense of concern and maybe foolish optimism I had about the topic itself, 'Was this still going to be an issue?' and unfortunately now it's even worse than we first knew about it two years ago," Jesse remarks about the people still stuck in cages even in the wake of the Biden presidency. The issue of the ICE detention centers has seemed to have lost prevalence in the news outlets but the families are still kept in cages so it is refreshing to see a band still bringing this issue to light and continuing the rhetoric that acting peacefully in this situation isn't enough anymore.
Jack's guitar work on the EP consistently displays his love of the late '80s thrash and heavy metal bands as the galloping rhythms and whirlwind guitar solos make the meat of each song's structure, giving the band their own sound of apocalyptic fury. "My biggest influence is definitely Randy Rhoads, his style may not be present very much in what we've recorded but I learned all his Ozzy songs and solos as a kid."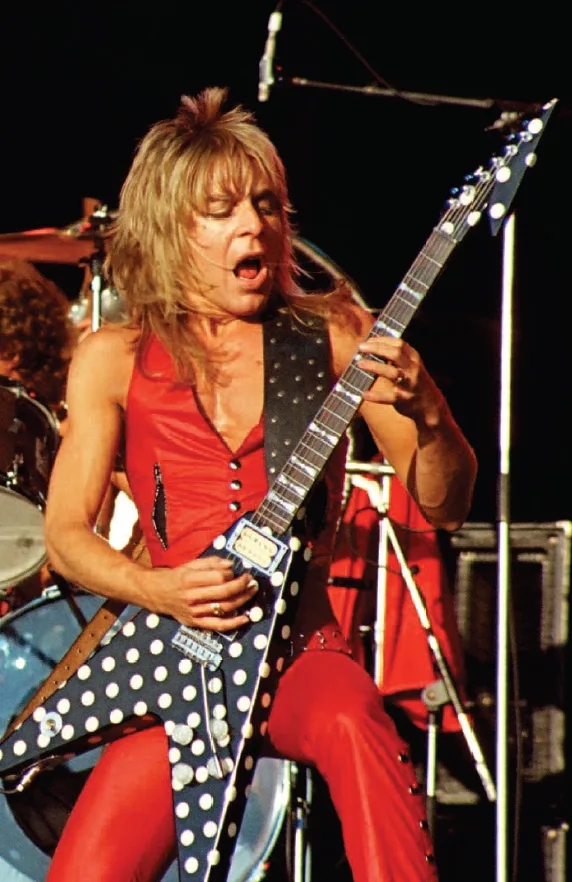 Jack continues: "James Hetfield is probably my number 2 since my right hand and down picking are all because of him and how he plays his riffs. Dave Mustaine is probably number 3, I really like his pentatonic style leads in a thrash setting and he is also a great rhythm player." There's many hints of Dave Mustaine's playing style on the EP, one might even think of the bands classic Peace Sells... but Who's Buying? when listening to it's rhythmic battering and tight solos which Jack never lets up on. "Solos are always going to be a necessity," he explains.
Continuing the attack on social dogmas "Cardinal Sin" deals with the topic of the Catholic Church. The song jumps right into the fervor of the driving guitars and pounding drums and is one of the most blistering performances from drummer Christian Koomey on the record.
A stalwart throughout the scene, Koomey has made his name playing in a multitude of bands across the scene including Ghost Fame with Olin, Crossed, and Shortest Life. He's already basically one of the most skilled drummers in the scene and the most dependable one so having a drummer this strong has paid off in spades for Death Strider.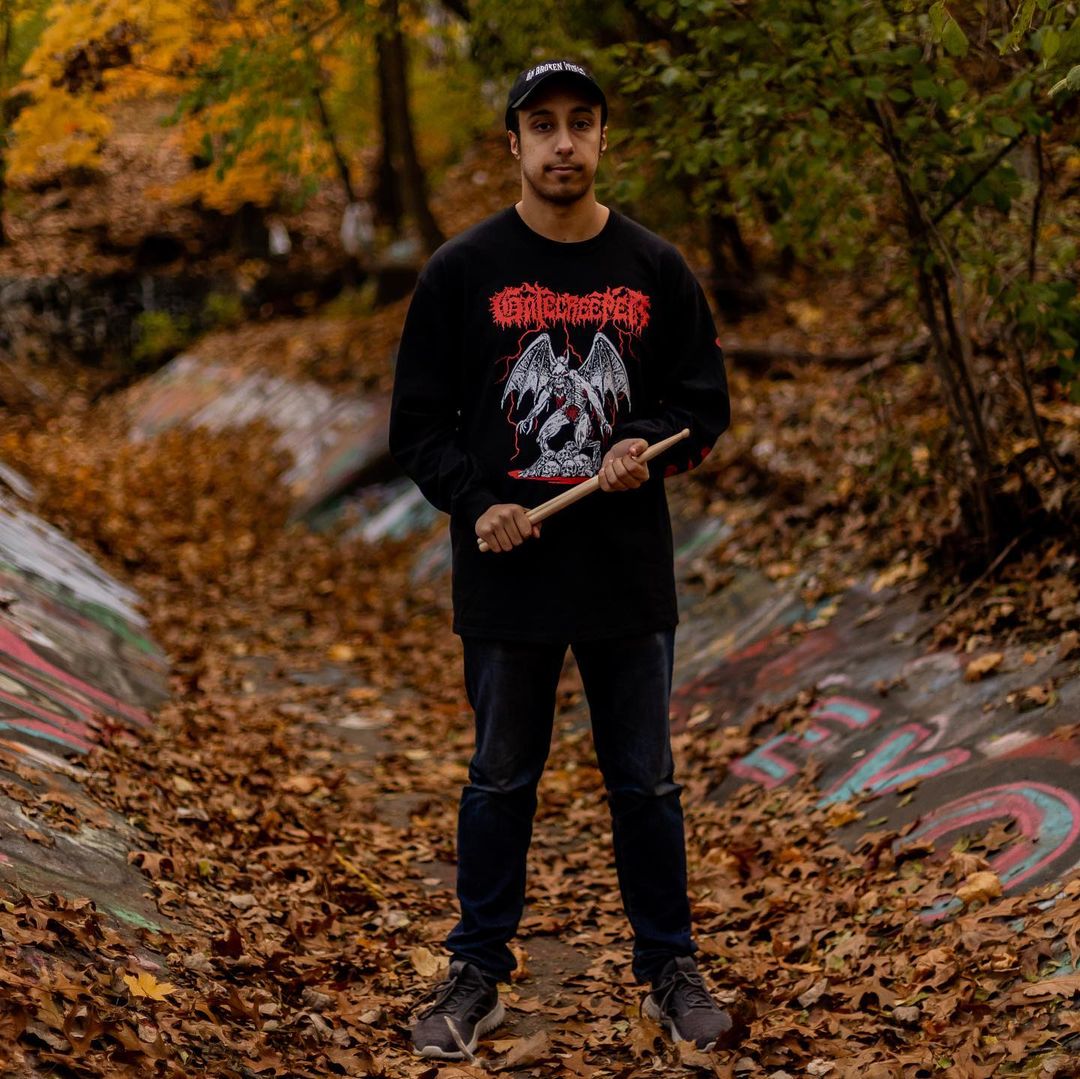 Listening to the songs now brings to light the EP's cover art which depicts a mass of people in an apocalyptic event running towards a towering crucifix. The album art was designed by friend of the band Kenny Duquet and Jesse states: "He knocked it out of the park. I give him full credit for coming up with the ideas for it. I just sent him the mixes of the albums songs and he came back with that and it couldn't have been better. He designs like tabletop games so the art is in line with that style but it's perfect for our sound and style."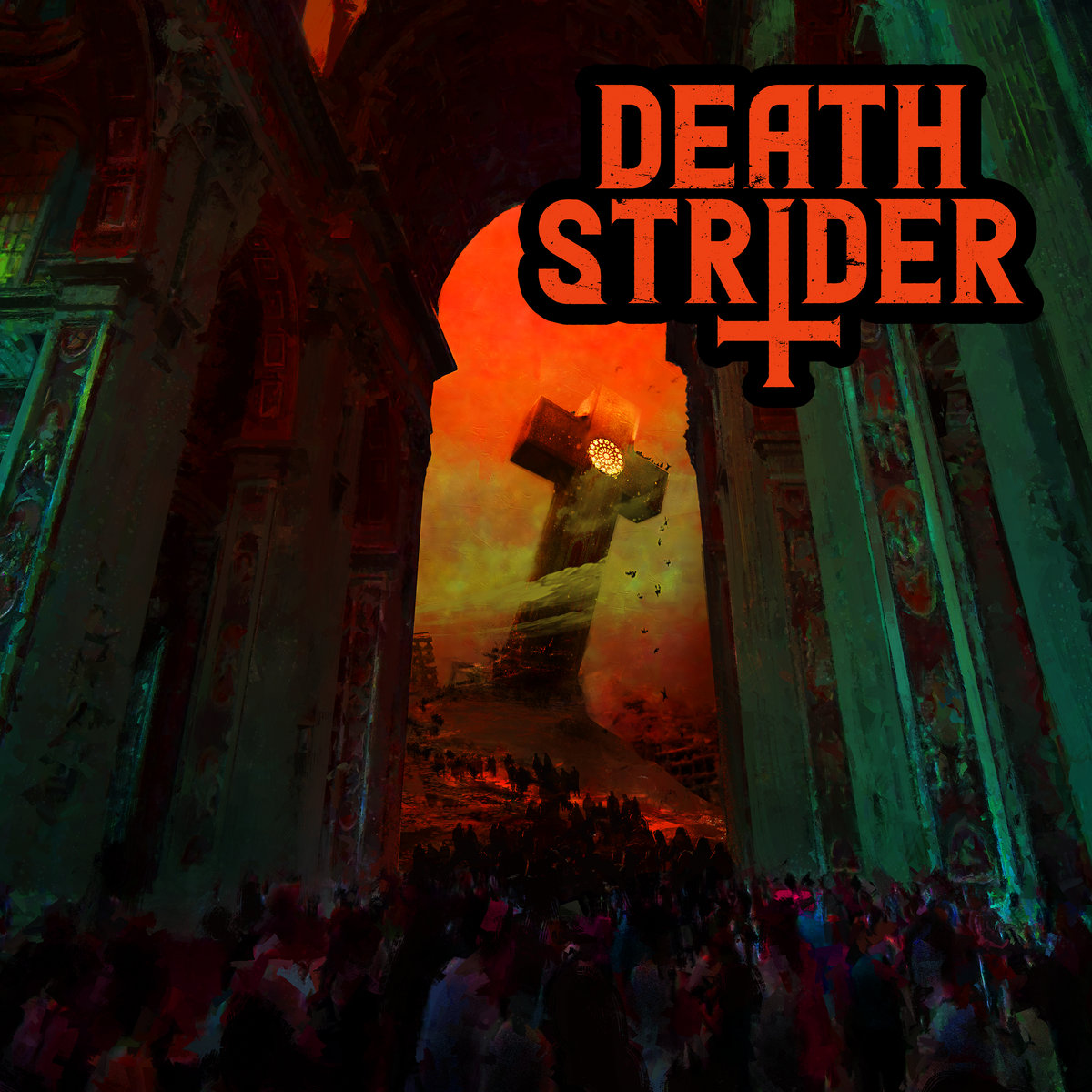 The finale, "Dead But Not Forgiven," brings the lyrics into the more personal realm which Jesse states he wants to keep to himself but admits that it is a very personal topic to him. Andy's bass playing on this song is particularly noteworthy as the rhythms blow past all speed limits and he keeps them pummeling your ears like a massive car pile up on the highway.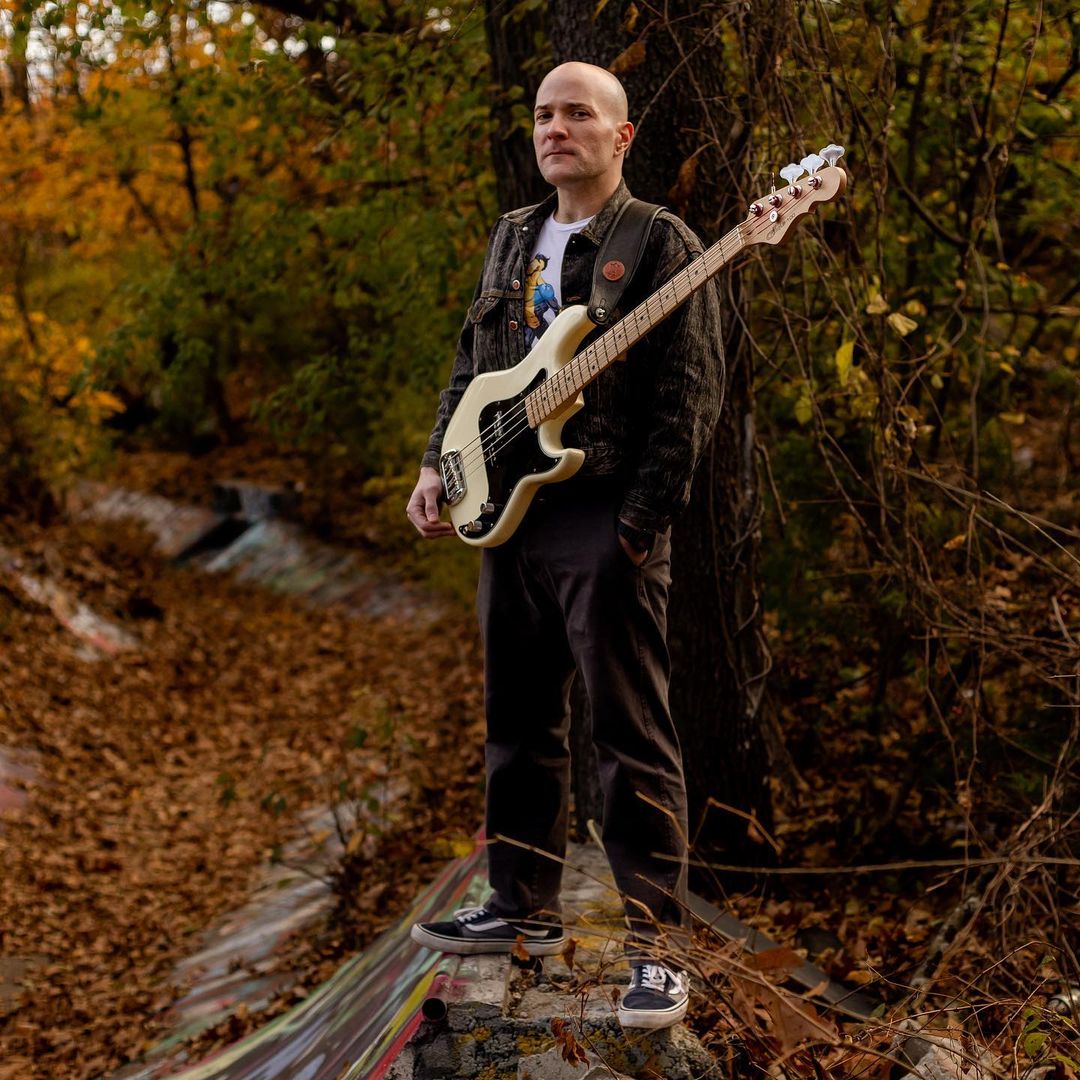 To cap off the entire affair Jack crams in so many guitar solos as though Jack was saying with each solo "I can go higher just watch" until the guitars scream into one another. It's multi-layered perfection and an amazing end to an already chaotic and insane experience that the EP brings.
The future is certainly wide open for Death Strider as they have already earned a good following off the steam of their fiery EP. In asking the band about their next steps for the future, Jesse stated, "We definitely wanna do some merch next, we've just put orders in for those. Our album art from Kenny Duquet is sick and I think that would go well on a shirt. After that we're also planning to go back into the studio with Nick Cates in March."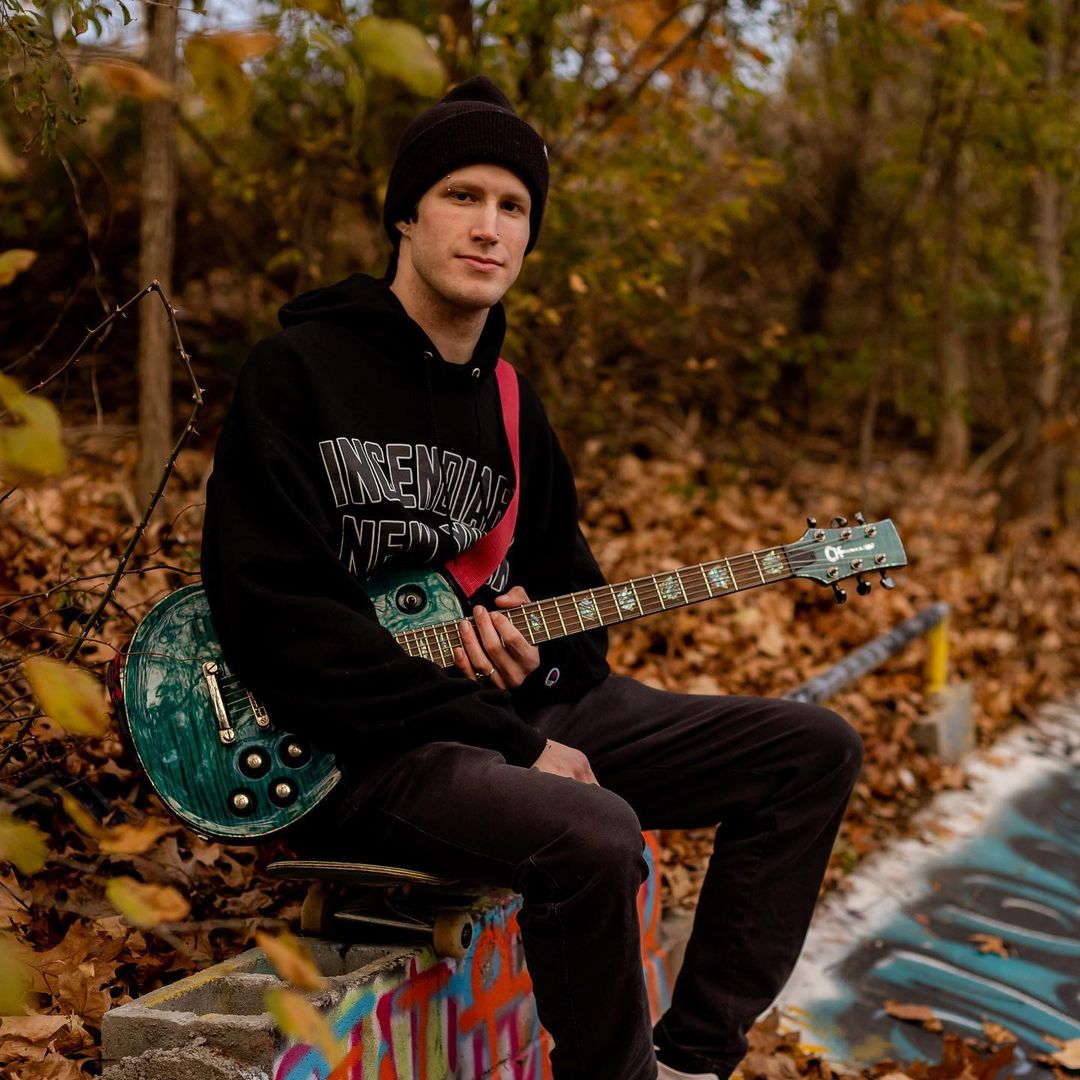 When pressed on the prospect of any shows they may have coming down the pike they explained, "We want to wait for a good show to really pop up, we already had to wait two years to get this EP together so we don't mind waiting to play in front of a crowd. We just really want it to be a special occasion with our friends rather than jumping on a random show last minute."
As anxious as I am to see Death Strider in action live, it will definitely be worth the wait to have them on a proper show for their live debut/record release show.
There's lots to look forward to with this band now that their EP is finally out to the world. The crossover genre is definitely alive and well thanks to bands such as Death Strider and many more. Be sure to check out their self titled EP and follow their socials for more updates on this ripping band.
Death Strider on social media: Facebook | Twitter | Instagram
***
Help Support What No Echo Does via Patreon:
***
Tagged: death strider, ghost fame