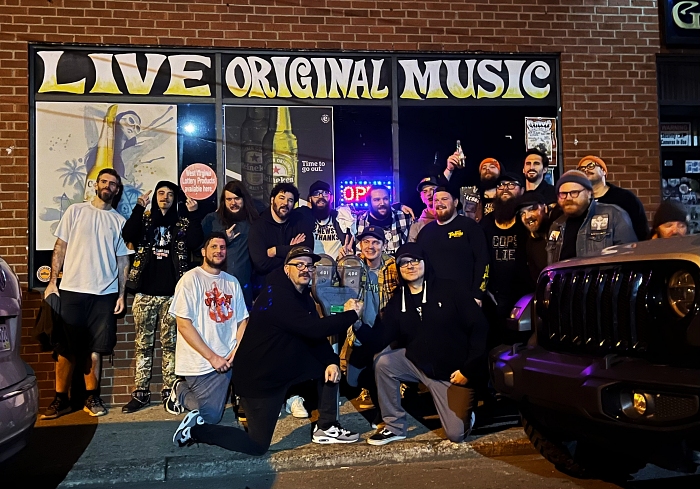 The folks behind Aggrocidal DIY are no strangers to the world of DIY punk rock. Led by the local hardcore band, New Clear Future, the scene dates its roots back to at least 2005 when NCF booked all ages shows in their hometown of Ravenswood, West Virginia. The band reformed in 2021 after the COVID pandemic to pick up where they had left off and immediately started recording new music.
Since 2005, New Clear Future self released their material under the name Aggrocidal Records so the booking/promotion venture is straight throwback to what they refer to as the "MySpace Days".
After their 2022 release The Past Follows was featured on No Echo stating the band was working on rejuvenating the scene, regional bands started reaching out in hopes to book shows in Ohio Valley. The first being Richmond, Virginia's Contact.
"Our first show back was a pretty good success" says NCF bassist and primary Aggrocidal promoter, Paul Lemley. "We had a pretty good turnout and Contact seemed to be well received. It's very important to us to host touring bands in our area. It builds relationships, networking opportunities, and strengthens the scene when it's exposed to outside ideas."
"Ravenswood, West Virginia is the perfect location to build a scene. Located right in the middle of the mid Ohio Valley, the small town of about 4000 residences is nearly centered perfectly between Columbus, Ohio, Pittsburgh, Pennsylvania, Richmond, Virginia, and Louisville, Kentucky. We have Ohio University 30 minutes north and Marshall University 60 minutes to the south west.
"Right now, we've been alternating shows between Athens, Ohio and Charleston, West Virginia. Huntington's been tough since COVID closed a lot of the smaller venues but we're working on getting our foot back in there."
Aggrocidal DIY is hosting their own YouTube channel to stream live sets from varies shows at @ohiovalleyhardcore on Instagram. Hit their Linktree to find all of their pages, and they can also be reached directly at [email protected].
***

Tagged: contact, new clear future