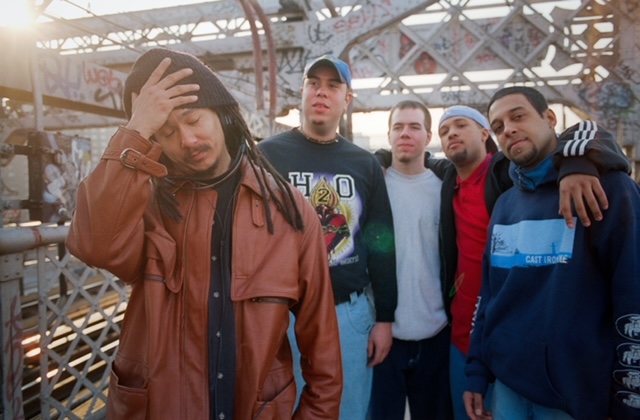 Throughout the '90s, Fahrenheit 451 were a fixture on the NYHC scene. Their potent fusion of hardcore, funk rock, and alt.rock hooks helped them stand out on a live bills during the era. It didn't hurt that they also penned some delicious mosh-worthy parts.
Not long after releasing their The Thought of It EP on Striving for Togetherness Records in 1996, Fahrenheit 451 broke up. Since then, Fahrenheit 451 have reunited to play a handful of shows, and have more on the way.
That brings us to the present, and Fahrenheit 451 is appearing on No Echo to help spread the word about their reissue of the aforementioned The Thought of It EP, which has just been released on vinyl for the first time by Light the Fuse Records. The reissue was remastered, features new artwork, and also includes two bonus tracks taken from the Japanese version of the original CD.
The forward-thinking NYHC band's output sounds as fresh today as it did back in the day, and with that in mind, I spoke with my old friend Armando Bordas, the vocalist of Fahrenheit 451, about the EP, the band's original run in the '90s, and what else we can expect from them.
Take us back to the time period when you were working up the material for The Thought of It EP. I remember you guys playing out a lot in the NYC area during that era.
Yeah, it seems like we were playing every two weeks in the city in the mid-'90s. We were fortunate to be around at a time when the hardcore lines were very undefined, so you were able to see a bunch of different sounding bands on the same show. Also, there were so many bands, shows, and venues. You could have 2-3 shows in one day on the weekend. I feel like today's scene is similar to that time.
I know it's super cliché, but that time very much informed the writing of the EP. We were so happy to have someone put out something we were creating. We got a lot of momentum from the New York's Hardest compilation.
Howie Abrams, whom we worked with at Roadrunner, took a liking to the band and wound up co-producing the EP. It was dope that he believed in us and helped push this thing along.
Did you feel like you had the Fahrenheit 451 sound dialed in going into the studio, or were you all still figuring that out? I think there's a big jump in quality from the demo to the EP tracks.
There was definitely a combo of wanting to sonically push it but not knowing how to get there. That's where Howie came in. He helped hook us up in sweet studio with this producer named Dan Wise. Dan was super easy to work with and I felt like he got what we trying to do. I mean, some of our songs are all over the place and he captured that in the best way possible.
How did the band hook up with Kevin Gill and Striving for Togetherness Records? For some reason, I think you might have introduced us when we were both interning at Roadrunner Records in 1994? I saw him last year at a wrestling event and he's still as upbeat as ever!
Yeah man, I haven't seen Kevin Gill in a minute. I hear he's well and is back on the East Coast. Maybe we'll run into each other at a show. Yeah, I believe I did introduce you two. Small hardcore world we live in.
We connected with Kevin through Lenny who was in Without a Cause. They were one of SFT's first releases. When we changed to Fahrenheit 451, Kevin liked what he heard and decided to release the ep. It was a great place to be at that time. Kev had a real grip on the cool shit that was going down in the scene back then and we were happy to be a part of it.
How much touring/show support did the band do once the EP was out?
We actually played a ton behind that EP. We pushed that shit for so long [laughs]. We went everywhere someone would have us. Around this time we hooked up with Vaughn Lewis. He became our manager and was really the driving force behind getting us out there and elevating our tour situation so we were playing way more shows in a lot of different places.
He was key in getting H2O, who he managed, and Vision of Disorder to take us all over the East Coast/Midwest and out west, which was awesome.
How tough was that aspect of the band with all of your individual career pursuits?
We got to do a lot for a band that wasn't around for very long. By the time this was happening, we were all of the mindset that this is what we were going to try and do so it became the primary career pursuit for all of us.
With that in mind, why did Fahrenheit 451 end up breaking up back then?
Classic story, we just couldn't agree on anything and just grew apart. By the time we broke up, we had gotten frustrated with our inability to move forward and it became really stagnant. In retrospect, I think we were our own worst enemies. We had these unattainable, unrealistic expectations and it just imploded.
What's up with the band these days? I know you've played some shows.
The main news is that Light the Fuse Records out of the Netherlands has just released The Thought of It on vinyl for the first time ever. [Laughs] It only took 26 years. In addition to the songs on the EP, it also has the two New York Hardest songs that we re-did years ago for Japan. Orlando Arce (Stillsuit) did the layout.
It all came out amazing, and we're all incredibly excited about it. Lou Medina (Coldfront, Breakdown) is now behind the kit and we couldn't be happier. He's been a dear friend for years and we couldn't imagine anyone else on drums.
We've played a few shows so far and hope to play a few more, next one up on June 10th, in Brooklyn at The Meadows, for [guitarist] Lenny's 50th birthday.We would love to play Europe and Japan since we never made out there and it would be a fucking blast.
We're also writing two new songs that I'm really excited about. We're hoping to get that released as a 7-inch in the very near future. Besides that, I'm just happy to be playing music again with my friends.
***
The Thought of It is available on vinyl via Light the Fuse Records.
***
Help Support What No Echo Does via Patreon:
***
Tagged: fahrenheit 451