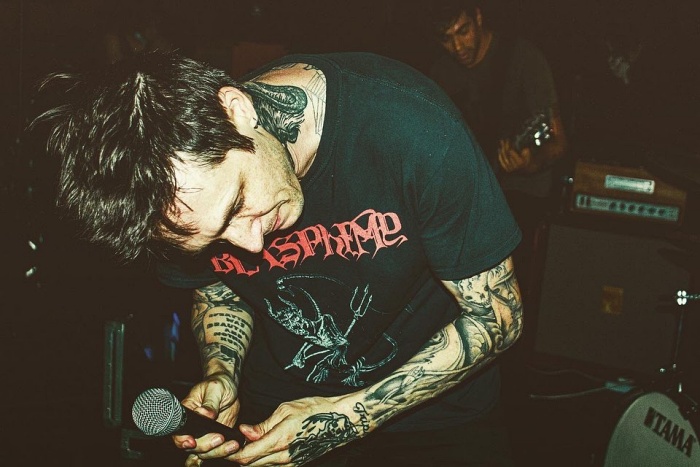 It was a Thursday night at Hardcore Stadium in Cambridge, Massachusetts. I walked up to an entirely nondescript, square brick of a building. I was only sure I was in the right place because of the others, in black band tees, lined up to enter the basement at the back of a long walkway.
The room got dark and filled, body-to-body, as the band I came to see took the stage. The heavy anticipatory energy in the air suggesting we'd all been locked up too long.
New York's Uniform took the stage with vocalist Michael Berdan's presentation reminiscent of a demonic possession. In his wild pacing, he often penetrates the crowd, pushing into thrilled and screaming spectators. Participation points to all those thrashing violently to catchy yet dissonant drones.
As I struggle to stay upright in my standard, if ill-advised, stilettos.. Berdan climbs the walls, clinging to the pipes of the ceiling. A sea of masked admirers staring upwards towards him.
Having been formed in 2013 by Berdan and guitarist Ben Greenberg, and now met by drummer Mike Blume, the trio creates nightmare-fuel music to married to hexing lyrics. Their first release came as 2015's Perfect World, a heathen album that left listeners mangled. The crew currently joined on tour by bassist Jenna Rose.
Ben who, with unending energy, is a delight to watch has been quoted discussing the value of music as a way to communicate. This comes across in the performance which, though dark, feels emotionally-driven and deeply cathartic.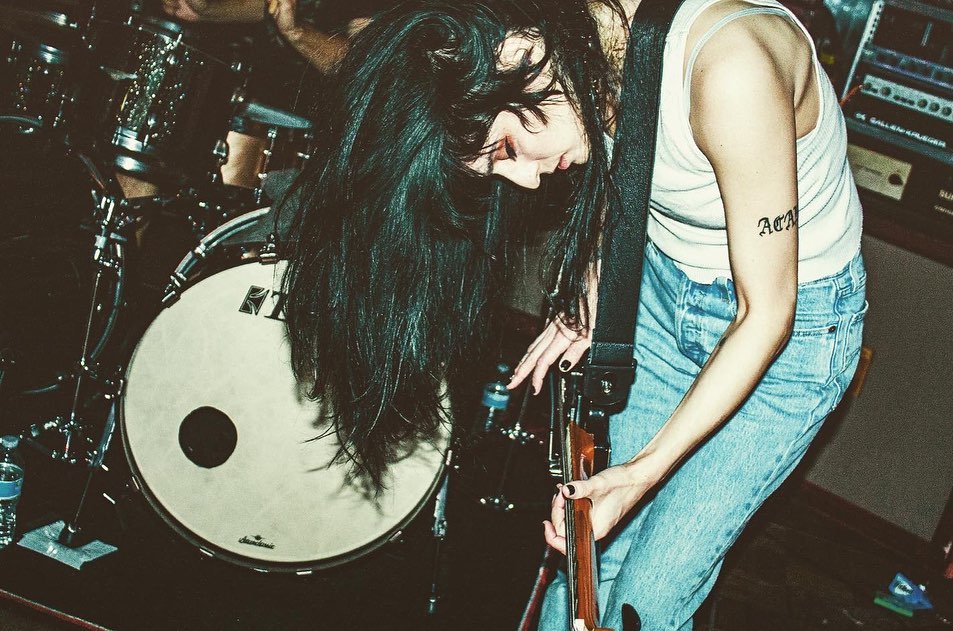 Commonly referred to as industrial, in listening it's clear that the crew pulls from a variety of influences. I hear classic rock and metal in the gorgeous riffs and sludge in the drippy, dragging structure of the songs. I also hear noise, a characteristic I adore.
Uniform's fourth full-length album, Shame, has been referred to by fans as "an industrial masterpiece" as the band sets out on a 3 1/2 week tour in promotion of it.
This latest record, released in September 2020, came at a time when fans needed it most. Dropped at the height of our pandemic year, fans have had the time to fall in love with the album during lockdown. Now they have the opportunity to see it live creating an excited energy in the room that feels like a light at the end of a long, dark, pandemic – tunnel.
Of the tour's third show in Berlin, Connecticut, Berdan tells me, "This is very early on the tour," with prior shows at home in Brooklyn and then in Cambridge, Massachusetts. He tells me he's headed home tonight to sleep in New York with his dogs before setting out for remaining dates with Body Void and Portrayal of Guilt.
The band's US tour dates take them through 19 states for 21 shows. Wear something pit-appropriate and make it out if you can. You will not be disappointed.
Uniform 2021 US Tour Dates with Portrayal of Guilt and Body Void:
10/26 – Atlanta, GA @ 529
10/27 – Birmingham, AL @ Seasick Records
10/29 – San Antonio, TX @ Events *
10/30 – Austin, TX @ Levitation
10/31 – Albuquerque, NM @ Sister
11/01 – Phoenix, AZ @ Valley Bar
11/02 – Los Angeles, CA @ Zebulon
11/03 – San Francisco, CA @ Rickshaw Stop
11/04 – Portland, OR @ Mississippi Studios
11/05 – Seattle, WA @ Vera Project
11/06 – Boise, ID @ Neurolux
11/07 – Salt Lake City, UT @ Kilby Court
11/08 – Denver, CO @ HQ
11/10 – Chicago, IL @ Empty Bottle
11/11 – Cleveland, OH @ Now That's Class
11/12 – Philadelphia, PA @ PhilaMOCA
Uniform 2022 UK/European Tour Dates with Pinkish Black:
04/05 – Budapest, HU @ Aurora
04/06 – Brno, CZ @ Kabinet Muz
04/07 – Wien, AT @ Chelsea
04/08 – Innsbruck, AT @ PMK
04/09 – Winterthur, CH @ Gaswerk
04/10 – Geneva, CH @ Cave 12
04/12 – Lille, FR @ La Malterie
04/13 – Paris, FR @ Supersonic
04/14 – London, UK @ Electrowerkz
04/15 – Manchester, UK @ The White Hotel
04/16 – Newcastle, UK @ The Cluny
04/17 – Glasgow, UK @ Audio
04/18 – Nottingham, UK @ The Chameleon Arts
04/19 – Ramsgate, UK @ Ramsgate Music Hall
04/20 – Brussels, BE @ Botanique
04/23 – Leipzig, DE @ Soltmann
04/24 – Berlin, DE @ Kantine Berghain
04/26 – Copenhagen, DK @ Loppen
04/27 – Goteborg, SE @ Skjulet
04/28 – Stockholm, SE @ HUS7
04/30 – St. Petersburg, RU @ Serdce
05/01 – Moscow, RU @ Bumazhnaya Fabrika
05/02 – Tallinn, EE @ Sveta Baar
05/03 – Riga, LV @ DEPO
05/04 – Vilnius, LI @ XI20
05/06 – Warsaw, PL @ Chmury
05/07 – Prague, CZ @ Underdogs
***
Help Support What No Echo Does via Patreon:
***
Tagged: uniform