So I got this text message from Carlos a couple weeks ago - "Hey are you doing a year end list or what?" And I'm like "Of course, when is it due?" Which he then replies "The second week in December." And I'm like cool, I've got months to put this together but also, why is he hitting me up so early?
Suddenly it dawns on me - the year that would never end is actually about to end!
My sweet jah - how is it possible that our perpetual nightmare, otherwise known as 2020, might actually be coming to a close!?
Perhaps the only shining light of joy to an otherwise total shit system, absolute hellscape of a year is the tidal wave of simply divine hardcore which suddenly exploded like a humoungous cyst upon the urethra of Thomas Lenz (Eric Wood is still coming for you).
It's as though every freak suddenly found stacks of unreleased tracks of eardrum-melting gold buried in their closet and unleashed it up the world. There's almost too much!
But fret not fellow mindless mutant, here's the good shit, the crème de la crème, the finest golden shower of hits for the year that would not end - in alphabetical order:
The Annihilated, Demo CS
Ugly music for ugly people—simple, barebones and pissed as fuck hardcore for people who think the Negative Approach LP is a little too metal.
No D-beat, no metal just 6 detonations of throat punching fury straight out of London. Perfect in every way.
Armamento Fatal, Armamento Fatal 2xEP
Eleven short blasts of ripping, distorted to hell hardcore punk from San Francisco. There are mountains of reverb and they've done this crazy thing where they have like a million layers of guitars with crazy swirling effects and creepy lead lines that just make it more compelling--it almost has psych-rock feel to it.
The drums have that almost inept but not quite feel to them like you find on the early Wretched records that just adds to the urgency and intensity—especially when pair the vocalist's attack.
For those keeping track, it ex-Peligro Social, if you recall that Tankcrimes rama-jama-supa-slammer of an LP. Limited to just 500 copies this is something you probably should try to track down.
BIB, Delux LP
There's a cool vibe of snarling desperation present on BIB's new LP - soaked in feedback, reverb and noise it stomps, snarls, and spits with a sense of feral angst which is missing in a lot of recordings.
And then in the middle of it all there's this pop song in the form of "Foreign States" - not in the slick way we normally think of it but like Scratch Acid or Nirvana "Tourettes" style pop where the hooks and melancholic sense of melody are buried in layers of filth but they still manage to shine through.
This is fucking great.
The Chisel, Deconstructive Surgery EP
Solid, put the fucking-boots-in, lager and chips, ultro aggro, UK punk. It puts a modern spin on the more hardcore side of Blitz and the lads out to cause trouble, have a few pints and smash them in the cars feel of Cockney Rejects hooliganism but with a bit more sense of class consciousness. Hools, yeah?
Chubby and the Gang, Speed Kills LP
Absolutely brilliant–probably one of the most exciting things I've heard in ages.
There's so much of this that reminds me of those late '70s UK punk bands like Riff Raff or the Killjoys–tons of snot, energy, sass and melodies that l could see leading to raucous, beer soaked evening of smashing up the club.
Deseos Primitivos, Deseos Primitivos LP
From the first time I saw this Oakland band I've been a superfan—bouncy melodic punk rock that takes a mountain of influences of the sort that was coming out of Spain in the '80s and makes it their own.
I swear, at times, vocalist is a dead ringer for Evelyn Zorrita from Vulpess—it's assertive, infectiously melodic, and absolutely wonderful album. More more more.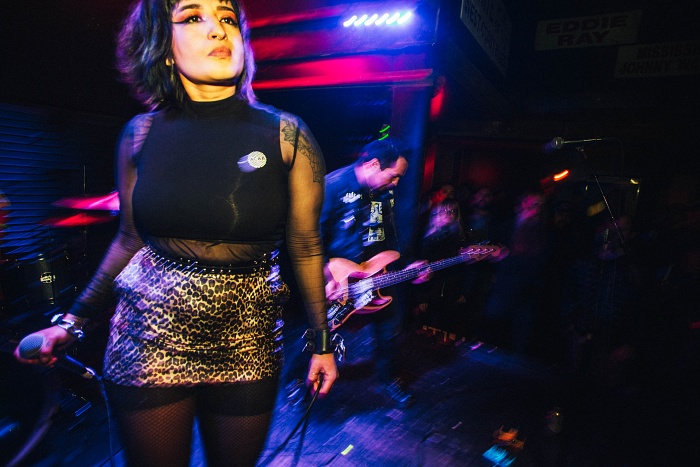 Destruct, Echoes of Life LP
What's that I hear? Could that be an enormous door slamming in the depths of hell? Maybe it's just the cat? Oh, it's the Destruct LP!
We all know the formula well—take a bar spoon from the lads from Stoke-on-Trent, take two ounces from Sweden, add in a twist from Tokyo and serve it up in a martini glass for maximum impact.
The important thing when doing it is how much of yourself and how much energy you inject into it and Destruct certainly delivers on that—they got riffs, they got punch, they got shredding leads. A release that is certainly worth your attention!
Geld, Beyond the Floor LP
It's absurd how good this - just this massive, absolutely blistering juggernaut of hardcore soaked in ferocity. It pummels at high speed velocity, twisting itself into this acid soaked auditory nightmare before collapsing into a heap of skull crushing angst.
It's records like this and the new Gulch LP which take bits and pieces from the long history of punk and then use them to formulate something original which gives me hope for the future.
For me, this is like the first time I heard Rorschach, or Black Flag, or His Hero is Gone. Just brilliant.
Heavy Discipline, Heavy Discipline LP
Let's be honest, something magical is going on the glorious city Pittsburgh - is it the dirty water of the three rivers? Is it something magical they slip into the pierogies at Gooski's? Is it the steady diet of rust belt blues?
Heavy Discipline are everything I want in a hardcore band - brutal, stomping breakdowns interspersed between blazing velocity and some of the finest drill sargent vocals on the planet.
This shit smokes, it slaps, its a fucking hammer to the face, a punch in in your junk, just push play and crank the fucking volume and stage dive off your couch.
Humant Blod, Flykten Från Verkligheten EP
Man oh man, do I love Totalitär - for me, they are the quintessential Swedish hardcore band, an utter juggernaut of velocity and riffs. A relentless barraging steamroller of hardcore fury backing up Poffen's searing vocal onslaught - now what does that have to do with this?
Sadly, as Totalitär is seemingly no more its projects like this we have to lean on to fill the void - a project featuring members of Extended Hell and Subversive Rite teaming up with Poffen (Totalitär) and Mattias (Dissekeradd) to crank out 5 pulverizing tracks of ripping and rollicking Swedish hardcore.
Joukkohauta, Joukkohauta EP
Finnish hardcore done up in the classic way - think Russia Bombs Finland, Bastards, Kaaos, etc. It's a wild and manic ride of buzzsaw guitars and rapid fire dums overlaid by desperate screams.
Fucking brilliant.
Muro, Pacificar LP
The closest analogue to Muro I've been able to come up with to explain Muro to those who don't know them is Gauze. While there are some sonic comparisons to be made, both playing a thrashing and seemingly unhinged version of hardcore punk, it's more the thought and care that goes into the expression of their vision.
Everything is carefully considered and thoughtfully presented. It's less about produce, produce, produce, and more about honing and creating something which will stand the test of time--providing an accurate, potent document of time and place.
Pacificar certainly continues this trajectory, furthering the thoughts both artisitic and musical layed out in their 2017 LP, Ataque Hardcore Punk.
Public Acid, Condemnation EP
You don't deserve this. This is absurd - a noisy, distorted steamroller of hardcore punk which feels like a modern take on the ideas bands like Zouo or Gudon put on the table. Totally bludgeoning, snarling, and vicious hardcore which hits you like an anvil to the face.
Equal parts terrifying and brilliant. Absofuckinglutely devastating live.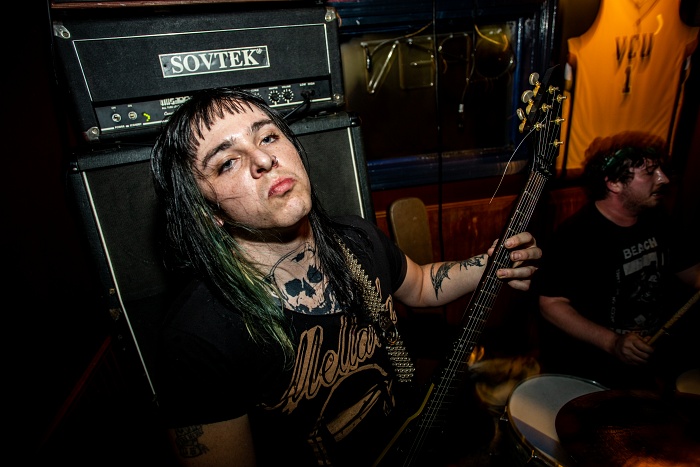 Sial, Tari Pemusnah Kuasa MLP
I love Sial—I'll make no bones about that. They are the perfect splatter of distortion soaked, pukka-pukka, d-beat hardcore that fills the air with a beautiful cacaphony of noise.
There is an almost mechanical head bobbing precision in their approach which serves to help punctuate vocalist Siti's reverb soaked chanting incantation—this is especially present on the dirging "Tikam Lidah."
Outstanding.
Sirkka, Kuluttava Kone CS
If you told me this was some long lost outtake from Russia Bombs Finland I'd believe you—4 tracks of blistering '80s style Finnish hardcore in all its reverb soaked hectic glory.
Sure, it's from New York in 2020, not Tampere in 1984 but it sizzles just the same. I certainly want more of this.
The War Goes On, Assisted Armageddon LP
This is fucking outstanding - powerful melodic Danish punk that sounds more akin to Rikk Agnew's genius than say Enola Gay.
Like vocalist Ronni's prior band No Hope for the Kids, there is a moody and menacing angst present here both lyrically and in the riffing which keeps this from sounding like ditzy some sort of SoCal Warped Tour spawn.
I can't stop listening to this.
***
No Echo has launched a Patreon with 3 tiers offering all kinds of hardcore-related goodies to help support the site:
***
Tagged: bib, chubby and the gang, destruct, geld, muro, sial