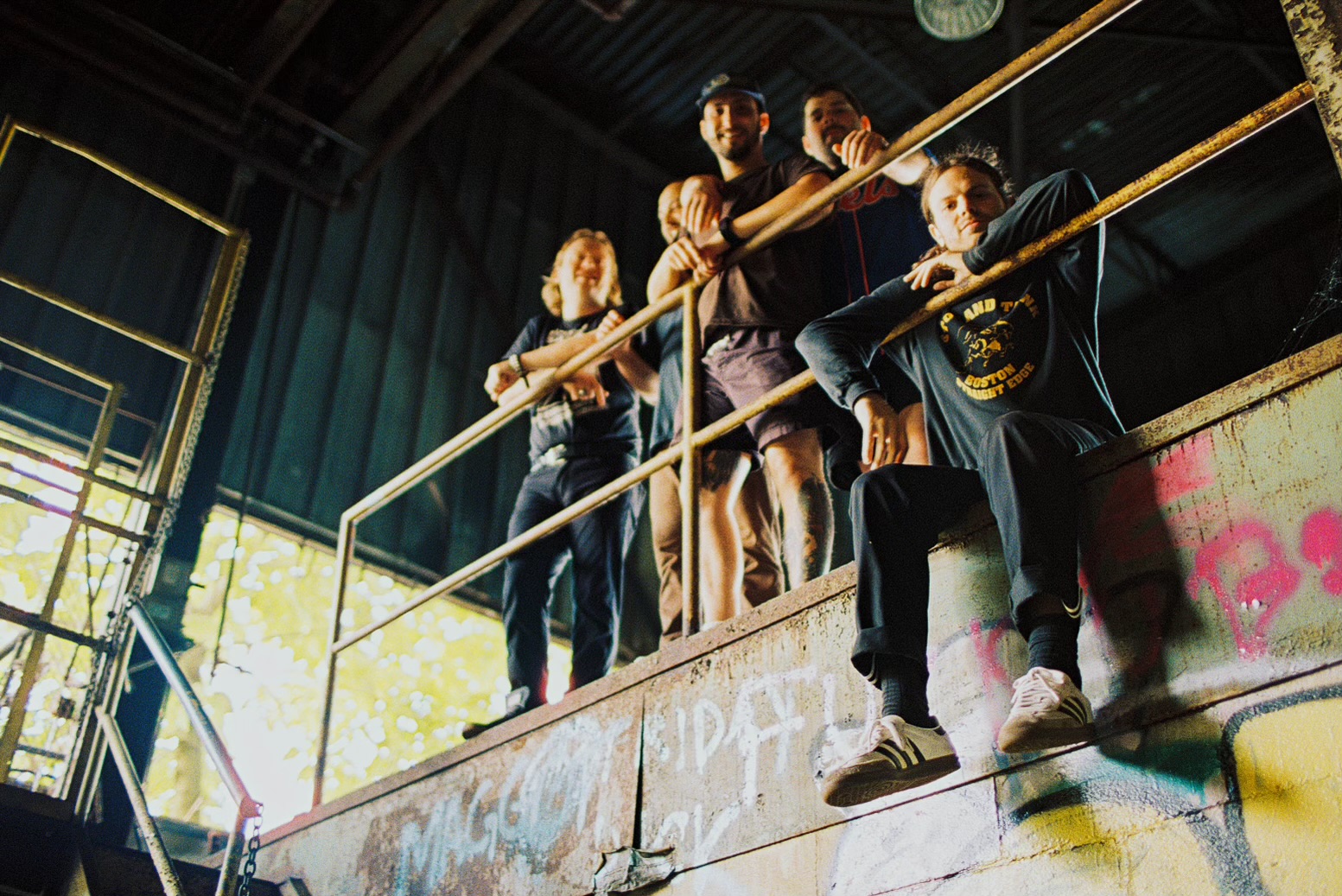 The members of Dead Last are busy people. But despite all of them being in other, more active, bands, they managed to craft a cohesive and intensely powerful set of songs with their debut record, Where Do We Go From Here?
The eight-song EP is out now on Streets of Hate with a limited color variant on Triple B Records. I talked to John Scanlon, the band's singer and LIHC gangster, about the band, their future plans, and being a busy dude.

How did the band come to be? You're all in other, very active bands. What was the motivation there? The Triple B connection seems obvious, but was it just a sort of handshake agreement that you'd release your music with that label?
So, the band has been in talks for about 5 years at this point, It was always Richie, Jon and myself with the rest of the lineup switching around. We just wanted to start a hardcore band that was reminiscent of '80s NYHC and early '00s Boston hardcore.
With us having a bunch of free time in 2020 we actually got together, with the additions of Andy and Dylan, and wrote the EP. What really kicked us into gear was Sam telling me he was getting bands together for AHC 5 and I joked about putting us on there and naturally he did it.
So yeah, more or less we just wrote 9 songs and asked Alex from Streets of Hate if he'd want to put the other 8 songs out as a 7-inch. Surprisingly he was down cause he's a lunatic, please pick up a record so he doesn't regret his decision [laughs]. Sam Triple B has a limited colored variant that is almost sold out.
What was the writing process like for Where Do We Go From Here? Who mostly wrote the music and how was recording?
It was honestly kind of quick, we would just go to the Rule Them All practice space and jam on some riff ideas Richie would have. Richie would just write a bunch of riffs at home and send them to the group chat. Naturally he would forget how to play them so Dylan and him would have to try to figure it out at practice.
I wrote one song but literally the rest was Richie with Dylan throwing a riff in here and there and Jon helping out with the structure. Andy gave opinions as well which we had to respect because he's a 6' 5" lawyer.
Recording was chill, we recorded with Tone from Sheer Terror/Kill Your Idols/Sick of Talk considering he's recorded all of our other bands and always does a great job. Sometimes he doesn't hear things that I pick up on but I think it's because he might be going deaf at this point. I had to record vocals at his house twice so my apologies to his downstairs neighbor
Dead Last's overall sound is heavy and gritty, but more in a hardcore punk sense than in the more modern heavy metallic hardcore sense. What influences did you all think about in developing the band's sound?
Our influences were, for sure, Youth of Today, Breakdown, Straight Ahead, Underdog, Sick of It All, Supertouch, Floorpunch, Mental, Stop and Think, Rampage, and Step Forward to name a few.
Like previously mentioned we just took the influence from '80s NYHC through the eyes of the '00s Boston bands because I truly believe they perfected the combination to a tee.
"Who Gets the Last Laugh" and "Drown" are deeply existential songs. What inspired those lyrics in particular, and are you often thinking in terms of the existential?
The whole record, for the most part, is about my experiences dealing with depression and anxiety during a low point in my life a few years ago. Very typical hardcore record theme but it's what I felt made sense to write about. The lyrics aren't obscure, it's clear that I don't read Hemingway or some bullshit, but hey that's straight-up hardcore.
You think [Breakdown vocalist] Jeff Perlin read The Old Man and the Sea? Fuck no!*
*Sorry, Jeff, if you actually read that.
"Land of the Free" is a pointed critique of the culture wars that inundate us. Beyond the artistic release of music, what do you see as a positive way to combat some of the more insidious problems in our world?
I think informing peers and having in depth conversations is a good start. Lend a helping hand when you can, etc. There's no concrete answer in how to change the world for the better, just do the best you can and do what you think is right
What's it like being a vocalist as opposed to a bassist? The vibe's got to be a little different, right?
[Laughs] Well, I don't really know how to pull off being either so it's similar in that sense. I don't know what the hell I'm doing. I was terrified of playing shows for so long as a bass player so there's no doubt in my mind that when we play our first show I'm going to want to be anywhere else.
Maybe I won't even show up, who knows. I'm kind of excited though in a weird way, we'll see what happens
What is on the horizon for Dead Last? Shows? Tours? More releases?
I told everyone we wouldn't play shows but that's just me being a nervous dumbass and selfish. I definitely turned down like three or four shows already out of being scared but honestly I also didn't want to play any shows without playing Long Island first.
We're gonna play a record release on March 20th at the Massapequa VFW in hopes we sell enough records for Alex Casey to break even [laughs]. Maybe we'll play out here and there but I don't want to overdo it really. I don't think it's the vibe I'd want for the band.
I'd be down to put out another record, I think if we write another one, I'd send it to Lockin' Out just cause fuck it but it might be a little too on the nose.
You do a lot for hardcore music, aside from bands. How do you balance all that you do with booking shows, being in bands, being present for friends, and having a persona life?
I balance it poorly and that's why I'm always stressed out. I feel like sometimes I'm not physically present in my friends' lives and it bums me out but I'll always be there for them whenever they need me. Being in bands is fine cause nothing is full time and it's just for fun, just how I'd want it to be.
Name one LIHC band, past or present, that you think is terribly underrated, and why?
The answer will always be Silent Majority with Mind Over Matter coming in close second.
***
Where Do We Go From Here? is available on vinyl via Streets of Hate and Triple B Records (clear blue).
***
Help Support What No Echo Does via Patreon:
***
Tagged: dead last, jukai, rule them all, the fight