9-13—Iron Monkey's first studio album in close to two decades—starts off with a track called "Crown of Electrodes." The reason I wanted to get that out of the way first is to help illustrate that despite a long hibernation, these British lunatics haven't seemed to change one bit.
Call them doom. Call them sludge. Call them whatever makes you happy, but in the end, Iron Monkey live and die on their guitar riffs. Well, I'm pleased to report that 9-13 is pretty much a guitar riff clinic. Seriously, the onslaught is steady and unending.
Going back a bit, Iron Monkey broke up in 1999 following the death of their original singer, J.P. Morrow. Reformed earlier this year, the band (now with original guitarist, Jim Rushby, also handling lead vocals), entered Moot Group studios in their hometown of Nottingham to record 9-13 with former Pitchshifter guitarist Johnny A. Carter behind the console.
From a sonic standpoint, the album offers a beefier mix of Iron Monkey's trademark sludge filth. It's not just the guitars. The drums also sound better than ever, especially on the more hardcore/punk-leaning tempos, like on the aformetioned "Crown of Electrodes" and "Mortarhex."
Rushby's diseased-sounding vocals are not far removed from Morrow's, and that's one of those "why fuck with the formula if it works" kind of deals in my eyes. If anything, Rushby might sound even more deranged than his late bandmate. On "Toadcrucifier — R.I.P.PER" he's at his nastiest, delivering the lyrics like a homicidal maniac who just escaped an English mental institution. From the look of Iron Monkey's new promotional photos, it's not hard to imagine Rushby actually being a escaped lunatic (I mean that with the utmost respect, obviously).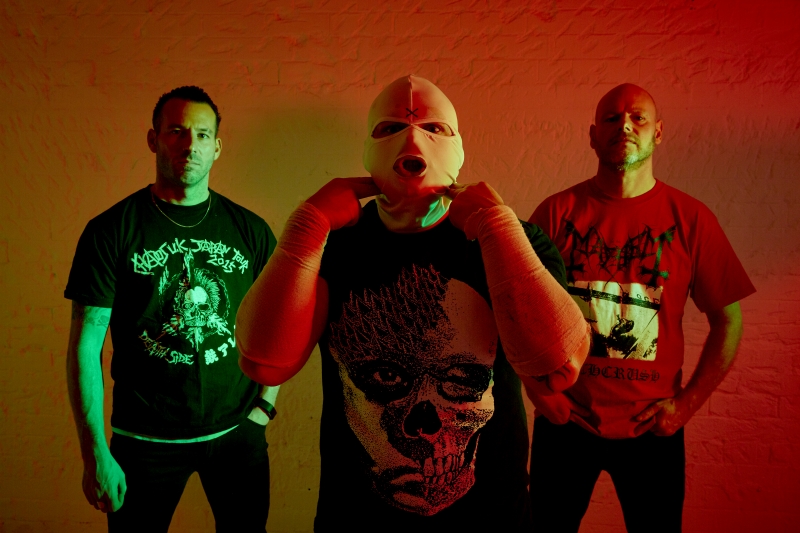 One of my favorite tracks on 9-13 is its closer, "Moreland St. Hammervortex," an epic that lasts close to 10 minutes and showcases all of the elements that make Iron Monkey, well, Iron Monkey. Yeah, I'm talking Tony Iommi if he smoked crack-like guitar riffs, unhinged vocals, slow and fast parts, and lyrics that would have never stood a chance against the PRMC in 1987. It's a fine way to close the record and cements Iron Monkey's place as one of the sickest bands to come out of the UK in last few decades.
***
Iron Monkey's 9-13 will arrive in stores on Oct. 20 via Relapse Records and the label is offering several pre-order bundles at this link.
Tagged: iron monkey