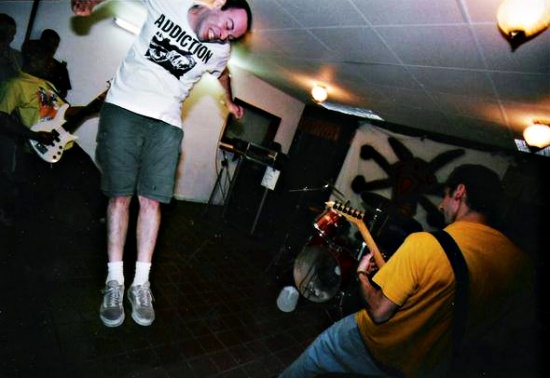 In the '90s, 97a was writing and recording new straight edge hardcore during a time when many other bands in the States had abandoned the sound and spirit. Based in New Jersey, 97a was lead by vocalist Chris Kelly, a devout fan of hardcore who also ran Teamwork Records, a label that issued releases by Carry On, Time Flies, and Atari, to name a few bands. Though they broke up in 2001, 97a remains popular among hardcore collectors who seek out the band's limited discography.
I recently chatted with Chris about his time in the group, plus everything Teamwork Records. As a fellow Mets fan, this one was extra fun...
First things first, where were you born and raised?
I was born in Paterson, NJ, and have lived in various places in North Jersey all my life.
What was your home life like?
My Dad's life was cut short when my Mom's car was hit by a careless driver at age 5. My Mom and I walked away with minor injuries, but my Dad didn't make it. Needless to say that has fucked with my head for many, many years. Not sure if I'm ever going to get past it, but I keep trying.
After my Dad died, my grandmother moved in with us. I was basically raised by my Mom and grandmother, and they tried their best to give me a good life. They really tried. School was another story. I was picked on, bullied, whatever you want to call it these days, I got a lot of it. Kids used to make fun of me for not having a Dad, wearing glasses, you name it! They said horrible things, started fights with me, etc.
After school, I would ride my BMX bike all over town. In inclement weather or after dinner, I would hang out in the cellar and listen to music on my little transistor AM/FM radio. To this day, I find the radio very comforting. I like the randomness of not knowing what the next song might be. It's probably the reason why I went to college for communication technology. By 7th or 8th grade, I started pushing back and standing up for myself. I was also making a ton of prank calls. I was the king of prank calls, I wish I had the tapes! Eventually, BMX led to skateboarding, which led to hardcore.
For many people in our age group that went on to like heavy music, it seems like KISS was an early influence. What was the band that first got you hooked into music?
I hate KISS [laughs].That being said, the first record I ever bought was The Knack's "My Sharona" 45. I really wanted to buy a Ramones record, but I didn't think my Mom would approve of their image even though I was groovin' to "Rockaway Beach" on AM radio everyday. Blondie records soon followed, and eventually I did get some of those Ramones records! I dug the Beatles for a while, but really can't listen to much of their stuff anymore. First heavy band, though? Black Sabbath. I still love Black Sabbath. What actually got me to play music I couldn't tell you.
I know you're a big sports fan. Did you play as a kid and which teams do you align yourself with today?
I love baseball and played Little League for a few years. I played right field and first base. I tried out for the high school team my freshman year, and my coaches wanted me to pitch. I was having no part of that and told them I wanted to have a position where I would play everyday. So, then they wanted me to catch. eah, here's a 14-year-old who is already nearing 6' tall and you want me to squat under kids that are barely 5'6" swinging wildly at the ball...I don't think so! Looking back, I think the coaches thought my arm was pretty good and wanted to put it to use, but I was young and angry. I didn't like listening to anyone back then, so I quit.
I also played intramural hockey in high school as a goalie. I was actually pretty good, believe it or not. I would let the puck hit me in the face long as it didn't get behind me. I would have been a goalie in college, if it wasn't for the fact that I had to provide my own pads ($3,000+) and ice time was at 2 am on Tuesday nights! Looking back, I wish I did it, but I just didn't have the money. Story of my life.
As for teams, I'm a lifelong Mets fan (thanks to my Nana), and also root for the Orioles (just because!). I hate the Yankees [so do I]. I have also been an Islanders fan since 1980.
My interest in hockey came during the 1980 Winter Olympics. I was hospitalized with some sort of unknown virus that kind of paralyzed my legs and was brought to the hospital. There wasn't much to do in there, so I started watching the Lake Placid Olympics religiously. Bobsledding, skiing, the luge, and of course, hockey. After a couple of days, they let me out, but the doctor didn't want me to go back to school for two weeks until the infection was totally gone.
That meant I was allowed to stay home and stay up and watch every single Olympic hockey game, no matter what time it was. And I did. We all know what happened that year (and hasn't happened since). My Mom and grandmother actually missed going to church that Sunday to watch the gold medal game with me. When the Olympics were over, I started following the NHL and since Ken Morrow was the only Olympic player to sign on with a local team, I started rooting for the Islanders. Wearing the orange and blue didn't hurt either. The Devils were still in Colorado at this point, by the way.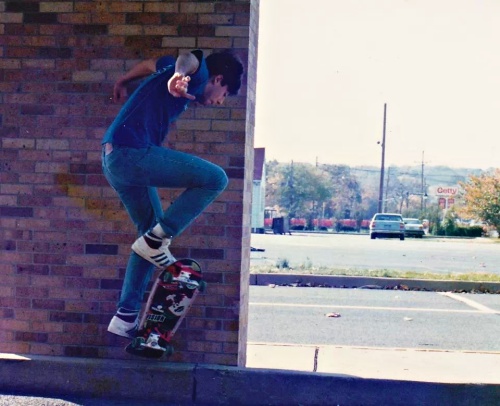 I know you got into hardcore through skateboarding, but where we you getting your records back then? Did you travel into NYC to hit places like Bleecker Bob's?
I got all my early hardcore records from a place called Looney Tunes in Wayne, NJ. It's still there, but has since changed names and owners. Back in the '80s, it was owned by one of the guys in Dramarama and it was just awesome. You'd go in there with your list of stuff you read about in Thrasher and next week and it was on the rack! I bought so many good records there: The FU's, The Faction, Agent Orange, SSD, Skate Rock comps, JFA, you name it! They also always had great new wave and punk imports.
A few years later, Flipside Records in Pompton Lakes, NJ started getting hip to bringing in hardcore, and I got a few records there. Same guy has been running the place for over 30 years (the store itself has been there for 50+ years), and I still stop in to say hello, but don't find much anymore.
Eventually, I was trekking into NYC for Venus (when it was still upstairs on 8th) and a couple other places. Bleeker Bob was always kind of a jerk from what I remember, and his prices were high. The only record I ever remember getting there was Start Today.
Later on, I would drive to Trash in CT (RIP), and Double Decker in A-Town. Reconstruction on the Lower East Side and Sound on Sound always had good stuff as well.
Did you play in any bands before 97a? If so, please do tell!
Nah, nothing but a few horrible jam sessions with high school friends who wanted to be in cover bands.
SEE ALSO: Record Collector: Tim McMahon (Search, Mouthpiece, Hands Tied, Face the Enemy, Triple Threat)
I'm not clear on the chronology here, but did you start Teamwork Records before 97a, or was it the other way around?
OK, I started Teamwork Records because Tony Rettman had been given the reels to an unreleased Breakaway 7" EP, but kinda lost interest/didn't have the money for. However, I thought it should come out. The recording was really clean and felt that if that was my band, I'd be bummed that here's this guy across the country that has our reels, and couldn't do anything about it. I mean, you gotta realize, this was a different time and there were no DAT tapes or digital copies, so if you didn't actually possess the reels, you couldn't do anything! Long story short, I told him I'd split everything down the middle so it could come out and that's where the name "Teamwork" came from. I really thought I would always just do split label releases, and the first few were, but eventually I was in a better financial situation and started just putting out the stuff myself. As Brett Beach from In My Blood Records once said, "You're a bit of a control freak." Yes, I am.
In terms of inspiration, what were the labels that you modeled Teamwork after?
That's a good question that I don't I have an answer for. I just kinda took the dice and rolled. I always wanted good-looking covers, quality vinyl, etc. I just wanted to have the highest quality product that could be affordable to make and sell at a fair price. It kinds bums me out to see how expensive vinyl is these days.
How did 97a come together? Were you guys old friends from the scene, or did you find each other through a musician listing?
Long story short: We all met at William Paterson College.
However, if you want to know the nitty-gritty, it's quite long... This girl Linda—who played in Lifetime for a short bit—was the first on board, if I remember correctly, and she suggested putting up a flyer at Vintage Vinyl looking for a drummer. I only got one call, but I think it was a prank. Dude claimed he was Henry Rollins' nephew and that his cred might "get us more gigs". Linda and I laughed about that one, but we would also talk on the phone about playing old school hardcore. Nothing ever came of it.
Moving forward a year or so, I was setting up a couple of NJ shows for F.Y.P. and I suggested a project band with frontman Todd Congelere (who at the time was also a pro skater) when they came through in 1992 and again in 1993. He loved the name 97a. We agreed to play mostly covers, and the band would be me on vocals, and whomever else we could rope into it. We did it twice and it was a chaotic mess, but also quite fun. The one guy who was supposed to be our guitarist for the second show couldn't make it to the gig on time, so one of the other guys in F.Y.P. filled in. That guy who couldn't make it was none other than Todd A. He was bummed he couldn't do it, so then decided to take it upon himself to find us a drummer. The rest of the history is written on our lyric sheets. When I think about 97a, I think about Todd and I. He was the only one who always stuck it out.
I remember your 1994 demo getting around quite a bit. How did you go about spreading that thing?
I have no idea. I really think there are only about 150 of those original tapes around. The first 50 or 60 had red construction paper covers, the rest are just cheap pastel copy paper. Copy paper covers also have a [longtime DJ] Pat Duncan (huge Mets fan, by the way) WFMU set after the demo tracks. That demo makes me cringe, honestly.
The Better Off Dead EP from 1996 was where I first really took notice of 97a. My old band, Black Army Jacket, played a show with you, and I remember picking up a copy of the record. What are some memories you have of that era in the band?
First off, thanks for buying our record! I wish I had more memories to talk about but I kinda' spilled 'em all out in the diary we gave out at our last show. I think someone uploaded it a few years back. It's definitely out there for those who want to search.
I just remember always feeling every emotion known to man, all at once: Anger, acceptance, happiness, laughter, nervousness, boredom. Depending on the show, you could feel almost anything at any given moment. Being in a band, you can probably relate.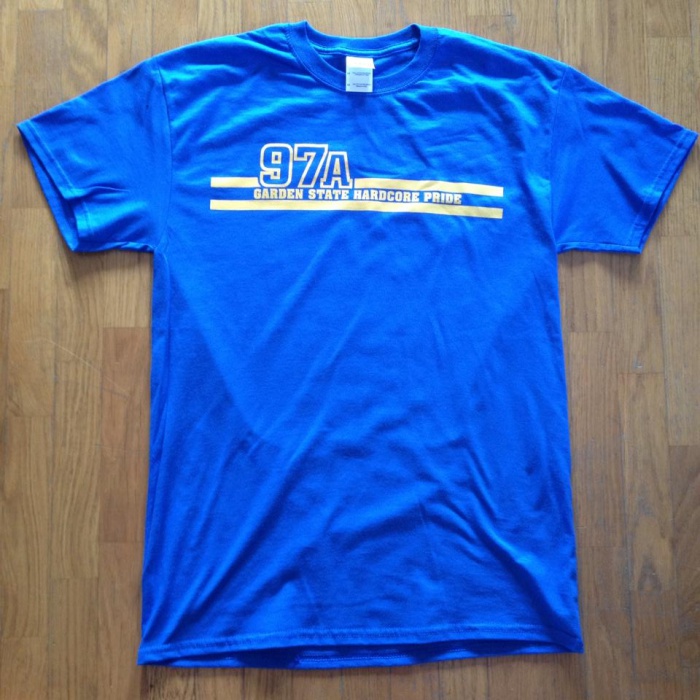 Who were some of the bands from that time period you felt a close kinship with?

At the beginning it was a band from the Jersey shore called Unanswered, we played a lot of shows with them. Good guys. Rain on the Parade was another. We played so many shows with them over the years. Nice guys, no matter who was in the band that week. Dave from Vision (RIP) got us some shows that actually paid us. Bill and Zev from Kurbjaw/Spirit/Endeavor/Floorpunch were always cool, as well. We had a few good shows with Time Flies as well. If I forgot anyone else, I'm sorry.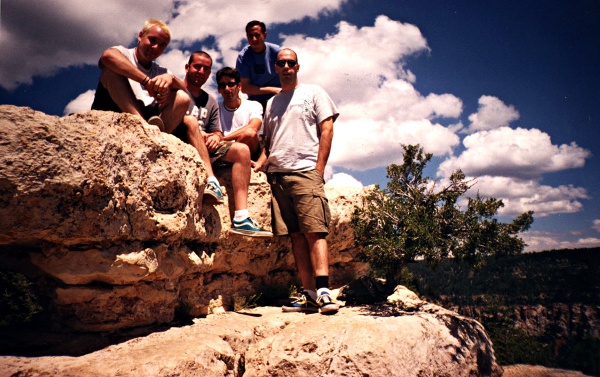 Let's talk a bit about the other bands that you released music through Teamwork Records. I'll bring up a name, and you can tell me a few thoughts about each band.
Atari: Great band, nice guys...but everything just got so off schedule and after a while it got really frustrating. They wanted to silk screen their own covers which was awesome, but they took months to actually make them. Then, they didn't make enough and wrote silly messages on the inside of some of them. They were just having fun with everything and probably didn't care/understand schedules. I, on the other hand, had money tied up in their project and had to delay others because of them. It was great to deal with them at first, but quite difficult to deal with them after a while. They probably don't have much nice to say about me, either.
Time Flies: Super nice guys, and they recorded an album worth of material and it couldn't all fit on a 7" EP. I offered to just do the album for them, but they decided to split the material between two EPs. They didn't think someone would buy a full LP from a brand-new band. Maybe they were right, but we'll never know? So, they did the Teamwork one, and another more limited one on Malfunction. I think everything worked out pretty well. I still keep in touch with a couple of the guys. Decent record.
Carry On: I've heard mixed reviews about this record, but I think it rips. Easy guys to work with. I still keep in touch with Ryan.
Back to 97a, I thought your Abandoned Future EP from 1997 was a strong record. Why didn't you guys just knock out a proper full-length instead? It seems like you were firing on all cylinders, creatively speaking, by that point.
We had just recorded some extra songs when we went into the studio to record for the Growing Stronger compilation, but didn't have enough for a full length. At the same time, we didn't want to put out a third 7" EP. Anyway, people started finding out about these tracks we recorded and we got a few various offers. Max 625 [drummer from Spazz and label owner] wanted the songs for his Possessed to Skate 4 band split/comp. Coalition Records asked us about doing a split 12" with Opstand, a great political bandfrom France. There were a couple other offers.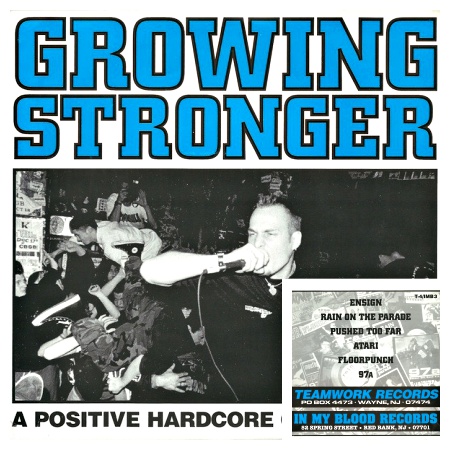 Now don't get me wrong, I own plenty of great split records, but speaking honestly, Todd and I weren't really into 97a being on split records, unless it was a band we toured with or played a lot of shows with. A band we shared something with. However, Marcel from Coalition was just so supportive of 97a, he wanted to do something with us. So, we envisioned a record that was supposed to be a way for Europe to get all our music (up to that point) on one record. It took a few turns here and there, but that's how Abandoned Future came about! Later on, our tracks from that record showed up on iTunes without our permission, but I think that was the distributor and I have no beef with Jeroen or Marcel. They supported us when we really needed it.
As for the record itself, I like the cover art that I designed and most of the lyrics, but it's my least favorite 97a record. I really like "Small Changes" and the remix of "Better Off Dead" into "Stamp of Approval" but some of the other stuff isn't all that great.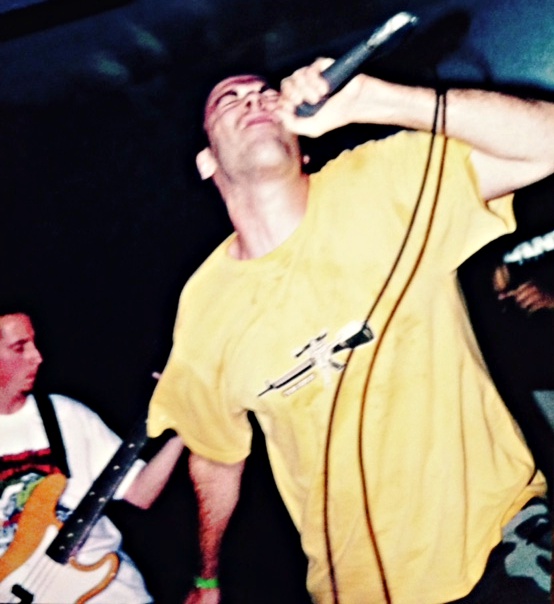 The following year you released the It's In Our Power EP. Reading up on the band for this interview, I found out that there was some controversy over the title track. From my view, it seems like all you're saying in the song is that the American public should vote to have their voice heard. Am I missing something here?
That's exactly what I was saying, thanks for getting it! People called it nationalist, right wing, etc. C'mon, it wasn't like I was telling you who to vote for! I really think that was one time people definitely judged a book by it's cover. How dare I put an American flag on the cover of the record, that's not hardcore! I love my country, I love history, I love The FU's and The Proletariat, and it all came together on that record. Is that so bad?
Funny story here: The mighty Kent McClard helped me finance that record, but used to always argue with me about how voting doesn't do anything. Moving forward to last week, I called Ebullition just to say hello. Kent wasn't there but Lisa O. was, and we got talking for a while and she said Kent is really into voting now and thinks it's important. She was kidding me, that I might have had an influence on him, after all!
1999 saw the release of the sole 97a studio album, Society's Running on Empty... What are some of your favorite songs on that album?
"Society's Running on Empty" is probably one of my favorite tracks, period. Musically and lyrically I feel that we went for the throat on that one. Todd wrote "Durometer" in the studio, and I didn't think much of it at the time, but I like it a lot now. The song was everything we were feeling at the time. Being judged by the scene and just giving it right back in 30 seconds or less. "Republican Scam" and "Amendment" are also some of my favorites. "Hail to the Chief" is another one. I'd say half the songs we did on that record stand among my favorites, the other half come from Better Off Dead. I also really love "Asleep at the Wheel" even though there's a mistake in the recording that no one has seemed to notice.
97a broke up in 2001, but by that point, you had done a good amount of touring, and left behind a few records. Was it a case of feeling like you didn't have any personal goals left to mark off with the band, or did you get burned out?
Todd lived in Colorado (now D.C.), Derik moved to Philly, we all had full-time jobs, it was just time. And yeah, it was starting to feel under appreciated. I know it doesn't sound very hardcore, but driving three hours each way to play for 25 minutes and making $40 (when it costs $50 to get there) at a totally unorganized show takes a toll on you after a while. You start questioning why you even bother. When kids show up to your merch table and ask if you have any free mp3 files because they don't want to spend $5 on your album, you know it's time to move on.
SEE ALSO: 2017 interview with Anthony Pappalardo (In My Eyes, Ten Yard Fight, Author: Radio Silence Hardcore Book).
Looking back, what was the best show 97a ever played?
Anytime we played Richmond or Philly. The two most supportive scenes we ever had. First Richmond show in '96 was insane. 11:30 pm on a Sunday night in someone's living room and they wanted an encore to play the same songs twice! Being that far from home and seeing that sort of appreciation felt great. It still does.
When and why did you decide to pull the plug on Teamwork Records, and what was the most frustrating aspect of running the label?
The records stopped selling, the orders stopped coming from distributors, people stopped buying vinyl, and I didn't really find bands I could relate to. Simple as that.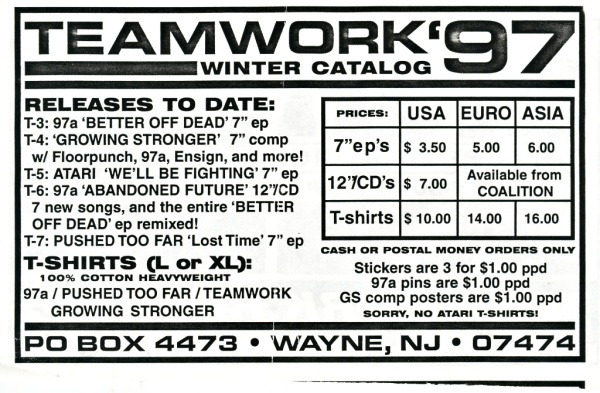 97a must get reunion offers from time to time. Where do you stand on that? Can we expect a show or two in the future, or have you moved on for good?

Honestly, we never get asked to play, ever.
What else have you been up to in recent years?
I have always been into mountain biking and after the band departed, I got really into it. In the past year or two, my job has kept me from going as often as I used to. I also go to a bunch of Mets and Islanders games. Every year I take a road trip to a different city to see a ball game.
I've been also talking with a couple of old friends about doing something new. I don't want to name names in case it doesn't happen, but if it does it's going to be solid. We have some songs, but getting us all in the same place at the same time is going to be tough. Luckily, Apple invented GarageBand. We'll see?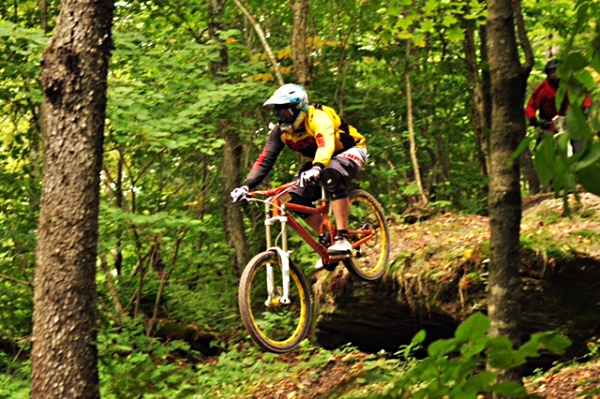 How close do you keep up with the hardcore scene, and if so, are there any newer bands that you've been digging?
I go to a couple of shows a year. As for new(ish) bands, I like Down to Nothing, Cruel Hand, Government Warning, Career Suicide, and a local band called 96 (that I think broke up already), just to name a few.
SEE ALSO: 12 Newer Hardcore Bands to Check Out in 2017
Of all the stuff you released through Teamwork Records, which release would be your favorite, excluding 97a, of course?
Probably the Full Speed Ahead Born and Bred record. They were just so appreciative and the record came out great! They are super good dudes, and I still keep in touch with most of them to this day. I guess I saved Teamwork's best for last?
***
97a has a band page on Facebook that you might want to check out.
Tagged: 97a, hardcore, straight edge, teamwork records