Born Robert Ross of Spanish Harlem, Black Rob scored one of the biggest rap street anthems of last decade with 2000's "Whoa!" First causing waves in the music industry with scene-stealing guest verses on tracks from Mase, Total, and Faith Evans, the rapper signed to Sean "Puff Daddy" Combs' Bad Boy label. Black Rob's 1999 debut album, Life Story, proved to be a commercial success, selling over a million units along the way. His next album, The Black Rob Report, didn't hit stores 'til 2005, failing to build on the momentum of his first record. Since then, Black Rob released 2011's Game Tested, Streets Approved on Duck Down, the Brooklyn record label who has released seminal albums from Black Moon and Smif-n-Wessun.
Now signed to Slimstyle Records, Black Rob just released Genuine Article, his fourth studio album. The record features guest performances from Sean Price, Tek of Smif-n-Wessun, battle legend Murda Mook, as well as up-and-comer Quas Amill. The following is an email interview I conducted with the emcee.
A lot has been written about Harlem in the '70s and '80s. But since you grew up there during that period, I wanted to get your insight. Can you talk about the difference between the Harlem you grew up in and the way it is now?
Harlem was known for getting money and staying fly, and it's still the same way, honestly. Cats are still about getting money and staying fly. The only difference is they are starting at a younger age now.
How about the difference between Spanish and Black Harlem when you were a kid? Was there a clear difference in what went on in both places?
No difference at all. Harlem is Harlem. They just called it Spanish Harlem, because in my area where I grew up, we had more Hispanics in the area, but dudes were getting it in all the same wherever you were at in Harlem. For the record, there is no such thing as Black Harlem! It's just Harlem.
When did you first hear rap music and do you remember your first impressions of it?
Wow, I was a mad young. When I first heard it, I said to myself, "That's what I want to do."
When did you start writing lyrics and performing?
Actually, I was freestyling before I started writing. I would just kick rhymes off the dome. Then, when I started writing the rhymes down and remembered them, I just got better and better.
SEE ALSO: When I Was a B-Boy
Who were your favorite rappers back then?
Doug E. Fresh & Slick Rick, Grandmaster Caz, JDL, Fearless Four, Funky Four, and Sha-Rock, etc.
How did you go from doing demos to linking up with Sean Combs and Bad Boy, and did you guys get along from the very start?
A cat that I knew back then knew Puffy and took me to him and Puff heard me flow and he put me down. Yes, we did get along. That's my brother, he always looked out for me, and I thank him for everything!
A few years later you hit it big with the "Whoa!" single. That's the kind of record that still gets people crazy at rap parties. Do you remember the first time Buckwild played you the track for the song?
I do remember, and at first I really wasn't feeling it, to be honest. I kept listening to it and it started to grow on me.
Was it your idea to do the whole "like whoa" repeating thing that you do throughout the song?
Yes, with some inspiration from [Bad Boy Records executive] Harve Pierre. I would always say "Whoa!" so he inspired me to do a song like that.
Did your life change overnight once "Whoa!" came out?
Pretty much!
SEE ALSO: Gore Elihom (Non Phixion) on Iron Maiden's Killers album.
The Life Story album did really well, but its follow-up, The Black Rob Report, didn't fare as well, commercially speaking. Looking back, what do you think went wrong?
I went to jail. I wasn't here to properly promote the album. That's what went wrong.
You signed with Duck Down for your Game Tested, Streets Approved album in 2011. What was that experience like? Were you guys on the same page?
That was a good experience. I always had respect for Duck Down and the artists on Duck Down as well. I would say we were on the same page, I just wish we could have pushed the songs "Celebration" and "Showing Up" a little harder, because I feel like those were two big records. It's all love, though!
Let's talk about Genuine Article. This album is your first for Slimstyle Records, a label that also features Cormega and Doo Wop & Lord Tariq. How did you hook up with the label?
My team worked out this situation, and when I found out that my dude Cormega had already worked with them and we did the research, we knew it would be a good opportunity.
The album features guest appearances from such emcees as Sean Price, Tek, and Murda Mook. How do you handle guest verses? Do you give them your overall idea for the song and then let them come up with stuff, or is it even looser than that?
Well, people already know I'm selective on who I work with, so if I reach out to dudes to work with, then I'm already feeling their skills. I believe in letting them be them. I'll give them the concept of the song and let it fly.
On the production side of things, you have tracks from folks like Easy Mo Bee and Coptic. Even though there are quite a few different producers on the album, it still manages to feel like a cohesive experience. It doesn't come off like a mixtape like a lot of other rap albums sound these days. How important was that to you?
Very important. For one, I always believe in giving dudes a chance, like I was given one. You will always hear new producers on my projects. If they have that heat, then I will rock with them. Just like Da BPMBoyz, Money L, and many others.
Now that Genuine Article is hitting stores, what's next on your agenda for 2015?
Be on the lookout for me in The Comeback Kings reality show along with Ed Lover, Mr. Cheech, Horace Brown, and Treach, just to name a few. Also, my manager, Jemal M., and I have an artist by the name of Quas Amill that we're about to put out, and he's serious, too. Watch for him. He's on my album, so you can check him there as well.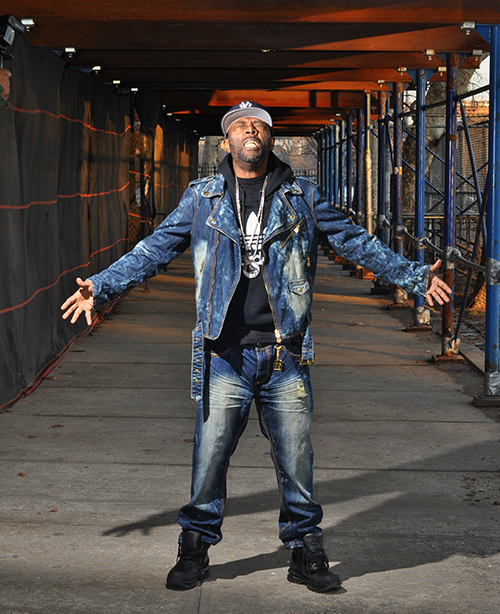 You mentioned spending time locked up. If you could go back in time, would you change anything about your past?
I don't think I would change anything, because what I've been through is what helped make me who I am today!
What do you think is the biggest misconception people have about you?
I didn't know there was any misconception about me. You know something I don't? Let me know!
***
Genuine Article is out now via Slimstyle Records and available on iTunes.