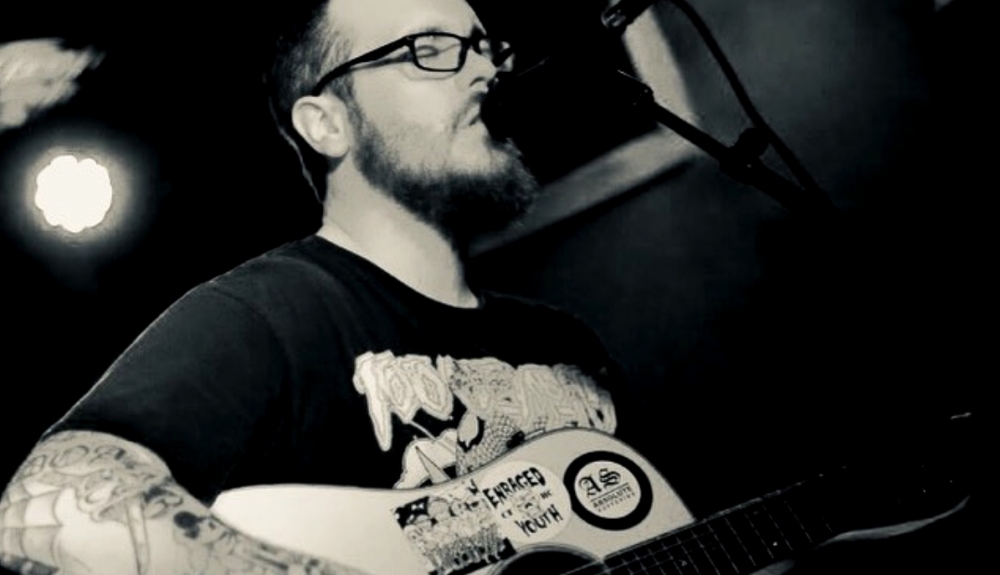 Ryan Patrick White is one of the most talented people I know in the Connecticut music scene. He is a singer-songwriter and multi-instrumentalist who has spent years in such bands as Call It Arson, Canvas, Stab You in the Head, Jagged Visions, Cast In Blood, and Zero Hour. He has also made a name for himself locally as a solo artist.
Recently, Ryan has teamed up with Pete Morcey of 100 Demons/Forced Reality fame for a project called Murmur.
I took some time to talk with Ryan about his current bands and musical endeavors. If this is your first time hearing of Ryan or any of his aforementioned bands, please take the time to seek his music out. I assure you, you will not be disappointed.
Ryan, you have a very eclectic musical history in the Connecticut underground scene. For those who aren't familiar, please give them some background on your past and how you came up.

In 4th grade I shifted my obsession with hockey to music after seeing David Crosby and Graham Nash at the Oakdale Theater. I played drums in concert band and started teaching myself guitar with a few chords my father showed me. My friend James (Call It Arson) and I started a band that year. We were writing rock songs through middle school until I found Hatebreed's Under The Knife on CD in a record store in Washington D.C. It said "Connecticut" inside and it was the best thing I'd ever heard in my life. My father brought me to my first hardcore show when I was in 8th grade. He dropped me off and hung outside while I watched a few bands. It was Voice of Reason at the TAZ in New London, CT, right on Bank St. That year, I started a couple different bands with friends from Old Saybrook CT and started going to see shows at CT venues such as Bristol Skatepark, Tune Inn, Hanover House, Extreme Skate Park, Tuxedo Junction, New Britain Sports Palace, Madison Arts Barn, and the Warehouse in North Branford.
High School was a rough time for me, after I got home from a year long court-ordered wilderness program, I was clean and healthy. In the program I had been living in a house with no electricity in the mountains for a year so I had a lot of time to work on my singing and guitar playing in between lifting weights and school work. There was no TV, computers or radio, but at least we were allowed times in the day for free reading and playing an instrument quietly. I returned home in June 2001 ready to write and tour. My bands Avenger of Awry, Call It Arson, Stab You in the Head, and Eat Your Face Off all formed around this time.
I also started playing drums in my first touring band, For All It's Worth. James was helping out doing merch for For All It's Worth when we totaled our van on Broadway and Battery in San Francisco. We ended up staying with friends in Half Moon Bay for almost two weeks waiting for the van to be fixed. When the For All It's Worth members headed back home, James and I travelled south to LA to meet up with some of his family who worked in the film industry. Just by chance, my best friend Luke, from the wilderness program in Montana, happened to be in LA at the same time. He lived in London, but was here in the States visiting his father who was a record producer. We decided to meet up since it had been a year and a half since I'd seen him. Luke brought James and I to Laurel Canyon to play some songs for his father Steven. When he heard the songs James and I had been working on together he offered to record us a 4-song acoustic demo, and thats how Call It Arson began. We came back to Connecticut with those 4 songs and started writing a full0length. That's when I really started writing more songs.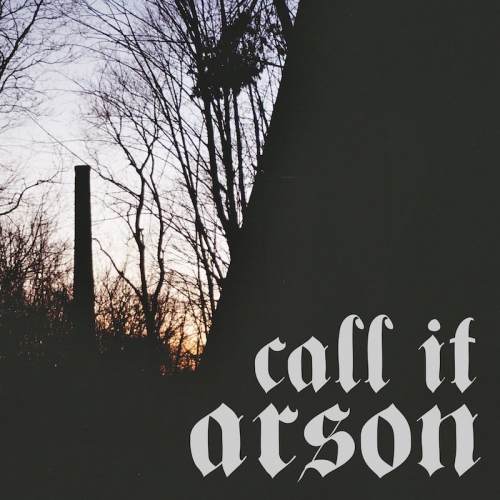 Call It Arson was a fixture in the Connecticut indie scene for a long time. Tell me about the differences between the Connecticut indie and hardcore scenes. Is there a lot of crossover, audience wise, from your experiences?

The amount of crossover has increased exponentially, I feel like, maybe, because of the exposure from the Internet. I always felt and still do feel at home in the hardcore scene. That quickly became my home since my home life has always been troubled. The hardcore scene felt like a perfect secret that gave me strength to face the "normal" world, where I felt like a total outcast. I'm happy hardcore has grown to be the leviathan it is today. I never would have expected it to become so popular and accepted by the mainstream. I doubt I ever would have set foot in the indie scene if I didn't need a place to sing with my acoustic driven misfit project Call It Arson. It's not that I had anything against it.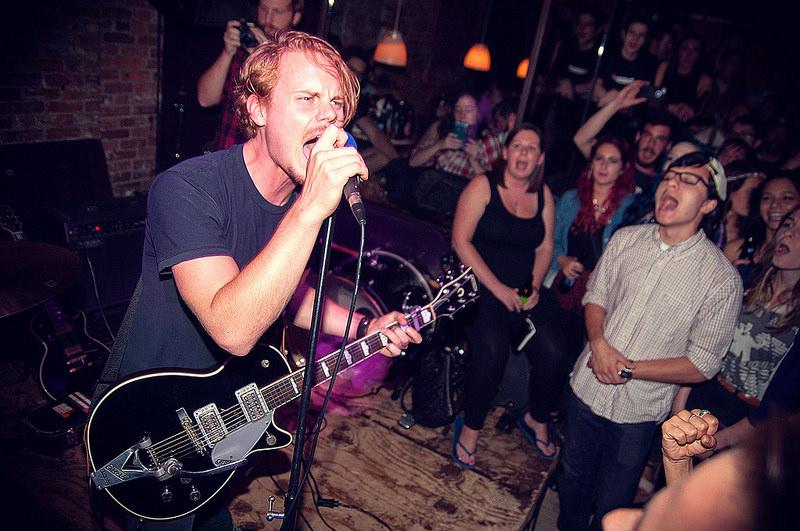 Call It Arson played a lot of awesome shows booked in that scene. I was also playing drums in some hardcore bands so I rarely even had time to investigate anything else. When Call It Arson first started touring, we ended up playing punk, indie, ska, hardcore, metal, really any kind of underground show we could. Even in the indie scene we almost didn't really fit so we would adapt and move forward however we could. I'm happy that Call It Arson toured around the country. And I always loved how tight-knit the hardcore scene was. It literally kept me alive and out of jail, so I must say it will always be my favorite and most beloved scene.
Musically, who have been your influences? Both on the singer-songwriter side and hardcore side?

I'll try to keep it succinct because I could go deep with this one. For singer-songwriter influences, I would say Jackson Browne, John Lennon, Elliot Smith, Rocky Votolato, Thom Yorke, Joanna Newsom, Kate Bush, Fiona Apple, and Townes Van Zandt. Also, for some reason, I became obsessed with Mozart at age 21 while living in Portland, OR. I started to view his operas as I would a Beatles album. Like The Magic Flute is his Abbey Road. Mozart and Chopin heavily influenced my work with this new Murmur album also.

For hardcore my very first influences were Hatebreed, Biartz, E-Town Concrete, Death Threat, Gorilla Biscuits, and 100 Demons. Candiria, Overcast, Blood Has Been Shed, Follow Through, and Die My Will are all favorites of mine. There's too many to name. Stab You in the Head and Eat Your Face Off were actually big fans of your band, Dead Wrong. We even named our outro "Dead Fucking Wrong" to pay homage. We covered everything we could in that band. Ten Yard Fight, Strife, Integrity, Earth Crisis, Bulldoze, and Fear Tomorrow. We even straight-up put a part from Converge's "The Saddest Day" into the middle of our song "D.I.Y. or P.E.E."
Tell us a little bit about your new solo album, Dying in Deep River. How did it come together and how did you come up with the title?

I've had so many close calls with music, between Call It Arson and Jagged Visions, both almost breaking through and moving up to the next level, that I never got a chance to really use all the songs that I write for myself anyways. I figured if its just me in the group I could simplify the process and never have to let anybody down or spread myself too thin. I had done the Jagged Visions 7" and full-length with Greg at Silver Bullet Studios here in Connecticut. I loved his studio and Greg and I have crossed paths since we were both teenagers. His band, A Heart Fades Forever, and my old band, For All It's Worth, actually released a split together on Asbestos Records way back when. So, we have a lot of history. The Risk Taken used to play shows with Stab You in the Head all the time.
I knew it would take me a while to pay for it myself, while playing in so many other bands. So I just started chipping away at it two years ago and now it's finally finished. I needed to make this album. It just had to be done. It's an offering to those closest to me in my life. I wanted to give my parents an album where they could listen to me and my sister harmonizing and singing together. The first time I performed, outside of a concert band auditorium setting, was a middle school dance. James and I put together a trio and we covered "Creep" by Radiohead and "Sober" by Tool. This solo album is named after the first apartment James and I ever had after leaving our parents homes at 18. It was on Main St. in Deep River, CT. That first winter I learned wrote a lot. The title track "Dying In Deep River" is written from the perspective of a vampire. My insomnia has always caused me to relate to vampires and I was fascinated with all the lore at that age. Since I wrote that song when I was 18 and never released it I decided to use it for this album. It's also a staple in David Lynch canon coincidentally, which also pleases me because he's one of my Top 3 favorite film directors of all time.
What emotions and feelings inspire you to write music at this point in your life?
I have to write music to pacify the rage I feel at witnessing the vile betrayal of humanity against humanity in this world. I have to express myself with music since I've never been able to articulate how I feel with regular words or traditions. Necessity isn't even a strong enough word. It keeps me breathing. I'd be dead or in jail without music. Both as a family and also my own form of channeling despair and self loathing. I long for a better world as most of us do. I've decided that singing and drumming is my best way of reaching people with my best intentions. I hope it can offer them the same solace and sanctuary that I have found in it. I've always been driven to give back to the world that has saved me from utter destruction so many times.
Lets talk a little about Jagged Visions. After being together for over a decade, the band seemed to really be picking up steam outside of Connecticut area and then decided to call it a day. What drove the decision to breakup?
We recorded Black Sun Zenith with Greg at Silver Bullet and loved how it came out. After we did our final EP at Dexter's Lab with Nick Bellmore (which we also loved), I think we wanted to go out on a high note. Kyle would be much better at answering this question, but I truly feel that Jagged Visions will play those songs again someday when the time is right. Our other projects were all getting so busy, we didn't want to give Jagged Visions divided attention. Kyle and I still continue to write new Jagged Visions material, as we always have and always will. Whether or not the bands active, we love writing for the project, even just for ourselves.
In addition to your solo output, you play in current Connecticut hardcore acts, Cast In Blood (vocals), and Zero Hour (drums), What is up next for both bands and how do you find time to be so active musically?

Cast In Blood is finishing up 3-4 songs for a split with Foreign Hands from Delaware. That should be out in the spring. Zero Hour is almost finished with our full-length at Dexter's Lab in Milford, CT. I'm excited to release new material for both bands. Zero Hour is playing For the Children in LA this year, and also the FYA Fest pre-show, which will be awesome since so many of our friends are playing the fest. I try my best to give my full attention to all my projects. I love them all like family. In the end it always works out and we move forward as one.
I see you have also been filling in on drums for Boston's Buried Dreams. How did that come about and whats that experience been like?

Zero Hour was playing in Ohio last summer with Buried Dreams and their drummer wasn't able to make it out. Gonzalo, the singer of Zero Hour, is also the Buried Dreams bass player. He asked me if I could learn three songs super quick on the drums, so they could at least still do a shortened set after Zero Hour and before Death Before Dishonor. So, I learned the songs and tried them with Killa before the doors opened. We played the set and it went well. Then I also ended up playing the Vein record release with them. We played with Vein and Fuming Mouth in New Jersey last weekend and it was awesome. I'm excited for the Strife show with our friends in Restraining Order. Thats November 10th in Philly. I grew up loving Strife, so it's an honor to share a stage with those guys again.
You have a new project called Murmur with Pete Morcey of 100 Demons. Tell me more about that and how did collaborating with Pete first come together?

I started working at Black Market Kitchen two years ago, which is owned by Pete's wife, Shannon. I love that place and found a home there right away. Pete and I didn't really know each other. I've always been a fan of his work going back to Forced Reality and Higher Force. We both thought we could write some songs and sing together and we started writing at his home last fall. We demoed the first song we wrote at Silver Bullet and liked it so much that we decided to write a full-length and record it there with Greg Thomas (End, Misery Signals, The Risk Taken). The result is something that Pete and I are excited to show the world.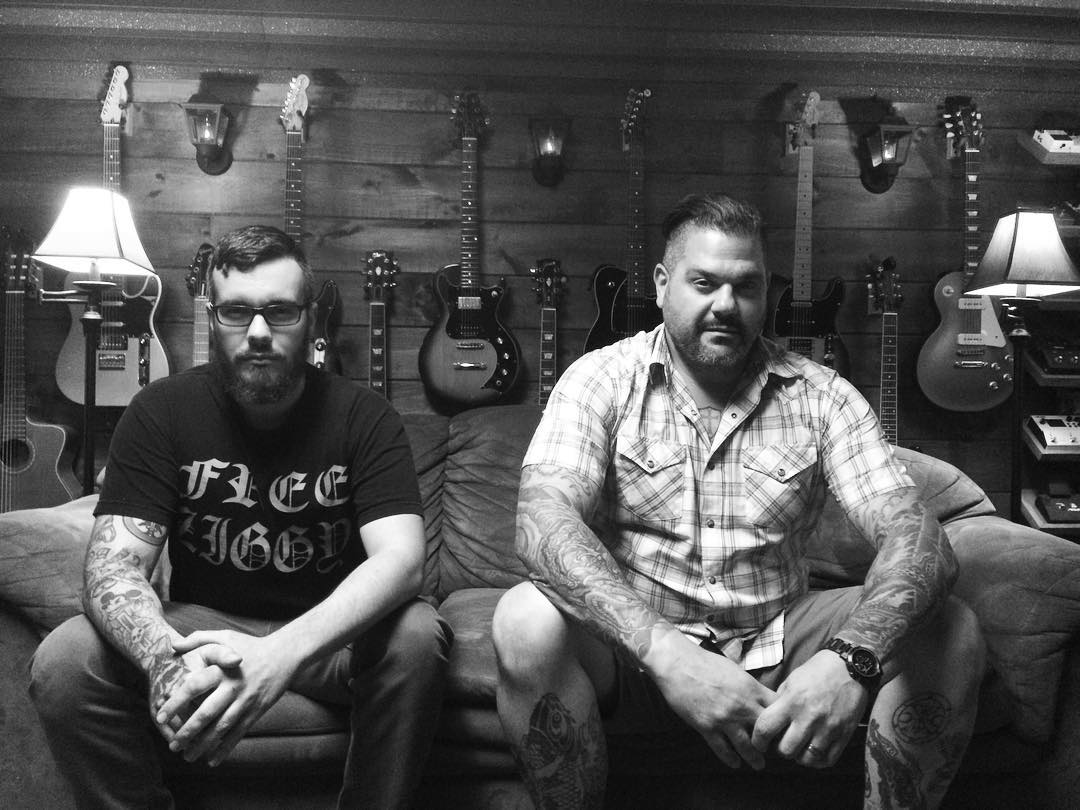 There are some very special guests on this album. We are releasing it this winter. It's very dark New England music. We wanted to create an atmosphere with songs that tell stories almost like folk tales. We wanted to capture the occult feel New England possess in the Fall and Winter months. The album is finished and negotiating release right now. Greg Thomas has been indispensable in the process of completing this full-length. He's the third member of Murmur. Shout out to Chris Teti for all his hard work. Also, Jay Reason for helping us get all our ducks in a row. Connecticut family coming through. I can't express how grateful we are for all the help.
What are some current bands and music that you have been listening to as of late?
Nothing, Mindforce, Wet, Vein, Regulate, Restraining Order, Have a Nice Life, Terror, Day By Day , Vomit Forth, Dilate, Sanction, Candy, Year of the Knife, and O'Brother are some that I've been listening to often. I love Amigo the Devil and John Moreland. The new Mindforce album is going to take over. I'm so happy for those guys. The newest Dr. Octagon album is perfect. Check out Mirsy if you get a chance.

In closing, where can someone find you and your music?
Dying In Deep River will be up everywhere music is streamed today (Oct. 19). This music video that Shane McLellan shot for me will be up today also (seen below). His work is amazing and I'm so grateful that he made the time to work on this. Iván, thank you for this opportunity. I'm proud to consider you an old friend.
***
You can download/stream Dying In Deep River on Bandcamp now.
Tagged: call it arson, cast in blood, jagged visions, ryan patrick white, stab you in the head, zero hour