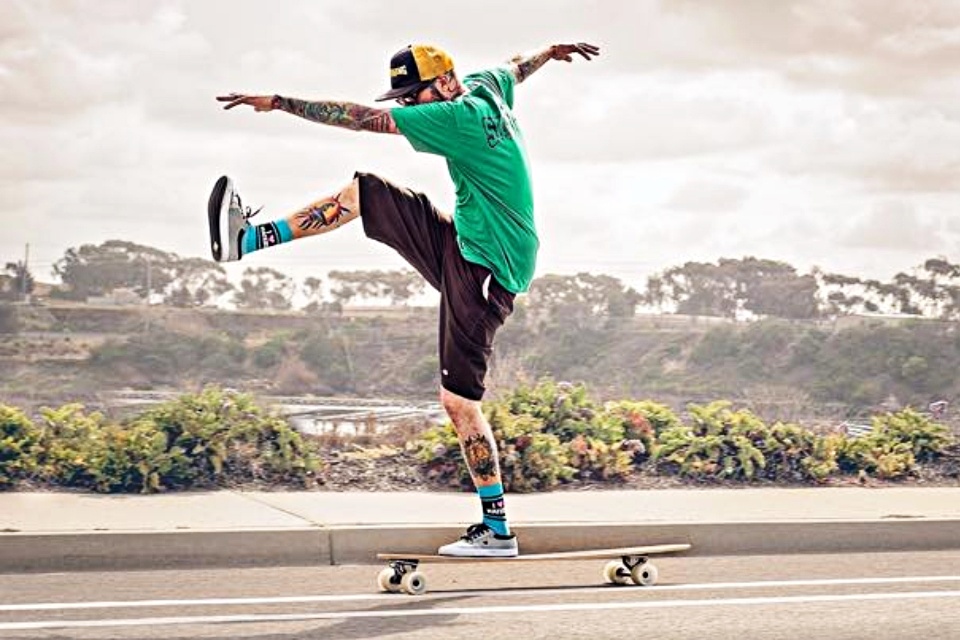 When it comes to underground hardcore, Steven Meketa is best known as the vocalist of '90s power violence outfit Apartment 213. The band's discography includes releases for such lauded labels as Relapse Records, Bovine Records, and Clean Plate Records. When I spoke to Steven last year while he was promoting Apartment 213's Cleveland Power Violence album reissue, he said the following about his former outfit: "We were too metal for the punks, too hardcore for the metal scene. We just did our own thing; good or bad, that's what we did. And I am sure we never gave anybody reason to like us." Well, that was a long time ago.
Since then, Apartment 213's recorded output is recognized by many folks in the heavy music scene as a prime influence. Steven was also behind a noise project called Lockweld that issued a split with Integrity back in the late '90s, among many other releases. But Steven has moved on from those times in more ways than one.
Now living in Southern California, Steven has turned much of his energy to skogging. Wait, what? Well, skogging is defined as "a style of skateboarding involving switch stance, pump, and push." A few days ago, the Cleveland native explained to me that the unconventional skating style saved his life. "I started skogging in 2011. I was heavily into street skating as a kid/young adult. Flip tricks and curbs were my playground. When I moved to Southern California in 2010, I was super unhealthy; near death actually. A little background and the lowlights first.
"I was born and raised in Cleveland, OH, which for sure is a lowlight [laughs]. I started skating seriously when I was 8 or 9. I got pretty okay at street skating, and it was everything to me. I got into punk and hardcore music, and eventually noise music, so skating was kinda pushed into the background. This was a terrible mistake but one of many I made. I got out of shape, and eventually due to eating habits and my job, I got really sick. I had many doctor visits with many misdiagnosis. It seemed like I spent years getting looked at by doctors with 0 help or progress.
"I kept getting worse as the days/years went on. I found a really good Clevo clinic doctor, and he sent me in for a surgery to get 3 to 4 inches of my colon removed. It was his understanding that I had some damage to my colon. It turns out they ended up removing 90% of my colon due to cancer, which was way deep in the tissue of the colon. From what I was told my colon may have ruptured and how I am not dead is nothing short of a miracle."
The health nightmare didn't end there for Steven. "So, here I am thinking I am out of the woods, so to speak, but it turned out that I also have Crohn's disease and Colitis, and due to my colon bursting, my blood was poisoned, so I am a strict vegan due to this issue. I can not breakdown animal proteins. Living in cold Cleveland weather, I couldn't get healthy, so I decided to move to SoCal. I was either going to croak in the snow or the sun, I chose the sun [laughs]. But God had a plan. I bought a long board, cruised it a lot, pushing normal style many miles. The cat that sold me the board (Pat Von Brickner) and I became good friends, and he told me to start skogging. Like everyone else with a first name, I said 'What is skogging?' He introduced me to Chris Yandall, and the rest was history."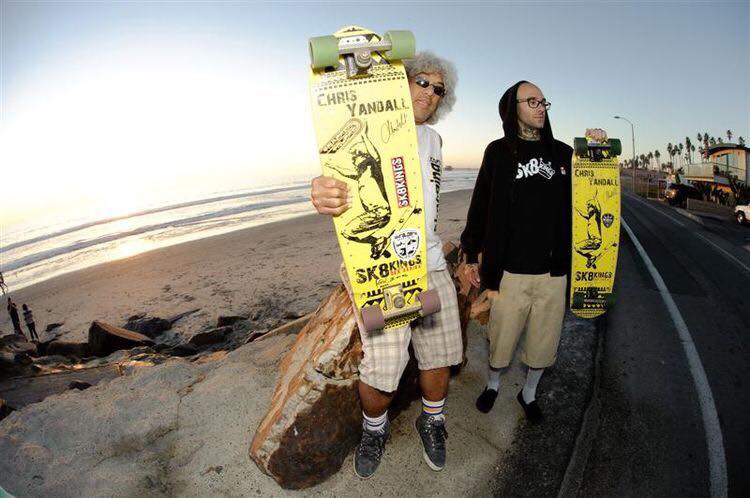 So, who is Chris Yandall anyway? "Chris was/is a pro from the early days of G&S and Tracker trucks. Chris was a fast slalom and park ripper. He is the visionary and creator of skogging. He started skogging in the '70s as a way to train for slalom and surfing. The skog gives you crazy balance amongst many other abilities. Chris passed away in 2014. His family and friends gave (for lack of a better term) me all the rights to skogging and blessed me with the ability to keep the movement rolling. And due to Chris' amazing creation, my job is really easy. Skogging moves itself because it impacts those who try it. Try it once and you are hooked. I miss Chris every day that rolls by. The dude hyped up a room. His spirit was bigger than life. I know he is skogging in Heaven."
I asked should Steven about some of the other health benefits of skogging, especially someone like us in their 40s. "I feel everyone who is interested in skateboarding, whether they skated or not, should skog. The health benefits are beyond amazing, and I am the proof in the concrete pudding of that [laughs]. I went from 115 pounds to 158 pounds of muscle. It keeps the heart pumping at a healthy rate. I also suffer from arthritis and the flow of skogging is exactly what I need.
That's all nice and dandy, but is it easy to skog? "Absolutely not! It may appear easy, but best believe it is not! Skogging requires a lot of endurance and advanced muscle memory. Most important is how skogging helps the core of the body. From the balance, to the pushing, you can't help but get a quality core workout. Skogging is a great way to keep you lean without reducing any muscle mass. It is jogging on a skateboard, so its fun yet risky. One of my favorite aspects of skogging is the concept of being pedidextrious (being able to push both legs equally). Imagine retraining your brain and your muscle memory and being able to push both legs fluently. And when you are asked, if you're regular or goofy foot, you can reply" 'both, and stances not yet named.' I recently turned 46-years-old, and after a long push, I feel great. Skogging long distances or just commuting to work gives me a better workout than any gym could, plus you get to be outside."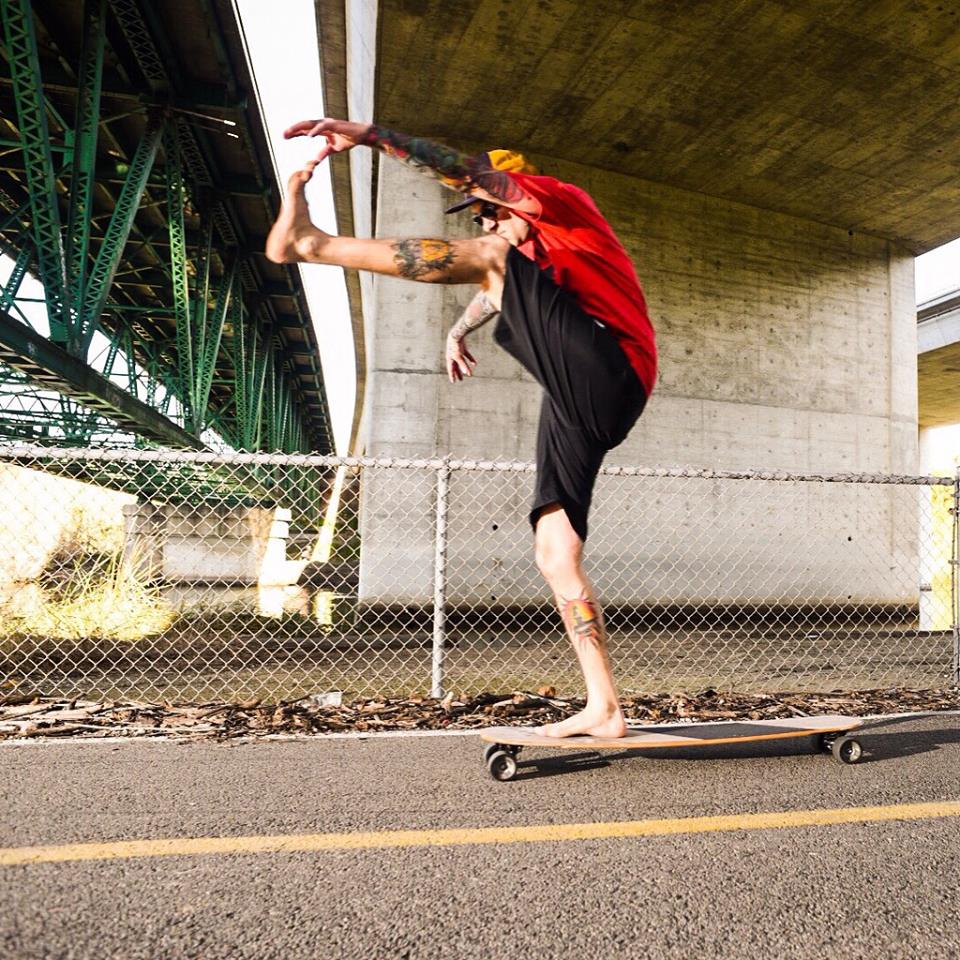 From checking out some of Steven's videos, I saw that he skogs barefoot, a frightening concept to me! "Barefoot skogging is just something I really enjoy. I like the feeling of the board and concrete/asphalt under my feet. You tend to lose a lot of skin barefoot riding, so I say it's only meant for advanced riders for that reason. It's best to wear shoes, I guess. I barefoot skog generally under 10 miles."
Just like in traditional skateboarding, skogging has a thriving industry and Steven even has his own pro model through Whatever Skateboards. "The board is 1000% the best board my feet have been blessed to be on. It's constructed out of bamboo, and it has fiberglass inlays rendering it pretty much indestructible. It also has wheel wells which are needed for top mount boards due to pumping and carving. Wheel bite is never good! We put various wheel base options on it. The closer to the center of the board you mount your trucks, the less flex you get. I push my boards with trucks on last bolt holes as I dig the 'slack line' feel of the crazy flex. It's super fun! And as far as the graphics go, the board has my logo on it, which Chris Yandall designed for me, and the skogging.com website, along with Whatever's logo, all dressed in black and white, as all decks should be [laughs]."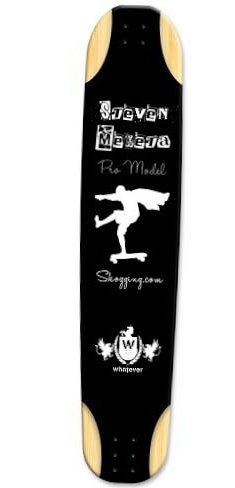 After Steven schooled me on all things skogging, I asked him if he was musically up to as of late. "To be perfectly honest, my friend, not much at all music wise these days. I have been recording very poorly played guitar noise for my skog videos, but other than that, zero. I've been asked to do a few bands, and I probably will, but with time restraints due to the 40 hour + work week, and my responsibilities as a husband and a father, that all takes up most of my time. My family comes before everything, no matter what it is.
It is funny, though, and I feel this is the appropriate place to chat about it, but Apartment 213 has received some buzz these past few years. It appears 20 people like it now as a opposed to 10 [laughs]. But seriously, thank you, sir, for your hype."
Before our conversation came to an end, Steven wanted to take a moment to shout out some important people in his life. "I would love to thank my amazing wife Megan for being my everything, and my kids for being themselves. I would also love to thank Chris Yandall, because without him I am not sure where I would be today, and what condition I would be in. He is for sure an answered prayer. And I love the Yandall family with all my heart! Huge thanks to Sean Powell and Joey Sommer of Whatever Skateboards. And most of all I want to thank God for all his blessings and the restoration of my life."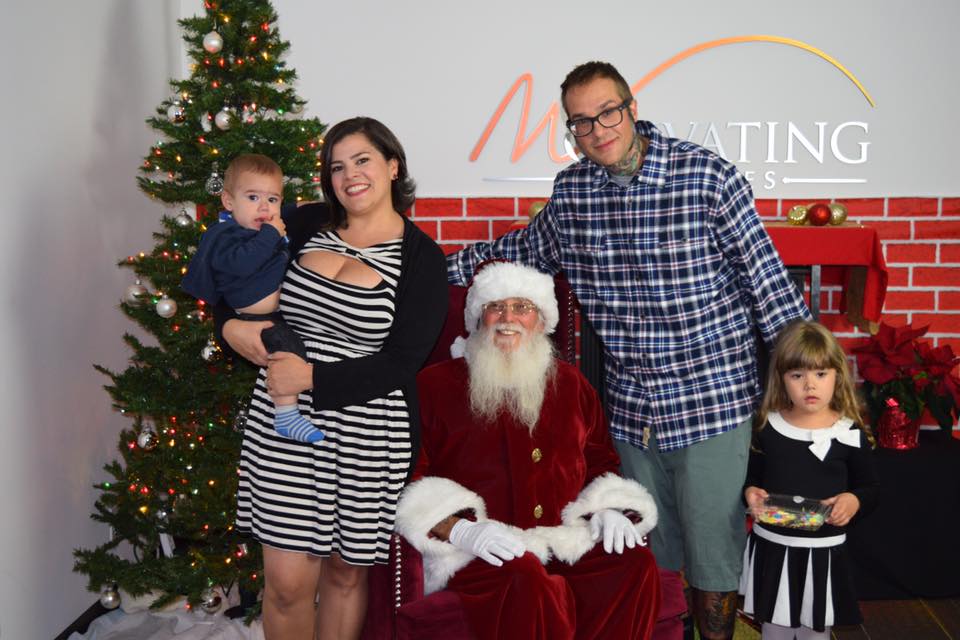 Steven will be producing a series on Skogging.com called "How to Skog, How to Stay Healthy," and you can check out his pro deck at Whatever Skateboards.
Tagged: apartment 213