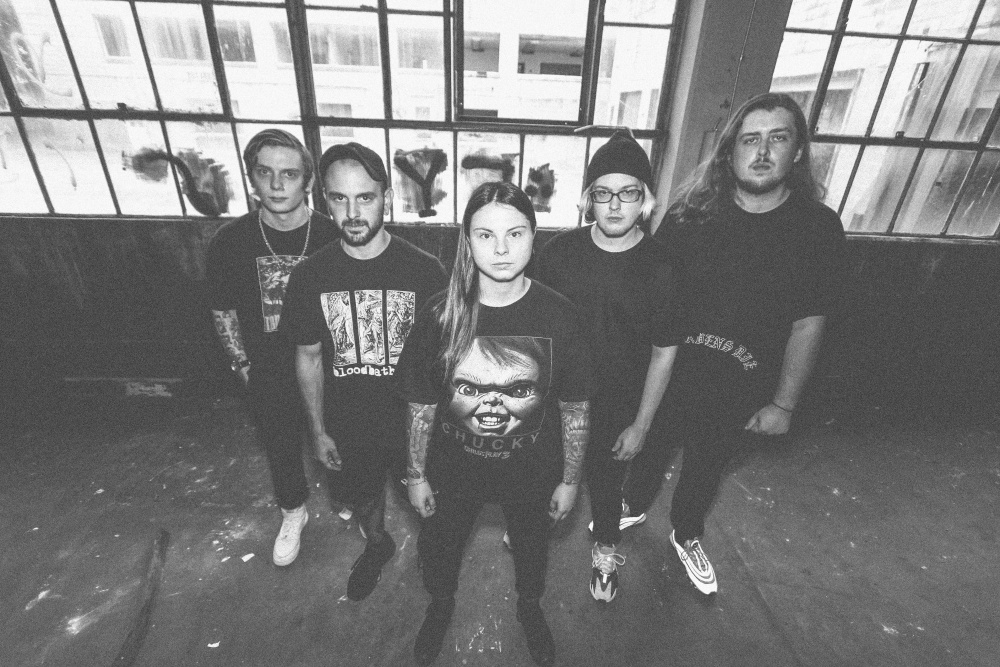 "From a physical perspective it can definitely get in the way; there's been times where I have blown my voice out completely and there's been times where I haven't blown it out," says Revenge Season vocalist Morgan Rutledge about the toll touring can take on her voice. She and the Atlanta metallic hardcore band have been out on the road in 2018 with such bands as I Am and Watchdogs, and they've also done some fests along the way.
Morgan has been learning how to deal out her savage vocal style on a nighly basis without killing herself along the way. "Sometimes I struggle with my voice going out and losing it, but that never stops my sound and performance. I try to give it 110% every show. Other than vocal issues, there have been times on stage where I've rolled my ankle from jumping around like an idiot or strained my back from being in a van all of the time, but sleeping on the floor usually fixes that. I prefer it. All that just comes with the territory. I try not to complain about it. It definitely does get hard physically as well as mentally, but I wouldn't change it for the world."
Revenge Season's Eternal Despair EP is a certified banger and I've been playing tracks from it on my weekly Gimme Radio show for the past few months. Though it's been available digitally, Safe Inside Records will be releasing the 7" version of the EP in September. "[Safe Inside Records owner] Burt [Jenkins] hit us up a while ago through social media saying how he really likes our music and if we had anyone doing any vinyl for Eternal Despair. We didn't have any leads or even thought about putting vinyl out until he asked if he could do it. We were all really into the idea and now it's happening. We're really grateful for the opportunity for sure."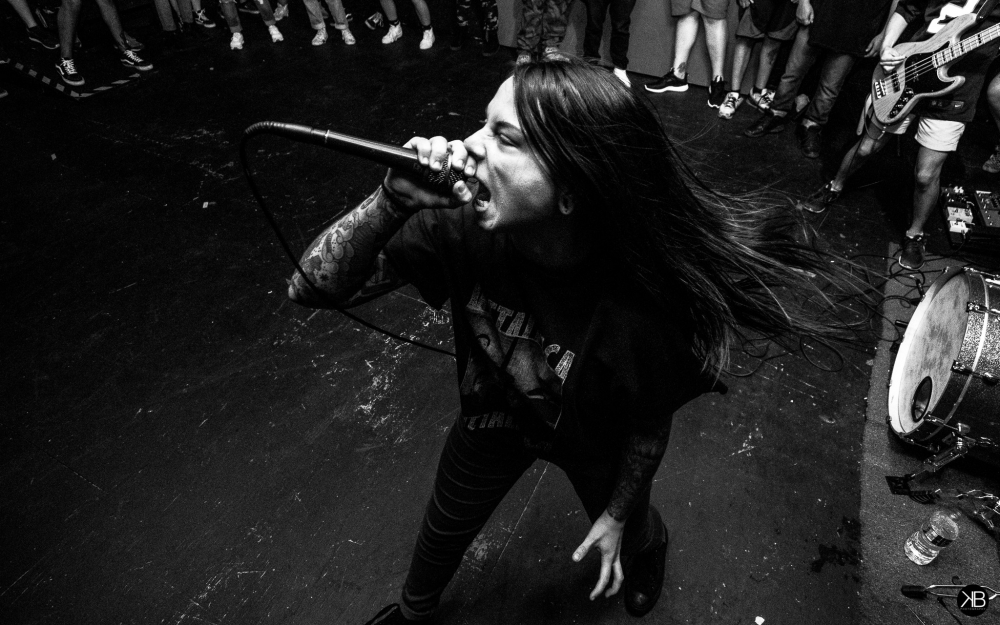 Like the harsh sounds she emotes over, Morgan's lyrics are no less acidic. It's almost impossible to listen to a Revenge Season track like "Show Your Face" and not think that she didn't write it with a specific person in mind. Well, it turns out she did, not that she's giving up anyone up. "It does and no, I'm not comfortable with name dropping that. Someone who I've known is a very mean person and our old bass player and I wrote the song about that person."
But yes, there's something very direct about the lyrics on Eternal Despair, and I'm not the only one to connect with that:
"I've had a handful of people tell me that the lyrics helped them through tough times, and every time I hear that it brings me joy because that is one of the main reasons I started singing in a band and writing lyrics. I related to so much music lyrically and I wanted to have other people relate to my lyrics because I know how comforting it is knowing that someone else is going through the struggles you go through as well. It's a great feeling and I'm extremely honored."
Since Revenge Season have been playing out all over the country, I ask Morgan about some of the bands she thinks deserve some attention at the moment. "Kharma from Chicago. Hands down some of our favorite people we've ever toured with and consider them family. Listen to I Am, Bloodbather, Purgatory, Shame, 30 Nights Of Violence (new Nashville band, music soon), No Remorse, Vatican, Vicious Embrace, Chamber, Cast In Blood, Purity, Orthodox, Wristmeetsrazor, Tourniquet, Foreign Hands, Dare, Piece of Mind, Vein, Bruise, and Varials "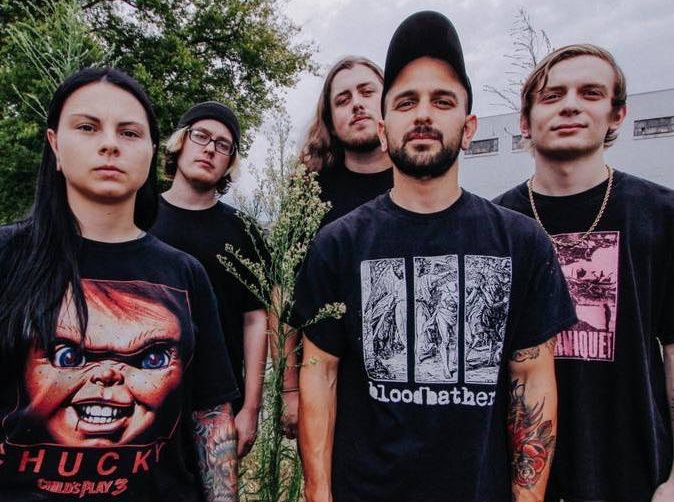 ***
The vinyl version of Revenge Season's Eternal Despair EP is available for pre-order directly from Safe Inside Records.
Revenge Season upcoming shows:
Aug. 22 — Fayetteville, NC @ The Drunk Horse Pub w/ The Last Ten Seconds of Life and Extortionist
Aug. 24 — Montclair, NJ @ The Meatlocker w/ Concrete, Hatred Remains, Dilate, On Sight, Fence Cutter
Sept. 18 — Birmingham, AL @ The Firehouse w/ Sentenced to Burn, 30 Nights of Violence, Clot
Sept. 19 — Ocean Springs, MS @ Crooked Letter Brewery w/ Sentenced to Burn, Tension Break, 2-Piece, Domino
Sept. 20 — Denton, TX @ J&J's w/ Judiciary, Vamachara, Creeping Death
Sept. 21 — San Antonio, TX @ Ventura w/ Judiciary, Vamachara, Creeping Death
Sept. 23 — Houston, TX @ White Swan
Sept. 24 — Little Rock, AR @ Vino's
Oct. 19 — Tulso, OK @ Flyover Fest (The Vanguard) w/ Power Trip, Harley Flanagan, Purgatory, Judiciary + more
Tagged: revenge season