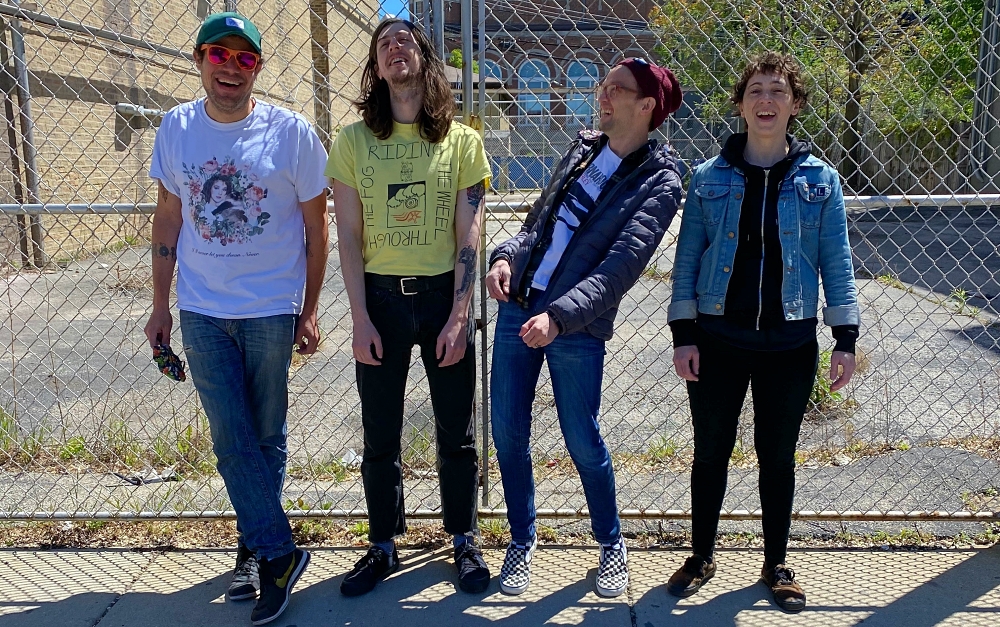 Fresh off The Carousel Tour with Anthony Green (Saosin, Circa Survive,) Laura Jane Grace (Against Me!), and Tim Kasher (Cursive, the Good Life) Don Giovanni Records has announced that punk rock lifer Mikey Erg will release his new album, Love At Leeds, this Friday, June 24.
The album was recorded by Steve Albini at his iconic Electrical Audio Studios in Chicago, Illinois. The band features D.I.Y. punk/ska working-class hero Jeff Rosenstock on lead guitar and background vocals.
Love At Leeds is the realization of many dreams for Mikey Erg. A life-long music obsessive, growing up in the early '90s, there was one sound he'd always hoped to capture on his recordings: the sound of Steve Albini. Steve's credits include Big Black, Pixies, The Jesus Lizard, Bloodlet, Frank Iero and The Patience, Laura Jane Grace, and, of course, Nirvana's third LP, In Utero, one of Mikey's absolute favorite records.

Mikey had never in his 20-plus-year recording career ever gotten to make a fully analog recording. Love At Leeds was the perfect time to rectify all of that. Using the group of musicians that helped him realize his debut solo LP, Tentative Decisions (Jeff Rosenstock, Alex Clute & Lou Hanman), he headed to Chicago to make this dream a reality.

Recorded and mixed in just five days, Love At Leeds is a swift 25-minute long Grunge-pop tour de force. Once the album was complete, Steve and his trusty razor blade compiled the master mix reels and sent the band on their way. The tapes, then, made the journey to Hollywood, California to the legendary Bernie Grundman Mastering facility to be mastered and cut straight to lacquer disc by Chris Bellman (Slayer, Rancid).

Mikey, who takes his name from the seminal mid-'00s New Jersey pop-punk band The Ergs! who he was drummer and principal song-writer for, is a decades-long fixture in the D.I.Y. punk rock scene, directly influencing the next generation of power-pop and punk bands as he concurrently continues his solo song-writing career. I recently caught up with Mikey to chat about his latest record.
Who plays on Love At Leeds and what is each member's role within the band?
Love At Leeds has Lou Hanman on drums, Alex Clute on bass, and Jeff Rosenstock on lead guitar.
How did you decide to reconvene with the band you previously recruited for your 2016 solo debut, Tentative Decisions?
The songs seemed reminiscent of that record as I was writing them and it happened to be the fifth anniversary of that recording; so, it made sense in my brain to get that line-up back on wax.
Is your album title/concept inspired at all by The Who's iconic 1970 album, Live At Leeds?
[Laughs] Yes, it's a play on that. Joe [Steinhardt] (Don Giovanni) and I were texting about The Who record a couple years ago and my phone autocorrected "Live" to "Love." I said immediately to myself, "that's the title of the next album!"
What made you decide to enlist Steve Albini (Nirvana, Pixies) to produce Love At Leeds?
It's been a total dream of mine since I heard [Nirvana's] In Utero when I was 12 years old. I just love that sound he gets. I'm kind of at the point in my career where I'm into just making my dreams come true. Don Giovanni had a relationship with him already; so, it was an easily-attainable goal.
How did working alongside Steve Albini differ from the previous producers you've worked with on your solo/band albums?
Steve was a joy to work with. It was quick and no-nonsense. He's pretty hands-off in terms of what a "producer" normally does. which suited us fine 'cause we had already worked on the song structures and stuff. It was, actually, kind of funny 'cause both Alex and Jeff produced my previous albums; so, we basically produced ourselves and Steve was there to get it all on tape.
What did the writing, recording, production, creation, etc. processes behind Love At Leeds typically entail?
Since the band was spread out all over the country and it was done in peak "Pandemic times," the songs were worked on remotely. I'd do acoustic guitar and vocal demos and send 'em off to everyone. Lou would add drums, Alex bass, and, then, Jeff would add his stuff on top. So, by the time we hit the studio, everything was pretty fully-formed. I'd never really worked that way before, but it ended up being a perfect situation.
What was your inspiration behind Love At Leeds single "Almost Like Judee Sill?"
It was inspired by a photo of [singer-songwriter] Judee in a Rolling Stone article I was reading about her. The song, basically, fell out fully-formed in a couple of minutes!
Why did you decide to choose "Caroline Told Me So" as the second pre-album release single?
It seemed to be a favorite of anyone who'd heard it. It, also, struck me as a more kinda typical catchy Pop-punk song; so, it seemed to be an obvious choice!
What were some of your primary sources of inspiration and influence while creating the new record?
I had the idea that I kinda wanted [to] deliberately write a bit of pop-punk again with this one. So, there's a bit of that in there. Once we locked Steve in, I would equal parts psyche myself up and out by listening to anything and everything he recorded. So, there's some Nirvana and Pixies and Neurosis in there, too.
Do you have any current plans to tour behind Love At Leeds this summer?
We have a couple record release gigs planned (6/30 at No Aloha in Brooklyn and 7/1 at The Saint in Asbury Park,) but that's it for the moment. Stay tuned to my socials (@mikeyerg) for updates on that!
What's planned next as Mikey Erg?
Hopefully, some more records and tours… time will tell!
Honestly, I'd be remiss, if I didn't ask this before wrapping up this interview: so, what is the current status of The Ergs!?
I'd call us semi-active. We're doing some shows with friends and some festival-type stuff this year. Kinda just taking it offer by offer. The days of us as a unit doing any semblance of "real" touring, I think, are behind us.
***
Live At Leeds is out on June 24th via Don Giovanni Records (pre-order).
***
Help Support What No Echo Does via Patreon:
***
Tagged: mikey erg