Louisiana Lot Lizards is a band specialize in a type of metallic hardcore I've dubbed "chaoscore" in the past. The trio's arrangements are unwieldy and tempo shifts are tough to call, and that's not surprising after speaking with vocalist/guitarist Joey Kauffman. "I've struggled with paranoia most of my life," said the musician just a few days ago over email. "A lot of people used to think I was very hyper and wound up all the time, but it honestly just came from being stressed out and anxious because of my environment. Some people get really wigged out and clam up when it comes to social anxiety, but I'm sorta the exact opposite. I think this EP really captures a lot of that. It's sorta frantic; it has a hard time sitting still. But, I think it's an interesting spin on heavier music.
"I was heavily inspired by bands like Every Time I Die, Converge, and The Chariot. Piles of riffs that take strange turns at times. It's honest. It's aggressive. It's ugly."
Now that Joey has set the foundation down, let's let you actually hear Louisiana Lot Lizards in the form of "When It All Went Black," a track from the band's forthcoming EP, Vol. 1: Ever Since the Storm.
Joey offered up a quick and ominous explanation for the inspiration behind the track: "'When It All Went Black' is about chasing Them down. Making Them regret their actions." Damn.
So, what's the origin story behind Louisiana Lot Lizards, and how the hell did Joey come up with their band name? "Louisiana Lot Lizards didn't officially become a band until early 2018, sometime in February I believe. But, I've been writing for this project since 2012. It's been a long time coming for sure. I teamed up with Caleb Lewis from We Love You after he had expressed interest in working on it with me after hearing a bunch of demos I had kicking around. After a few weeks of practicing together, we recorded an EP which became Vol. I: Ever Since the Storm, which is being independently released in October."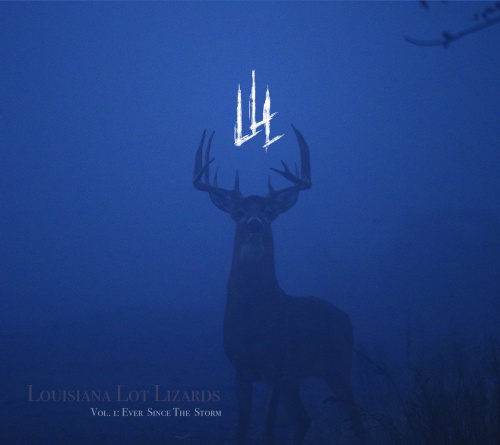 As I usually do around these parts, I asked Joey about the current Indiana heavy music scene. "Sermos and Burial Party are two heavy bands we've befriended in the last few months. Sermos is a fresh spin on classic death metal bands. They're live shows really reach out and pull the audience in. Burial Party are super nice guys playing a cool blend of punk and hardcore. They're incredibly fun to watch live. High energy. Other than that, we try to stay away from shows that are billed as 'heavy' shows. I think a music scene can really thrive when you can mix bills up. Bring more people in and maybe show them something they didn't think they'd like. So we love playing with bands like Lokella from Grand Rapids, MI and Lung from Ohio. Aggressive, but not at all hardcore/punk/or metal. Please check all of those bands out."
***
Vol. I: Ever Since the Storm will be out on Oct. 5 and can be pre-ordered on Bandcamp.
Check out Louisiana Lot Lizards on Twitter, Instagram, and Facebook.
Tagged: louisiana lot lizards