Canadian label Deranged Records has long been the bastion of hardcore punk for our neighbors up North. Shit, they're an international institution, having peppered the scene with stone cold classic albums since their 1999 inception in British Columbia. They put out the early records that ultimately vaulted Fucked Up into the stratosphere among other genre landmarks. The early 'oughts saw them retain their seemingly perfect form, peddling pure gold with Career Suicide, Dead Stop, Smalltown, DS-13, and an exhaustively killer discography. Classics aside, they've had a glorious run of late. Daring and essential LPs from Tenement, Spiritual Cramp, Sore Points, Color T.V., and No Problem have likely kept them in the conversation and cemented the label's legacy.
Toronto's Damagers are forcibly writing another chapter in the Deranged story. After joining the stable of crucial Canadians, these Ontario rabble rousers released an absolute fire self-titled EP in the fall of 2017. Victory, their November 2018 follow up, is a five song blur of hardcore punk that owes as much to the rambunctious, snotty punk of their more melodic label mates as it does early US and world hXc.
Again released via Deranged, the latter months of any year are an easy time to get buried in the premature Year-End Lists. Dig this out if you haven't already. It destroys.
As Deranged Records' owner Jonah Falco so perfectly posited on the label's website: "(it's) not far from what would have been on Welcome to 1984 and Not So Quiet On the Western Front." Fittingly, there are touches of early '80s Northern California/Nevada all over these rippers. They'd fit comfortably thrown on a vintage comp with Crucifix or Los Olvidados as quickly as they would contemporaries P.R.O.B.L.E.M.S., Tarantula, or Red Dons. Theirs is a marriage—albeit —of raw and focused. The vibe manages a seesaw balance the unhinged energy never completely comes off the rails. Victory belies a band that's locked in and deadly serious about songcraft.
Victory opens violently. It takes mere seconds before "You Say" explodes into a perfect buzzsaw guitar riff. With vocals that alternate between guttural and bilious, there's an inherent danger rarely found in music this damn catchy. At it's best, it recalls a more muscular Career Suicide or leaner Poison Idea, spitting phrases with nihilistic flare. They manage to juxtapose melody and sheer hardcore ferocity in tightly wrapped two minute bangers. As quickly as "You Say" kicks the door down, it's ransacked your house and fled to pillage elsewhere. The following track "Social Control" finds me lost in hyperbole. Beginning with an utterly devastating and perfect bass tone, the first two notes had me humming Gang of Four's Damaged Goods. Alas, it's the ultimate fakeout.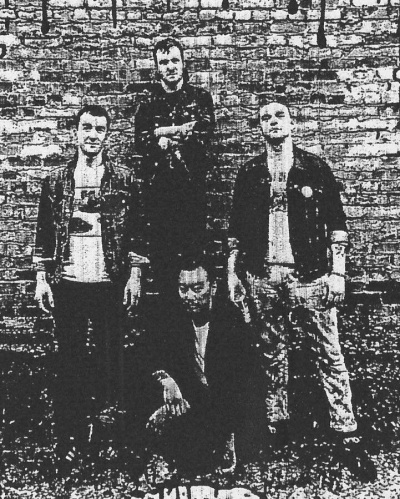 By the third string pluck, it's clear they've upped the ante and penned a note perfect hardcore song. It's a masterclass in USHC, indebted to the backward glance and the right fucking now in much the same way Fixation has. Though sonically unique in attack, there's a contemporary lean to their classic-informed sound.
Like the best bands tend to be, Damagers are clearly influenced by classic punk. It's as if they listened to their Killed By Death LPs at the wrong speed.
It's not difficult to marvel at the sheer number of punk bands that never left their garages or shitty, mildewed basements that've likely named a song "Social Control." I can only imagine these trite and cliched hardcore ditties are a veritable haystack of sloganeering and anti-establishment nonsense. The Damagers are the needle worth the search, as sharp as they are rough. Though hardly 8 minutes, the highwater marks are everywhere. Both "Who Decides?" and the closing title track maintain the frenzied mania Damagers do so well. "When the Hammer Falls" is a crusher, exchanging a touch of the speed for a confrontational and intimidating stomp. Much like the bass sound, the drums are up front and mixed perfectly, each Tom hit an unexpected blow to the sternum.
Damagers have doubled down on what made their S/T debut EP so rad… runaway guitar riffs, feral vocals, and an ear for a fractured melodicism that can't be killed, even by the bile and dagger vocal stylings. Once again recorded by Sean Pearson at Boxcar Studios and mixed/mastered by Will Killingsworth, they've nailed it per usual. It's as clear as it is intense. Deranged. Canada. Damagers. Listen.
Get It
Tagged: damagers