Apparently, the word for a mental blind spot is "schotoma." Useless impromptu vocabulary lesson aside, Spectres are, to me, exactly that. From what I gather, the long running and longer prized Vancouver, B.C. punks are roughly a decade deep into their recorded history. 2019 sees them 10 years out from their opening audio gambit, a split 7" with the equally essential Arctic Flowers.
It takes barely a cursory listen through their discography to realize they emerged a fully formed proposition. Previously, they revelled in and explored terrain both doomy and gloomy. Last year saw their earlier work remastered and released via Artoffact Records and, due to my burgeoning obsession with them, I've since inhaled their sonic library. Spectres have clearly been leaning ever closer to where their recent single finds them.
Released earlier this month by Sabotage Records, the Provincial Wake 7" is an absolute stunner. Shying a bit further away from the isolationist emotional climes of their earlier work, they've replaced it with a warmth only glimpsed on the equally crucial Last Days LP.
As is the case with many other adjacent subgenres, there seems to be a renaissance of sorts in the world of post punk. From the "mainstreaming" of everyone from Shame, IDLES, and Fontaines D.C. to the hXc-approved, bill hopping Soft Kill and Drab Majesty, there's room in the zeitgeist for the backward glancing. A bit more off map are similarly minded groups like Institute, Powerplant, Pleasure Leftists, and DIÄT who're also proudly flying the flag for the varied corners of current post-punk. There are elements of everything from death rock and dark/cold wave to new wave and synthpop.
Having been birthed by a scene very much rooted in DIY punk ethos, Spectres manage to incorporate increasingly melodic strains while still sharing DNA with the aforementioned Arctic Flowers, Rule of Thirds, Terrible Feelings, and the criminally overlooked NW band The Estranged. Lest I list touchstones ad nauseam, I'll simply say they've certainly inspired the current crop to a large extent.
Sporting cover art that evokes Patrick Nagel, he of Duran Duran's iconic Rio cover, the '80 Art Deco stylings are matched note perfectly by a sound with new romantic flourishes. The band themselves look as if they walked straight out of a Birmingham boutique, their Kahn and Bell threads untouched decades later. They undoubtedly live their art in every dimension and their presentation only adds to the already superlative release.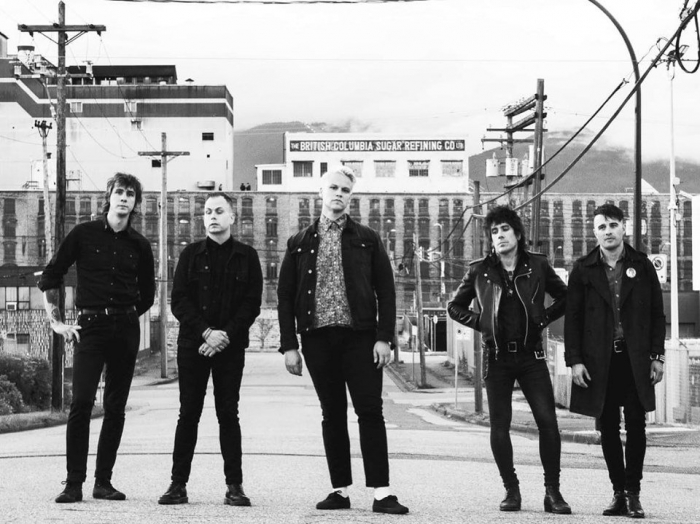 What of the music, you say? Well, the A side is an earworm of the highest order. Instantly memorable, "Provincial Wake" kicks off with jangly, reverb-laden tones. In an alternate universe, you could imagine this playing as the closing credits to a Brat Pack flick roll. The infectious chorus is at once anthemic and desperate. Led by propulsive drums and lockstep rhythms, it's the vocals that elevate the proceedings to godhead status.
In much the same way INXS did with "Don't Change," or New Order managed with "Age of Consent", they invoke instant nostalgia for a moment yet to be. Lyrically, they fittingly reference Johnny Marr, whose musicianship was also capable of eliciting both the maudlin and the optimistic. The song is a feat of tone, execution, and minimalist beauty.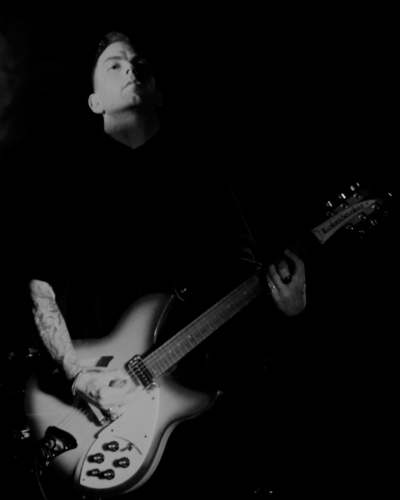 The flip side, "Northern Town," immediately feels more lamenting and desperate. Though the lyrics are recognizable and fairly easy to discern, the cavernous vocals feel like instrumental adornment, extending and creating their own melodies. There's a noisier guitar that preempts the chorus brilliantly and the back half of the track is full of brilliant rhythmic work. The guitars absolutely soar throughout, both with gorgeous runs and clattering chords. It's another gem of a track and a fitting B side to what's possibly my song of the year. I'm on board for wherever they go next.
I'm endlessly grateful to finally find that what's been under my nose all along is pure gold. Fill your Halloween with Spectres.
Get It
Tagged: spectres