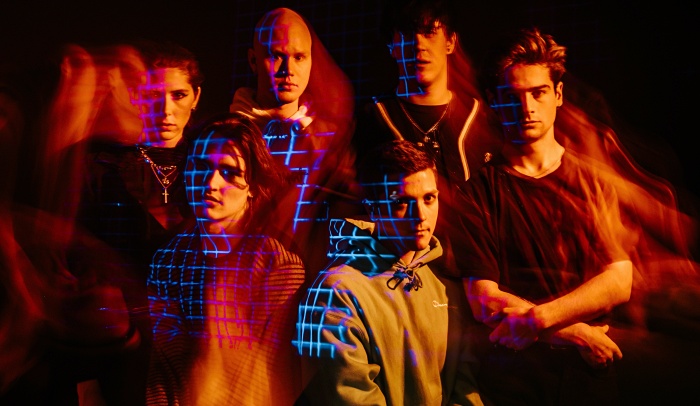 Nathan Daschuk is a one-of-a-kind creative, with a hustle that never ends and inventive flow that has put Canadian hardcore on the map, firstly with Stepping Stone (of which he provides guitar and vocals for), and now for his latest venture, Flash Back.
Flash Back's newest project, North American Nü Metal, arrived to the masses this morning at 4 a.m. An unconventional time, sure, but these two new (in every sense of the word) tracks also arrived in an unconventional body that goes beyond the greedy streaming services — an economical, environmentally responsible and highly futuristic floppy disk available for purchase via Homie Shit Magazine.
One thing's for sure, you aren't going to tell these six meddling Regina folks how to live. No Echo caught up with Daschuk to get the scoop on all there is to know about North American nü metal.
What's up, Nathan? Give me a bit of background and foreground here. What are you up to today, and talk to me a bit about how Flash Back started and where you're at now as a band.
Yo! I'm just crushing some Devil May Cry right now while waiting for basketball to start. Flash Back started with the intention of being a Prong/Leeway-style hardcore band, but we quickly realized our shared interest in nü metal, and took a sharp turn into nü metal revival — it's time.
What are some of Flash Back's biggest influences? Musically, of course, but I'm mostly curious about the non-musical influences.
I'm really glad you put an emphasis on non-musical, because I think that's just as important. Musically, Deftones, Linkin Park, and other '90s/'00s alternative metal bands. Non-musically, we're heavily focused on the feeling of being a snot-nosed kid in 2004; Korn on the stereo, Resident Evil in the disc drive, middle fingers up to your dad. I think we're heavily focused on reviving the carelessness that shaped us into who we are today, while simultaneously addressing the issues we currently face.
Who's idea was the Flash Back Flash Drive? Is that a move based in creativity, an attempt to be less wasteful in making art, or what?
I don't know who's idea it was, but it was definitely inspired by science fiction movies like Hackers and The Matrix. I think the decision to go forward with them was influenced by the recycle factor. When I look to my left, I see probably 50 pounds of plastic in the form of records and cassettes. I think being able to reuse a piece of music merchandise is huge, and I hope people take advantage of it.
How did you get connected with Homie Shit Magazine to do the release?
I met Homie Shit HQ while touring eastern Canada and we clicked pretty hard. It was evident we shared a vision, and now we're running with it and trying to push it to the extreme.
There are six members of Flash Back — Do you ever bump heads? What's the creative process like for making a Flash Back song?
No, we don't. We all have an equal vision and all have things to contribute that match it perfectly. We have yet to have any major disagreements. Songwriting begins either in the den, or in the matrix. When we have our core, we move it to the opposite. We flip it back and forth until we have something that we're happy with.
Both of your bands are extremely creative in the visuals department. Have you ever seriously considered going into marketing in case the music scene never returns to form?
Not marketing, but I've thought about graphic design a little. Ultimately, I don't think I could do it. It seems like a headache having to cater to someone else's vision, rather than your own. So, respect to those who can do it.
What was the recording process like? Have you been sitting on these tracks for a while?
We recorded these songs pre-COVID-19 with a close friend, Chris Dimas. He records pretty much every band in (Regina), and he is with us 100 per cent when it comes to the creative process. He contributed a ton to the songs. He'll also be in charge of sound production when we do a set stream later this month, so be on the lookout for that.
What's up in Western Canada hardcore? Anything worth shouting out?
There's a new band around called COVID-19 that seems to be taking over. I personally can't back them, but I really like Gazm, Trench, Hoodoo, and Lova Lamp.
I am into the idea of Flash Back being a 2000s worship band, but not in a Trustkill metalcore sort of way. Off the top of your head, what's are some of your favourite pieces of culture from the early 2000s?
"Amber" by 311 is paramount. Beyond that, Deftones' White Pony, and the Tony Hawk Pro Skater 4 soundtrack are pretty defining as far as music goes. We could branch into Good Charlotte-style music, but then we'd be here all day.
As for movies, The Matrix and Blade are huge for our entire band, although they're actually both late-'90s. Again, we could branch into romantic comedies, but the train wouldn't stop. Also, we can't ignore the Jay-Z/Linkin Park collab. I'm excited to see who's willing for the Flash Back collab. Travis Scott? Billie Eilish? Time will tell. Someone tell Lil Uzi to bang my line.
***
Donate a few bucks to help with No Echo's operating costs:
**
Tagged: flash back, stepping stone