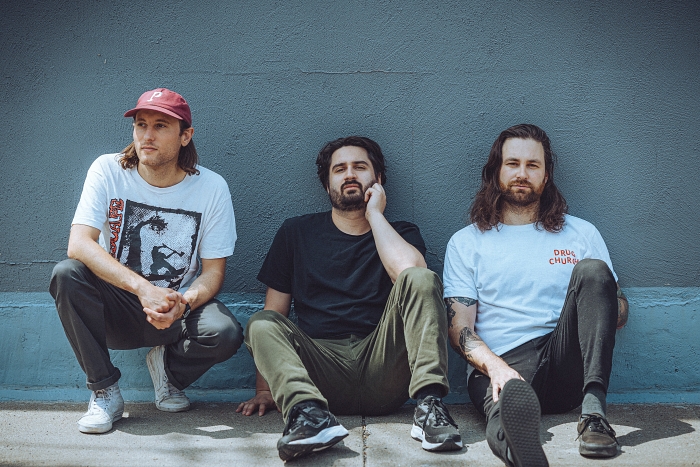 I'll spare you, dear reader, the litany of reasons you should pay close attention to literally anything New Morality Zine stamps its name to. You likely know that already. In keeping with the golden run that began with the Chicago label's inception, their latest is no let up.
Montreal, Québec's Spite House have just dropped one of the best records of the year, full stop.
Much like their abstractly moody cover art, the band's sound is artfully constructed. Awash in evocative colors, their moody and cathartic sound is as artful as it is straightforward and earworm-laden. Spite House fuse the driving rhythms of alt rock and the adventurous density of post-hardcore to something altogether more poetic.
Born of grief and and the freedom inherent in processing loss, anyone spinning Springtime and Blind and the like would be wise to listen up. This is the rare Spite House no one would mind being neighbors with.
In advance of dropping their stellar self-titled debut full length, the band was kind enough to indulge me some questions. Endless thanks to Max, Nabil, and Marc. Endless you're welcomes to anyone that listens. I'll see it on your year end lists.
What's up, Spite House? For the as yet uninitiated, tell readers a bit about yourselves!
Max: Hey Adam! I'm Max, I sing and play guitar in Spite House. I am originally from Buckingham, a small town near Ottawa, but on Quebec's side. I moved to Montreal when I was 17 after the passing of my dad. After a year of not knowing what to do with myself, I enrolled into a sound and music recording program. That's where I met Marc, about 10 years ago.
Nabil: My name is Nabil, I play bass. I'm originally from France and moved to Montreal about 4 years ago. I met those guys through a mutual friend; we quickly realized that we listen to a lot of the same stuff across different genres and they asked me to join their band around the time of recording the LP
Marc: I'm Marc, I play drums. I'm from a small town north of Montreal called Saguenay. I moved to the city about 10 years ago to study audio recording and audiology.
If I did my homework, the band started just shy of the pandemic, which certainly couldn't have been easy. Did it allow for more time with songcraft, because this is a shockingly good debut! Not to blow too much smoke, but can really hear the work put into these songs. Tell us a bit about that process.
Max: Thanks for the kind words! Me and Marc met to do our first jam a few months before the pandemic. We didn't know what would come out of it, but I've had ideas of riffs that I had been preparing inside my head for a couple of years. The pandemic was weird, it did let us explore more, create demos and work more on the songs, but at the same time we knew when the songs were ready and it kept us from being a real band for a long time... It definitely gave us something to do but I feel we've wasted months of progress because of it.
No Echo readers are intimately familiar with NMZ and they honestly seem like the perfect fit for your band. Aside from now being on one of the best labels going, how'd that pairing come together?

Nab: I've known Nick from NMZ for a long time, we were trading zines (I was doing JUST SAY YO! Fanzine back then) and we bonded over our love of Silent Majority, turn of the century NWHC and, of course, Burn.
Ever since they put out the Rule Them All 12-inch as their first release I knew to pay attention to what was coming from the label; and frankly I have yet to be disappointed. When the record was near completion I sent it to Nick to see if he would be interested, and although the label's schedule was full he still wanted to move things around and make it happen; which is both flattering and much appreciated. We couldn't be happier to be part of such a diverse and quality roster of newer bands too!
I know Max has been quite involved in the music scene, but am I right in saying it's the first time behind the mic doing vocals? That seems wild to me, as the performance is urgent, passionate, and immediate.
Max: You are right, it is my first band doing vocals. It's actually my second band ever. I've been more involved with recording other people's music than working on my own projects these past few years. I've always known I wanted to do a project that could let me express everything I needed to get off my chest.
When I tried vocals for the first time in front of Marc, he seemed to think they were good enough for the band so I was quite happy. I feel I've been holding off singing for years out of fear of not being good and decided that it was time to move past that with this project.
Kudos on the album. It's a tremendous piece of work for any band, let alone one on their debut full length. Walk us through the writing and the recording, which incidentally sounds incredible. Big up to who you worked with!
Max: The ideas of the songs started either with a riff or full songs that I brought to Marc. Then we worked on them together and made them what they are now. Marc usually gets what kind of drums would make the songs stand out immediately, so it is a very fun and fast process. Then we refine until we are satisfied with the songs.
For the LP, we had time to make a bunch of preprods and demos and that's where I really focused on the vocals for the songs. I'm the one who tracked, mixed and mastered everything. It was just at the end of a mentoring program I was in with Jay Mass, that gave me new tools to mix my own songs.
Marc: We have a full recording setup at our jam space so it's super convenient to record a rough cut, listen to it, tweak it a bit, re-record, so on and so forth.
I don't want to overstep here, but lyrically it feels ostensibly born out of loss and grief. Coincidentally, I first listened to the album on the anniversary of my younger brother's passing. Firstly, my condolences, but it made for an incredibly cathartic listen that's likely to stick with me in a manner similar to Touché Amoré's Stage Four.
Thank you for the art. It's an intense and thoughtful exploration of grief that feels incredibly cathartic when paired with such propulsive and dynamic songs. Care to explore that with us more extensively?

Max: Yes absolutely... I think that losing my parents at a young age had a tremendous effect on my identity and the direction of my life. I first lost my dad when I was 16, then my mom 10 years later. The album is a take on different spheres of life that I think were affected by that. Grief is a weird process that is never really over. You carry it your whole life and you have the choice of making something out of it or letting it eat at you.
I remember listening to Touché Amoré and Title Fight when I felt alone in a new city. Those bands definitely inspired me to do something artistic and musical. If Spite House's music can have the impact that you describe on a few people I would consider myself honored.
I'm absolutely obsessed with the cover art. For something so lush and abstract, it becomes decidedly emotional after listening to the record. Tell us a bit about Dominic St-Aubin. How'd that come together? Is there any connection there?
Max: Dominic St-Aubin is one of my favorite artists/painters. His art always resonates with me. He was singing in a band with a friend of mine, that's how I met him, but that was years ago. For some reason, he does not get nearly enough attention for his artistic work, in my opinion.
When I contacted him I had him listen to the demos, sent him the lyrics and told him a bit of my story. I asked him to do something abstract, because that's the kind of visual art that impacts me the most. He sent a few proposals, and when I saw the painting It instantly connected emotionally with me so I knew it was the right artwork for the album.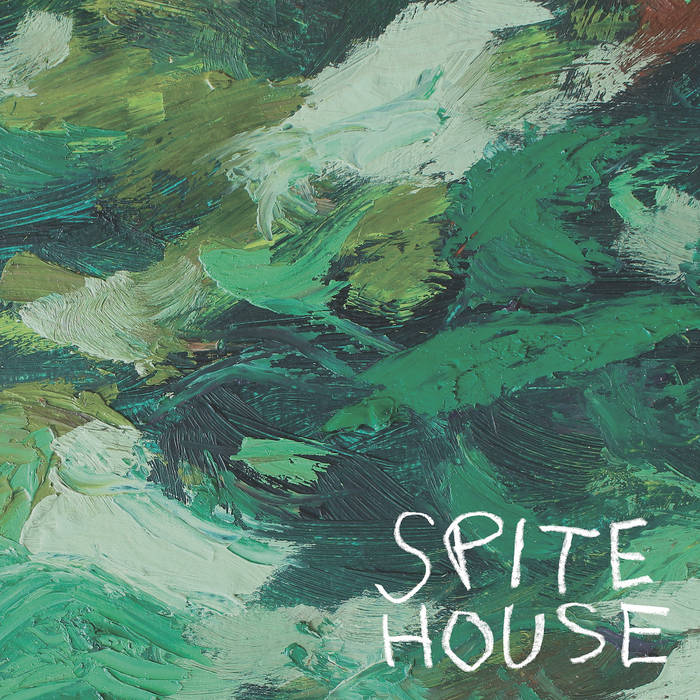 Your admitted influences notwithstanding, I hear a lot of different things across this collection. There's a bit of post hardcore and a unique take on '90s alt, but you seem like a band that'd play just as well on a hardcore fest as you would elsewhere. There's a glut of amazing bands the last few years like Fiddlehead, Soul Blind, and a litany more that play to myriad audiences. Am I a mile off or is that something you're conscious of?
Nab: Personally speaking, I'm from a generation when it was frowned upon to be into different styles of music at once; I am so happy that through the years the lines have been blurred and people are more open both in terms of audience and musicians exploring different spaces.
I guess for us our hardcore background translates into a more palpable raw energy that maybe makes more sense in a hardcore context than at an indie or even pop-punk show; while still bearing familiar elements from these other genres
I'm a listaholic so you can't escape it. What're the Top 5 favorite albums you've been spinning of late?
Max:
Growing Stone, I Had Everybody Snowed
Praise, All In A Dream
Superchunk, Wild Loneliness
Somerset Thrower, Paint My Memory
Jawbreaker, Bivouac
Nab:
Praise, All In A Dream
Curtis Harding, If Words Were Flowers
Jacky Boy, Mush
Straw Man Army, Age of Exile
Webbed Wing, What's So Fucking Funny
Marc:
The Armed, Ultrapop
Portrayal of Guilt, Christfucker
RICEWINE, In Valley
END/Cult Leader, Gather & Mourn Split
Russian Circles, Gnosis
What's the rest of 2022 and beyond shaping up to be for Spite House?
Nab: We're playing our record release show on September 1st and after that we're gonna try to do as much touring as we can, with some things lined up already. We're eager to get out there once the LP is out!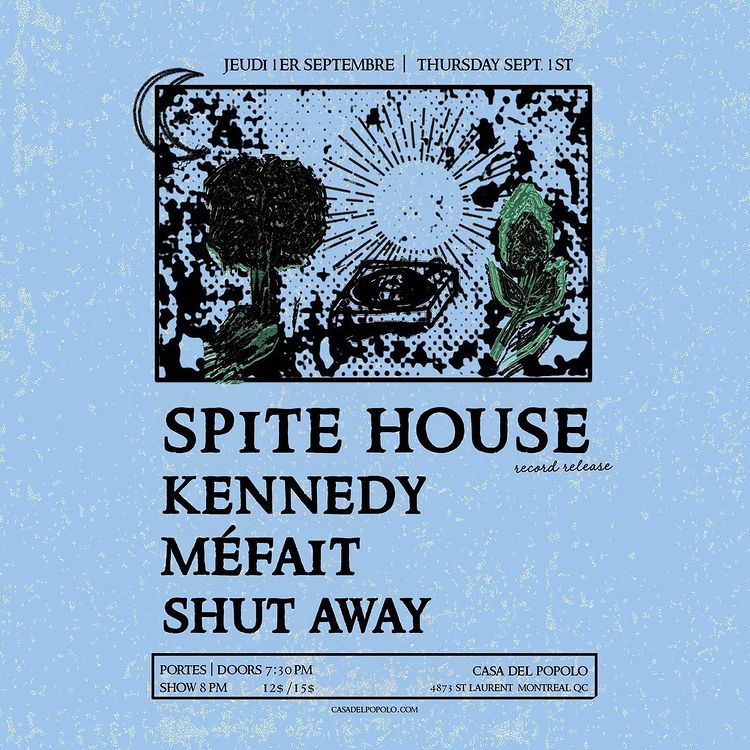 ***
Spite House is available on vinyl and digital via New Morality Zine.
***
Help Support What No Echo Does via Patreon:
***
Tagged: spite house