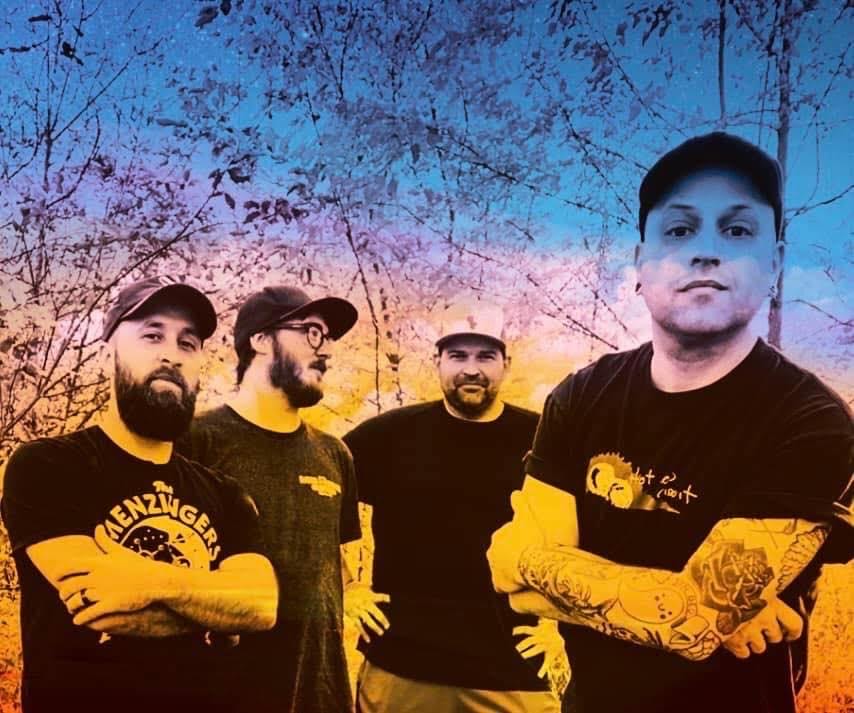 Last month, melodic punk outfit Low Morale dropped the fittingly titled This Planet Sucks. The three-song EP is the Cleveland band's follow-up to their 2021 Making Your Better Feeling album.
"Low Morale began in 2019 after guitarist/songwriter Steve Sherman and I decided to dissolve our former melodic punk rock band Blacklister and start a new project," vocalist Justin Vaughn tells No Echo.
"Blacklister had been together for a few years and was lucky enough to play some crazy shows with bands like Iron Chic, Off With Their Heads, The Falcon, War on Women, Bad Cop Bad Cop, and Direct Hit!. At one point Nic Bruzzese (Man Overboard) contacted us saying he wanted to produce us which was surreal, but it just wasn't possible at the time to go out to New Jersey for a while to record.
Justin picks up the Low Morale origin story: "We had gone through a lot of bassists and drummers and had a lot challenges, so just wanted a fresh start under a new name. Steve and I wrote and recorded an album ourselves we released, and then recruited drummer Kyle Rogers and bassist George Unfried. We just recorded a pretty straight forward, no frills EP to get something new out, and already have another album about written that will be more produced."
How does Justin break down Low Morale's style? "Our sound's a mixture of skate punk, grittier Midwest punk rock and old-school emo. Melodic and anthemic but also kind of dark and cathartic. Steve (Sherman) writes the instrumentals, and is really into stuff like Strung Out, Millencolin, and NOFX. I love that stuff too, but bring my heavy influence of stuff like Alkaline Trio, Saves the Day, and The Get Up Kids to the vocals."
The vocalist gives some insight on the making of their latest offering. "This Planet Sucks was recorded with a friend Tony Grabowski at his beautiful home studio Castle X in Cleveland Heights. He had been wanting to record us for a while so it worked out. I had been listening to a lot of Banner Pilot and Jawbreaker and I think it shows in these recordings.
"Lyrically, these songs deal a lot with what is pretty much a midlife crises and the existential dread that comes with it. Being in your mid-late 30s and realizing there's things you still haven't accomplished, and losing that feeling of having all the time in the world.
"Lyrics like, 'So is there time left for our destiny? Is this hour glass half full or half empty?' from 'Tomb Stoned' or 'Had a whole life left to live, now world is caving in, don't tell me it's too late' from 'Young & Expiring' are looks into my daily mental struggles that hopefully will help others feel like they're not alone."
How about the punk community in Low Morale's backyard? "The local Cleveland and Ohio scene is great. The hardcore scene and indie/emo scene is huge, but I feel like the melodic punk rock scene is dying out. It's like us and Heart & Lung, who we've played a few shows with. I'd love Worship This! to get back together..one of my favorite Cleveland bands.
"Between Home and Serenity's a post-hardcore band I played shows with a lot in the early '00s and they're back together. They asked us to play their first show back last year and it was a blast. Chris from Beast Killer and Dan from Eighty Sixed Kid are great dudes. Fawx is cool. My brother Bobby Vaughn (ex-Promise Hero) is a genius. But yeah, the 'org-core' genre is a dying breed here."
***
This Planet Sucks is available across all streaming outlets. Get all of Low Morale's links here.
Low Morale will be playing on May 30th with Celebration Summer and SPELLS at the Foundry in Cleveland (more info).
***
Help Support What No Echo Does via Patreon:
***
Tagged: low morale