When you claim such disparate musical influences as Behemoth and A Life Once Lost, you better have the brutal guitar riffs to back that up. Gloves Off have definitely lived up to that promise since forming in 2017, bringing their take on metallic hardcore to crowds at Tsunami Fest (2018), PA Unity Fest (2019), and Winter Jam (2019, 2020).
The Pennsylvania group has set the stage for their forthcoming album, Life, due out next month via Upstate Records, the busy label behind recent releases by Kings Never Die, Iron Price, and Bovice.
With Life hitting stores in a few weeks, No Echo is whetting your appetite for the album with "In Reflection," an absolute sonic beatdown of a track from the record:
"'In Reflection' is an outlook on coping with someone taking their life," says Gloves Off vocalist Cody Clark, continuing, "where you look into your own self, whether it be blaming hurting or hating yourself for the actions of someone else and asking yourself, 'Could I have done more?'"
Life will be out digitally on March 13 on all major servies. The pre-order for the physical will be available on Feb. 21 on the Upstate Records website.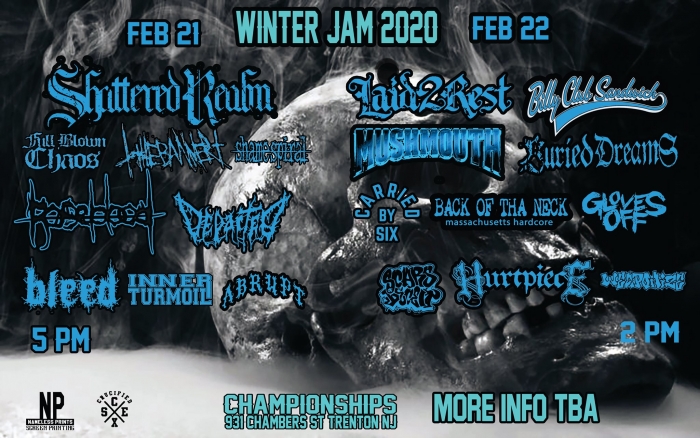 Upcoming Gloves Off shows:
Feb. 22 - Trenton, NJ @ Championships (Winter Jam 2020 flyer above)
March 6 - Chapel Hill, NC @ Local 506 w/ Iron Price, Violent Life Violent Death
March 7 - Charlotte, NC @ Skylark Social Club w/ Iron Price, Violent Life Violent Death
March 8 - Manassas, VA @ Three Monkeys Pub w/ Iron Price, Violent Life Violent Death
March 11 - York, PA @ Skid Row Garage w/ Enemy Mind, Inner Turmoil, No Mercy, Forced Under
***
Donate a few bucks to help with No Echo's operating costs:
Tagged: gloves off