Be Well. Taken as but a phrase, few band names are as emblematic of their given era. The quintet, about whom I waxed excitedly in December on the site, have at last returned with their debut full-length.
Due out later this month, The Weight and The Cost, is an album that's at least partly, if not largely, responsible for putting Equal Vision Records squarely back into the hardcore conversation.
For the uninitiated, Be Well features musicians who have played in such bands as Bane, Darkest Hour, Battery, and Converge. Last year's 7", which boasted stunners "Strength for Breath" b/w "Frozen" is bolstered here by an additional nine tracks that tour through the star-studded lineup's disparate backgrounds with an urgency and desperation apropos of the time.
Much has been made of the band's collective resume and, in lieu of a lengthy roll call of their bonafides, I'd prefer it stand alone. You know the personnel, but know this… it's my personal favorite thing any of them have been involved with. Side note, as a Baltimorean, I'm predisposed to dig any album cover adorned with hometown traffic sign. Let's get it.
As is expected, the band wastes little time in establishing their opening gambit, "Meaningless Measures." Built atop a pinch of feedback, an isolated bass and increasingly loud snare run is a note perfect slice of their melodic hardcore. The vocals stun nearly immediately, as McTernan can be found vacillating from anguished shouts to melodic cleans all in the span of mere seconds.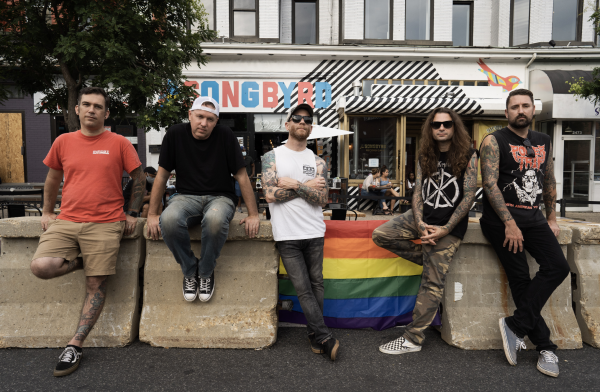 The LP is littered with killer moments and they spoil the listener from the jump, tacking on gang vocals so impassioned you can practically feel someone pile on your shoulders scrambling for the mic. They touch on a ton of references, none so clearly as their own sterling, now-merged discographies.
One can hear the well-aged and triumphant strains of Battery, but there are hints of Shelter, Gorilla Biscuits, and Strike Anywhere. As is the case with a Mid-Atlantic act, they've clearly digested the entirety of DC's punk legacy, from Rev Summer all the way up to their successors in Praise and GIVE.
Burden, depression, self reflection, and taking action seem to be major thematic through lines across the album and "Magic" seems to bear that weight directly. It's at once oppressive and riddled with a shaky optimism, determined but still unsure of itself.
Appropriately enough, it starts with a drum beat that'll have you reaching for the well-worn grooves of Have Heart's The Things We Carried. The song immediately shifts into a groove-laden cadence not altogether unlike Incendiary or new jacks, Jocko. It deftly segues into a nearly spoken passage that highlights a strain and ache, getting increasingly urgent as the music expertly suffocates it.
They play so well with space here, allowing it to open up and exorcise its anguish with a purgative expertise. The vocal patterns and registers are wildly unpredictable, as they pillage both embrace and a more traditional hardcore dogpile in the final act.
As is the case with standout "Frozen", their love for LIHC shines again on "Tiny Little Pieces." Much like bands like Movielife, Silent Majority, and Lifetime; they wisely temper their poppier moments with the speed and ethos of hardcore. I also hear bits of Hot Rod Circuit which, if you know me, is an enormous compliment. Coupling an absolutely soaring guitar melody to an already gorgeous vocal elevates this to an early high water mark on the album.
In a show of perfect sequencing, the post-American Nightmare, Bridge 9 Youth Crew of "Morning Light" exhilarates after such a hook laden predecessor. Having absorbed decades of the hardcore punk family tree they first sprouted from, the band seamlessly integrates multitudes. They conjure a fleeting two step passage en route to the album's first epic moment… a buildup that culminates with Modern Life Is War sized payoff. Stunning.
As is often the case, the title track is a banger. On just the right side of lovelorn, there's a tugging and longing inherent to this track not seen elsewhere on the album. Recalling everything from Dag Nasty to Stay Who You Are-era Saves the Day, it's a propulsive song that pays back a long-standing debt to Midwestern emo.
A welcome midpoint on an album, it showcases the players' shimmering instrumentation and much evolved sense of nuance, casting a large ray of hope above the decidedly inward looking proceedings. The playing on the album, in general, is spectacular. Here, though? They lend the song a celebratory air, even in the face of what seems like insurmountable hardship. Resilience. Heart. They have both.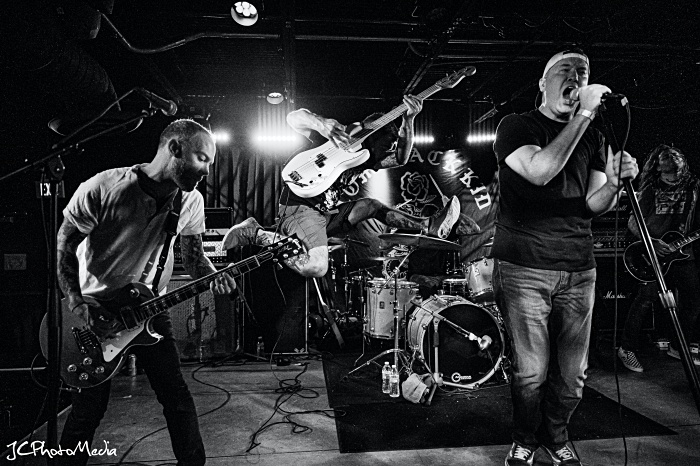 Again, they play one for one, exploding into "Each Passing Day" as if paying penance for the slowdown. It doubles down on pace after the pulse drop and it's boldest moments is the chorus. First time through, it's understated and hushed, sitting beneath the increasingly urgent music until the final minute. Playing the relatively long-con, the final minute is a purgative powerhouse.
The moment at last comes and the restraint explodes, riding an expertly layered vocal into the finale. Be Well, at their best, teeter between the warring factions of the human mind… both resignation and hope can, at any moment, take the wheel and steer.
For all the hyper literate references that get tossed around, none hit me like "Aperture." Finding the thinnest sliver of light can, at times, be daunting. It starts off finding the band at their moodiest, the guitar line a post-hardcore killer that calls to mind Quicksand or even Thrice. The bass work on this one is stellar, laying the foundation for my favorite vocal performance across the entire runtime.
Still commanding in its power, there's bare and vulnerable approach so raw that it's almost difficult to listen to. Fittingly, there's something disarming about the lyrics, as they're both plainspoken and unapologetically naked. Musically, it's comparatively off-kilter, swaying back and forth to form a longer, almost radio rock chorus.
As if the band dared themselves to be more honest and true, "Longing" highlights all of the band's myriad power, flashing a Hot Water Music opening that's fused to a divebomb that plunges into speedier terrain that calls to mind As Friends Rust and their ilk.
They manage a perfect moment when, rambling towards the end, there's all and response backing vocal that absolutely slays. Depression is rarely captured so precisely. It hurts to hear as much as it hurts to turn it off.
As counterintuitive to a review as this might sound, "Confessional" just needs to be taken in by the listener. It's undoubtedly their crowning achievement and the culmination of everything they've worked towards. Just listen.
Be well. Stay well.
Get It
Tagged: be well