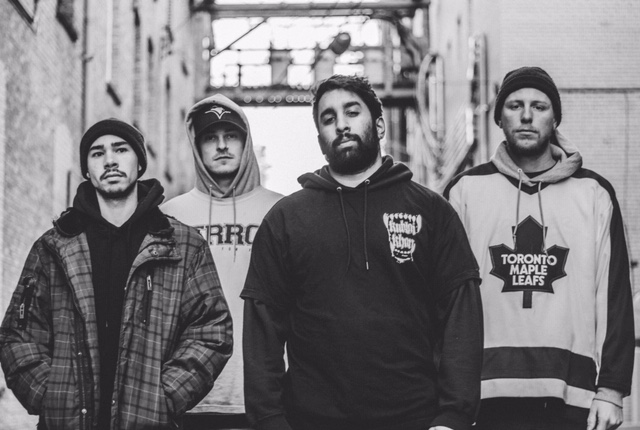 Cold Shoulder is a Toronto-based metallic hardcore outfit that formed in 2016. With a penchant for ominous breakdowns and maniacal vocals, the band has so far issued two EPs—T.O.H.C. (2016) and Backlash (2018)—and a full-length called Self War (2017). Throughout that time, Cold Shoulder have also been touring throughout North America and hitting such fests as Vans Warped Tour and Flyover Fest.
Liking what they hear, the minds at Safe Inside Records have forged a new union with the Canadian hardcore combo and is on track for two releases this year, including a three-song tape. "We've had our eye on Safe Inside Records for quite a while, having done some gigs with Piece of Mind from Tulsa, OK and Clear Focus from Buffalo, NY, so we were thrilled when Burt reached out to us," Cold Shoulder vocalist Mike tells me about the new partnership. "After a long chat with him about our goals and ideals, it was clear that Safe Inside Records is a perfect fit for what we do and we are very excited to be working with them moving forward."
As a teaser to their new material, check out a music video for a new track called "Primitive" below:
"This song is about the extremely polarized ideals fed to the population by the various media outlets, whether they be from mainstream news, social media, politicians and the like," says Mike. "These extremes fester into hatred for one another in the forms of racism and aggressive political and religious opposition. It's about finally seeing who the true enemies of the goal of peace are. Ironically, they are the very same people who have been appointed to achieve this goal. It's also about the idea that very few understand that every action they take causes a ripple effect, a cost. Because of this, it has truly left us stunted and we can no longer only bite our tongues over it."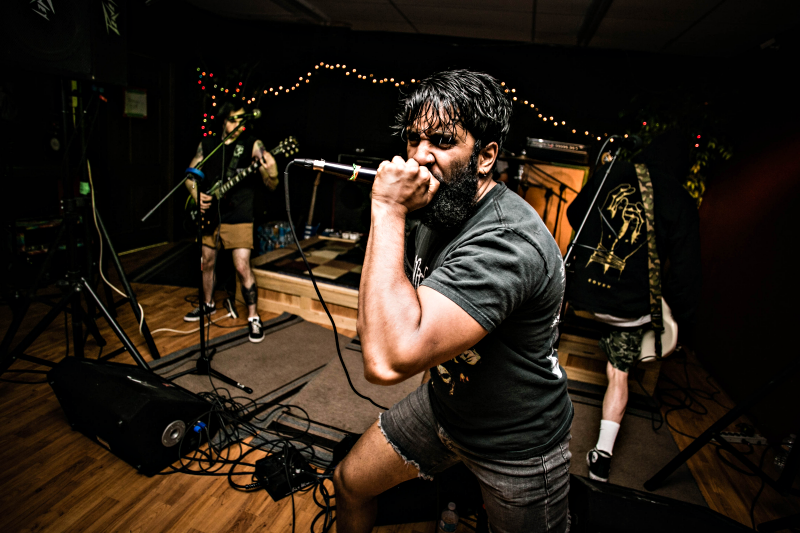 I ask Mike about the current state of the Toronto hardcore scene. "The Toronto hardcore scene was amazing when we were all going to shows as teenagers. At a certain point, a few years back, it felt like hardcore in the city was slowing down. We lost some venues and several key local bands decided to call it quits, so shows weren't doing as well as they used to. When Cold Shoulder started, one of the big reasons we jumped into touring right away is because our hometown scene was feeling stagnant. Today, we are truly beyond words to what this has become.
"In the past couple years, there has been a significant increase in the number of new bands, a couple of new venues, and plenty of new and familiar faces coming out to shows. Furthermore, our promoters have really stepped up in terms of putting on great shows with up-and-coming bands, as well as providing DIY tour packages with a place to play. We've been lucky enough to play some very well attended all-local shows lately, which means a lot to us. Our scene is unique because it is not inclusive to just the Toronto area. It has the support of other cities in the province of Ontario such as London, Windsor, Ottawa, and Kitchener."
So, who are some of the Toronto and Ontario hardcore acts making noise in right now? "Bands such as Sedition, Mourn, Perfect Limbs, Die Hexe, Powerbomb, Reliever, and World's Grasp are a great representation of what the Ontario scene is all about. Toronto and Ontario hardcore are on the rise and won't be slowing down anytime soon."
Stay tuned to Cold Shoulder's social media pages (Bandcamp, Facebook, Twitter, Instagram, YouTube) for the band's upcoming dates.
***
If you're shopping for vinyl, CD, and cassette hardcore titles, head to No Echo's partner store, Reverb LP, to see what they have available. Every purchase you make helps No Echo with site costs.
Tagged: cold shoulder