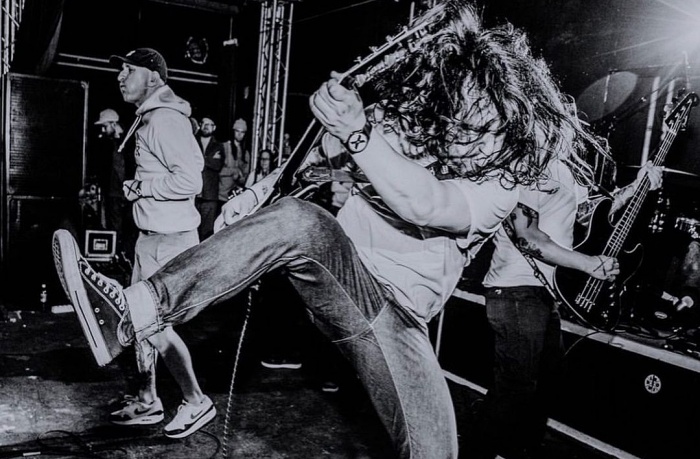 Last week, No Echo posted 2 lists that you should hopefully have already seen by now: Best Hardcore Records of 2020: No Echo Contributor Picks and 13 Great Hardcore Punk Records from 2020 You Might Have Missed.
Today, I'm preseting my personal picks for the Best Hardcore Albums of 2020.
Check them out below and feel free to tell me your picks in the comment section below, or if you prefer, hit up No Echo's Hardcore Music Discussion Group on Facebook.
Change, Closer Still (React! Records)
I got a advance copy of Closer Still from Change vocalist Aram Arslanian (Betrayed, The First Step, Champion) and instantly fell in love with it. The 13-track collection is bursting with energy, rarely letting up on the speedy pacing.
But when Change does decide to slow the tempos down, the band always makes it interesting.
A fine example of that goes down during the 48-mark on "Beyond," where the band goes into a ska-influenced breakdown that seems to come out of nowhere in the best way possible.
Drowse, Dance in the Decay (Sore Ear Collective)
Premiered on No Echo back in late October, Dance in the Decay is absolute ripper of a record that caught me by surprise.
Sure, I had already been impressed by Drowse thanks to an earlier piece on the site by Bruce Hardt-Valenzuela, but the Philadelphia-based outfit's debut LP is one of the most savage-sounding things to come out of the hardcore community this past year.
Gulch, Impenetrable Cerebral Fortress (Closed Casket Activities)
Easily one of the most hyped releases of 2020, Gulch's Impenetrable Cerebral Fortress is like getting a peek into the mind of a lunatic.
Everything from the harsh vocals to the putrid guitar/bass tones to the schizophrenic song arrangements combines into a maelstrom of pure unhinged ferocity.
There may be elements of grindcore, black metal, and other styles of extreme music slashing through the album, but with Impenetrable Cerebral Fortress Gulch have created their own sonic space within hardcore, and it's a terrifying one.
Mil-Spec, World House (Lockin' Out)
World House is one of those records that gets better every time you listen to it.
Brimming with soaring melodies and impassioned vocals, the album finds the Canadian combo in complete control of their material. Meaning, the band worked the kinks out of their approach through their previous releases, and knew exactly who they were going into the sessions for this, their debut full-length collection.
Whether Mil-Spec go on to make another record remains to be seen, but even if they never end up doing so, World House is the perfect way to close their discography out.
Struck Nerve, Rattle the Cage (Youngblood Records)
As I wrote earlier this month on the site, Struck Nerve "brings back the era when the Posi Numbers fest was still going down, and bands like Mental and Desperate Measures were releasing records."
There are no stylistic left turns to be found throughout the 9 cuts on Rattle the Cage. There are no clean vocal-driven choruses, or death metal-like beatdown parts.
Looking for some Revolution Summer influence in your hardcore, stay away from Rattle the Cage.
But if you're hungry for an absolute beast of a hardcore record, Philly's Struck Nerve have served one up and it's piping hot.
Entry, Detriment (Southern Lord Recordings)
D-beat, hardcore, and power violence intersect explosively on Entry's Detriment.
Recorded by the band's Sean Sakamoto (bass) and Christopher Dwyer (drums), the Los Angeles quartet keeps things moving briskly on the record, rarely coming up for air during the 9-track assault.
Vocalist Sara Gregory possesses the kind of growl that sounds like she's been gargling with battery acid, and that's a good thing in this case. Her brutal vocal tracks reflect both the merciless musical parts her band mates are laying down, and the grim lyrics she's delivering.
Vile Spirit, Scorched Earth (Quality Control HQ)
England's Vile Spirit go for the throat with a toxic stew of '90s-styled metallic hardcore, power violence, and the kind of death metal that was too crude for Roadrunner Records to touch back in the scene's heydey.
Frontman Ben Hill tears through his vocal cords with reckless abandon through the course of Scorched Earth, channeling the rage of the lyrics the LP superbly.
If metalheads who favored the rawer side of the sonic spectrum opened up their minds a bit, they would lap up what Vile Spirit is doing on Scorched Earth.
Rash, Hivemind (Convulse Records)
Rash's sophomore album, Hivemind, appeared in record stores back in August, and has been getting steady play in No Echo HQ since then.
"Sonically speaking, Rash's sound is fast as fuck, with the instruments all peaking into the red zone of the mixing board, and in terms of the vocals, well, the approach there is as nasty as the music beneath it," is the way I described it in an earlier No Echo piece, and that sums it up nicely, if I do say so myself.
This Chicago band should be way more popular than they are. Give them a listen and tell me I'm wrong.
Rat Cage, Screams from the Cage (La Vida Es Un Mus)
Like the Gulch album earlier on this list, Rat Cage's Screams from the Cage is a nasty-sounding affair, but it's devoid of any clear metal influences.
Instead, musician Bryan Suddaby (Stray Bullet, Heavy Sentence) pulls inspiration from early USHC in the vein of United Blood, and first wave D-beat. Engineer James Fidler's lo-fi tracking approach intensifies the proceedings with its untreated snapshot of the record's 12 tracks.
Screams from the Cage is a 19-minute pummeling that does a smashing job of reminding us why whenever the 4-letter acronym "UKHC" appears in the description of a new music release, you should pay attention.
Be Well, The Weight and the Cost (Equal Vision Records)
Comprised of musicians who have also played in such bands as Battery, Darkest Hour, and Bane, Be Well play melodic hardcore with hooks seemingly coming at you from every corner.
Singer Brian McTernan's lyrics on The Weight and the Cost are some of the most candid and honest you'll find on any album this past year, regardless of genre.
One of the darkest moments arrives on the song "Strength for Breath," where Brian sings:
"When I was a kid I let it define me
Please don't grow up that way
4 weeks in a hospital and not one friend even came"
***
If you're on Spotify, I've made a playlist featuring a couple of tracks frome each of my sections. In addition to that, I've also included songs taken from the 2020 Best of No Echo contributor lists:
***
No Echo has launched a Patreon with 3 tiers offering all kinds of hardcore-related goodies to help support the site:
***
Tagged: be well, change, drowse, entry, gulch, mil-spec, rash, rat cage, struck nerve, vile spirit