I want to call a doom rock summit. We'll discuss this term, its rampant abuse, and make plans for the genre going forward. We can update the doom curriculum to include post-Ozzy Sabbath in the canon. Perhaps mandate that all joke-ass-weed-pun bands require doctor's permission to record. We'll finally kibosh the foolish practice of re-issuing Dopesmoker, and petition to get Trouble's discography and merch back in print (someone will bootleg it if you don't).
When it comes to doom in modernity, I think we've lost our way. Maybe we bungled it when we let tryhards in the blogosphere conflate Brett Bongwater's GarageBand demo with entities like Scotty Reagers, praising an idiot's effects pedal over actual songwriting. Call it hairsplitting or gatekeeping, I don't give a fuck. This shit is not fun and games to me! Yes, at times doom is old testament style fury and punishment, the profound and unsettling revelation of dark forces at play.
Doom revels in the "real" shit, far more sinister than the performative satanism of Scandinavian church-burners. The genre reports on audial hunks of human misery, drug addiction, demons, nuclear war, and heartbreak, offering no solutions or goofy black-toothed nihilism. But really, doom can be triumphant too. It needn't always be dour. At best, it's soulful. It soars, sampling freely from the rock traditions of yore, unbound to guitar tones or a lineage to Southern Lord.
Which (finally) leads me to Departed Souls, Magic Circle's latest full-length. It's doom, sure. Doom rock, but please don't get off on some "Orange Cabs/Keefy Dabs" nonsense.
One with a weaker brain might describe Departed Souls as more ballad-ridden than previous efforts. Indeed, it showcases quieter, more "experimental" moments than its predecessor, 2015's Journey Blind.
"A Day Will Dawn without Nightmares" channels late, great Led Zeppelin (!) and "Gone Again" utilizes a plaintive Wurlitzer organ (I think?) to full effect. Brendan Radigan's NWOBHM-rangy vocals (a national treasure), paired with guitarist Chris Corry's leads, create a sonic interplay that heaves and plummets ("Nightland"), a sound that's simultaneously lofty and spartan ("I've Found my Way to Die") without excessive psychedelics and boring iterations on a single sound ("Valley of the Lepers").
Don't misunderstand though; songs stretch out, they unfold and evolve, revealing nuance with each new listen. It's not clipped or restrained. I'd describe it as economic, with nary a single moment wasted.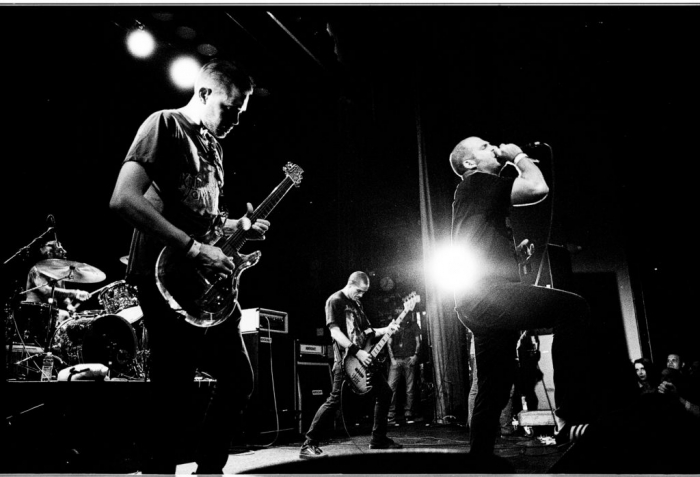 Those who seek that capital D DOOM rock in Departed Souls will surely find it in the imagery and aesthetics, the dusky textures and evoked feelings. It's the top tier. However, you don't need an intimate understanding of Candlemass or Vitus or Iron Man or Count Raven to contextualize or understand it. Assuming you had cool parents (or uh....you're older), you'd likely hear a full breadth of '70s influences, traces of Rainbow, Uli-era Scorpions or Wishbone Ash in the casserole. Pagan Altar (duh) for sure. I hear Witchfinder General. Listen. They didn't have bongwater bands to copy, and Magic Circle doesn't even need 'em either.
Get It
Tagged: magic circle