Listening to the material on Capitol Hell, the latest album from Throw the Goat, you hear elements of everything from '80s thrash to hardcore to crossover. There's also a catchy aspect to the Idyllwild, California trio's songwriting that lends the stuff an accessibility factor that probably brings in a wide audience to what they're doing. "I'm glad you were able to pick up on that," vocalist/guitarist Brian Parnell says to No Echo.
"There's been a lot of debate over the years regarding what genre we fit into. It isn't very cut and dry and I think that's a good thing. As far as guitar influences that make it into Throw the Goat songs, I'd say it's my own version of Billy Corgan, Robert Smith, Josh Homme and a little Dimebag. Not that I play as well as any of them.
"What I've noticed comes through in my vocals is a lot of Alice Cooper, Phil Anselmo, Mike Patton, and Dave Mustaine. I love the power of a good riff followed by a strong hook. When the chorus finishes that cool riff comes back again, then leads back into the hook.

By the second chorus, if they're not singing along in the car or from the audience then someone hasn't done their job as a songwriter."
Throw the Goat formed back in 2011, but they've gone through some membership changes over the course of 4 studio albums, as Brian explains: "I'm the last of the original lineup, although I was not the original songwriter. The band started as just the rhythm section. They wanted to fill things out and I was one of two local guitarists who had randomly showed back up in Idyllwild at the same time period. After one jam we all moved in together."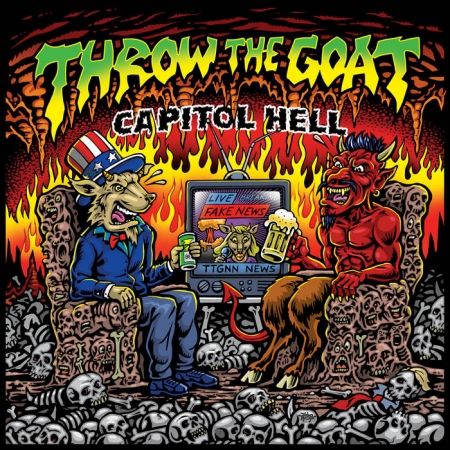 From a lyrical standpoint, Capitol Hell doesn't hold back any punches. "I have always loved lyricists who can paint a beautifully ambiguous picture using only their words, leaving the interpretation to the listener. But, I'm not one of them. I pretty much put it right between your eyes and give it to you straight.
"It's not hard to guess if a Throw the Goat song is about suicide or sexual assault or Qanon or the pandemic or even just a dumb breakup song. My goal is to bring those subjects and feelings to the surface right away instead of making you search through a seemingly random string of expressions for some vague parallel to your own reality.
"I'm not too concerned with attempting to be relatable because I already kinda know how most of the folks who listen to our type of music feel about life. And we probably agree a lot.
Capitol Hell was issued earlier this year by Combat Records, the influential metal label that was resurrected by Megadeth's David Ellefson. "We actually won a contest when they did the relaunch and that's how we got the deal.
"The Combat team has always been good to us, answering our dumb questions and introducing us to the different companies they work with. I can definitely say that they left us alone and let us do whatever we wanted during the entire process of this album.
"When the people who own and run the label are also active musicians themselves and have their own releases to promote, you can't really expect them to be all up in your business unless you're already a big seller for them. So we've basically stayed DIY, although having the Combat affiliation has helped people take us more seriously."
Before our chat ends, No Echo asks Brian about Throw the Goat's local music scene to see how they've been received there. "The Idyllwild music scene is very small and relatively mellow. The venues are mainly restaurants and bars, no clubs. You're not gonna see full stacks and corpse paint. So the kids are pretty thirsty for something loud and rambunctious up there, and we've been happy to fill that void.
"The scene in the neighboring Coachella Valley is much larger and more diverse. 2/3 of Throw the Goat lives in the desert, but even before then we've always been well received by the desert rats. It's an awesome family of super talented musicians. When things get less scary you should come out sometime!"
Capitol Hell is out now via Combat Records.
Throw the Goat on social media: Facebook | Twitter | Instagram
***
No Echo has launched a Patreon with 3 tiers offering all kinds of hardcore-related goodies to help support the site:
***
Tagged: throw the goat