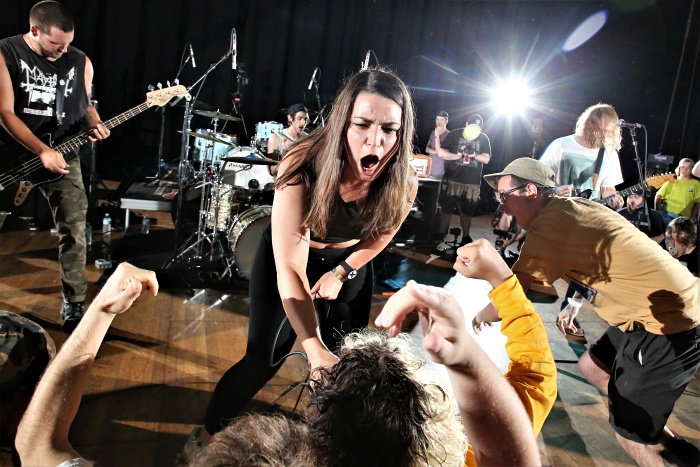 Based out of New Bedford, MA, Brother is a socio-political, power violence band featuring members of Wound Man, The Rival Mob, Wolf Whistle, XFilesX, and Dropdead. The group's writing and playing style is compact yet frenzied in its delivery, never letting up on the energy levels. Songs usually only last a few seconds, leaving only room for the most aggressive, menacing, and grinding parts for vocalist Heather to scream over.
Brother will be releasing a 7" through Atomic Action! Records (Fucked Up and Bound, Verbal Assault) and No Echo has partnered with the label to bring you the premiere of "Surfacing," a track from the record:
"The song describes the behaviors and emotions associated with body dysmorphia, specifically excoriation disorder, as a result of past psychological traumas; the dissociation, the self-mutilation and the shame," Heather said to me about the "Surfacing" lyrics. "I have had issues with excoriation since I was younger, subconsciously using it as a coping mechanism to deal with childhood emotional trauma, and later being further exacerbated by domestic violence and unrealistic beauty standards."
"Surfacing" lyrics:
Scratching at the surface
Anything to cleanse
Raw skin
Polluted, diseased
Sick
Insecure
There is no cure
You can pre-order the Brother 7" directly from Atomic Action! Records today.
***
If you dig No Echo, you can donate a few bucks to help with the site's operating costs:
Tagged: brother, dropdead, the rival mob, wolf whistle, wound man, xfilesx