"I came up with the idea of this film about 10 years ago," director Giangiacomo De Stefano tells me about his latest project, At the Matinée, a documentary based around the hardcore scene of the late '80s, specifically, the Sunday afternoon shows at CBGB. "Everything started with some songs written by Walter [Schreifels] in rather recent times. 'Open Letter' was a song he dedicated to [Warzone singer] Raybeez and the CBGB matinees. These had been the main input to describe the matinees of CBGB, and especially the time when these concerts were at their peak, that is to say between 1986 and 1989.
"Walter is part of this project, holds a share of the rights, and also took part in many artistic choices. I couldn't be other than grateful to him for believing in us, being patient, and not pulling back when we feared we couldn't be able to finish the film," says Giangiacomo, who is a successful filmmaker in his native Italy.
I was sent a link to watch At the Matinée in advance of my interview with Giangiacomo, and his love for NYHC comes through loud and clear. I ask him how he was first exposed to that movement since he was all the way in Italy. "The first time I exactly understood what the matinees were, it was through a photo published in the Italian version of the magazine Metal Hammer. Actually, I think it was 1989. There was a very important hardcore scene in Italy in the '80s, with bands such as Raw Power, Negazione, Indigesti, CCM, and Wretched. People that—between 1982 and 1986—had revolutionized the European scenario, but that had run out of creativity in the second half of the decade.
"In the late 80s, what kids like me, way younger than those who preceded them, were looking for was something that renewed hardcore and felt truly like music of our generation. Youth of Today's tour in March 1989 in Europe changed everything. In some ways, we all were Americanized and lost our European features, though everybody perceived this change through their cultural background. The city where I live, Bologna, had been crucial in Italy for this cultural rebirth. We had a squat called 'Isola del Kantiere.' and for us it was a kind of like CBGB. There we had the chance to see Gorilla, Biscuits, Youth of Today, RKL, DI, Verbal Assault, Slapshot, and many others."
Giangiacomo's further explains the impact hardcore had on his younger years in Italy: "That kind of music became completely part of my life. It influenced my consumption, and it affected my political, social, and alimentary vision. Nowadays, I am not concerned about being considered a straight edge, but I still don't drink and smoke. All of this comes from hardcore and the way I experienced it. I also played in some bands [Ivory Cage, Ageing, Summer League, The Guilt Show], organized concerts, published a fanzine, and collected records. Was it more than just music? I'd say yes."
Since I also work in the field, I'm curious to find out if Giangiacomo had any difficulty selling the idea of a hardcore-centered documentary to his production partners and investors. "At the Matinée was produced mainly by another production company, La Sarraz Pictures (Turin, Italy). My own production company, Sonne Film, is an associate producer. Making this film was really complicated, and we got it done thanks to the sacrifice of many people and the collaboration with many of the main protagonists. Moreover, this documentary is almost entirely set in the USA, and this made it even more difficult to shoot, considering that everything was directed abroad.
"In Italy, the film has been selected to be showcased in four festivals, and it will be launched at the cinemas of the main cities in October, and then broadcasted on Sky Arte. Besides my good relationship with the people who work for Sky Arte, I think that it is very interesting that this film hasn't been regarded by an Italian television as a niche production, though the topic might have been considered so."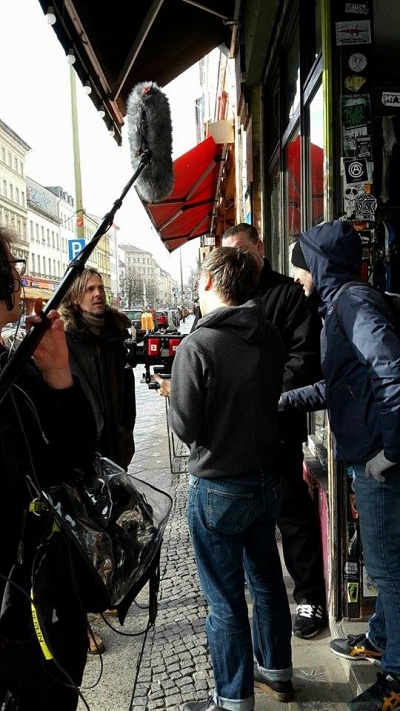 Before reaching the end of our cross-continental chat, I ask Giangiacomo if there are any plans to screen At the Matinée in the States. "Yes, absolutely! We are thinking about cutting off some minutes off the film, and then try to distribute it in the States and the rest of the world. This documentary is designed for a broad audience, not only for those into hardcore. So, fingers crossed."
Learn more about At the Matinée at the film's Facebook page.
Tagged: documentary, gorilla biscuits, quicksand