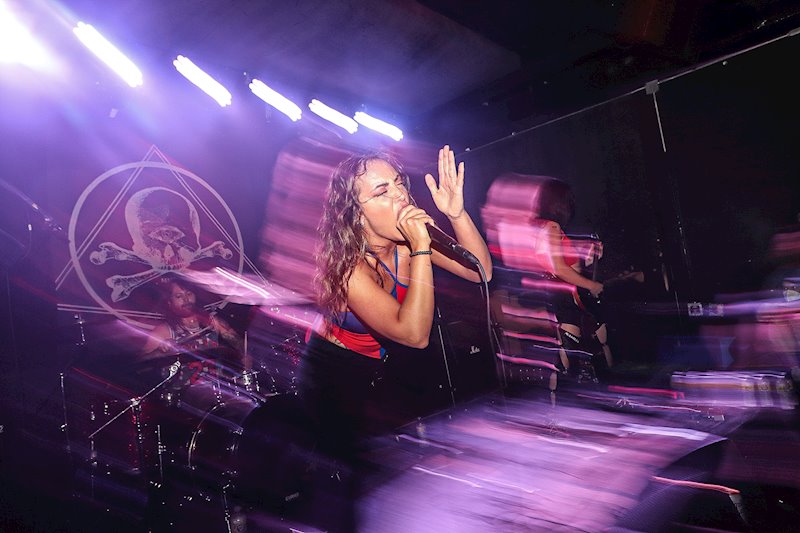 The last time No Echo checked in on Escuela Grind was in 2020 when we premiered their debut album, Indoctrination, on our site. If you aren't already familiar with them, the New England-based band keeps true to their moniker, delivering blast beat-driven rhythms one would expect, but also melding elements of everything from doom/sludge to D-beat to metallic hardcore-kissed mosh.
On their forthcoming sophomore album, Memory Theater, Escuela Grind dial up the groove meter in certain sections, giving the songs a bit more room to breathe and develop, a choice that proves to be an impactful one. The album was recorded with Converge guitarist Kurt Ballou (Code Orange, Year of the Knife), so maximum power was achieved during its tracking process.
With Memory Theater arriving in stores later this week, I spoke with Escuela Grind vocalist Katerina Economou about the record and its newer stylistic approach, its eye-popping cover artwork, juggling the band with her career, and how she came to love the heavier side of the musical spectrum.
First off, tell me about the Memory Theater artwork. It's one of the best covers I've seen recently, but I was curious about the creative process behind it and how you conveyed the title's meaning to the artist, Andrew Tremblay. I know sometimes things like that get lost in communication and it takes some back and forth before things are dialed in.
That's great to hear you like it! The artwork is certainly something we're extremely proud of and we think is unique. We met the artist Andrew while performing at a Troma Film Festival before the pandemic. We were all taken aback by his illustrations, especially the artwork that he produced for Imperial Triumphant. Once it came time to consider who would be the best fit for our Memory Theater concept, it seemed like a no-brainer to contact Andrew.
He has a great eye for color which we knew we wanted a lot of on this record too. Our conversations started with sharing art historical references like Piranesi's Imaginary Prisons and panopticons, with body horror and dystopian animated references like Ghost in the Shell.
We wanted a fantastical architectural theme, as the 'Memory Theater' is meant to symbolize this internal building, composed of infinitely-expanding, constructed rooms. We wanted the artwork to show that each song is a "room" within the mind. And each room contains symbolic objects of all ideas: private, public, unconscious, and unknowable. We think Andrew was able to simultaneously show all these forms within the album art.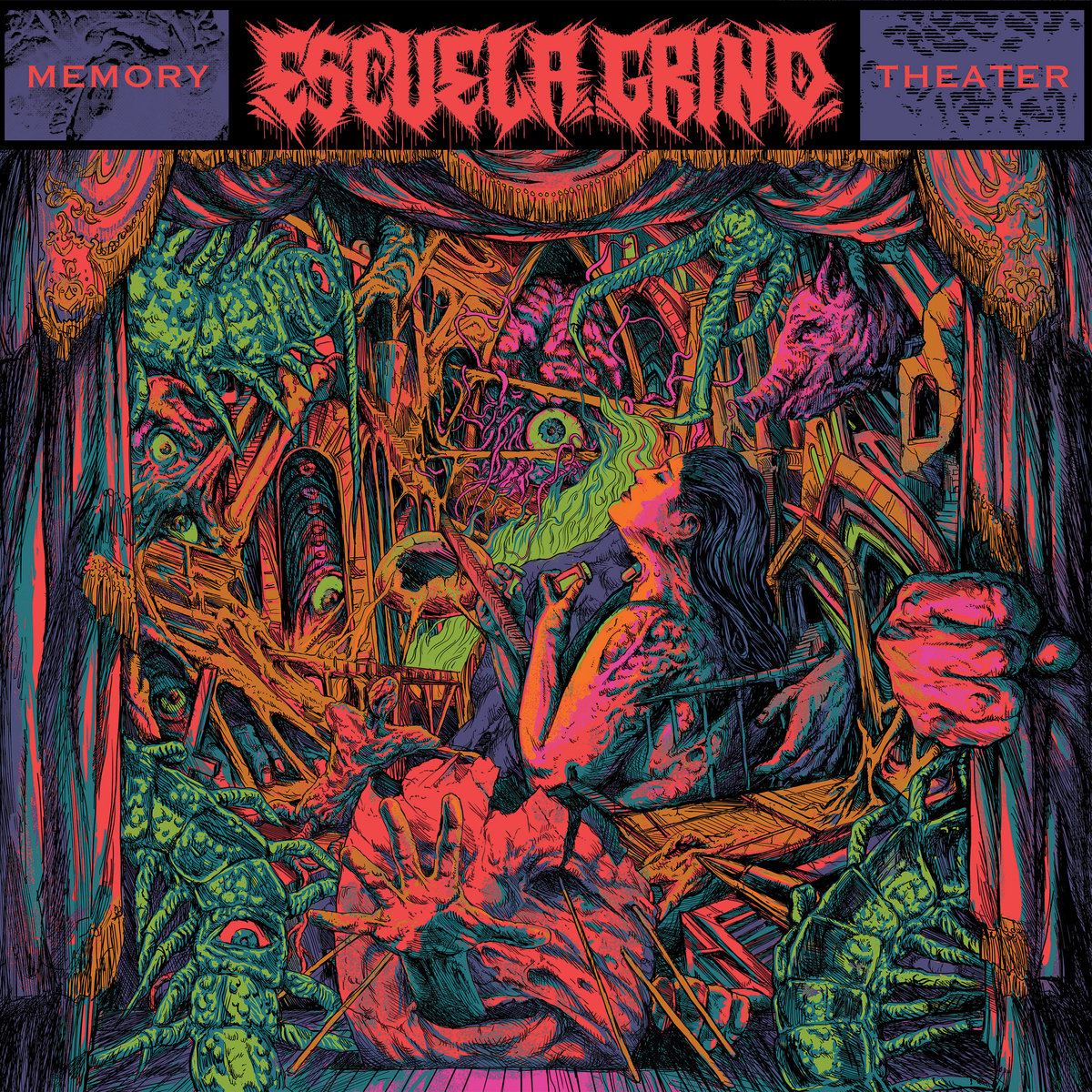 From first impression, it feels like you've given more space to the slower, more groove-driven aspects of the Escuela Grind sound. Not that the album is slow by any stretch, but there's more nuance within the blitz.
Yes, that is totally the intention. We all were living in the same house during the pandemic so we focused on what we wanted to achieve when we were able to play shows again. We realized how important the physical aspect of our performance was, and how we wanted our riffs and grooves to make people move. We demoed and composed these songs multiple times to get them exactly the way we wanted them.
Someone once wrote that our Indoctrination LP was full of "hidden hooks," so for me it was important to extract those and expand on them for Memory Theater. Once we hit a groove, I wanted to make simple and powerful lyrics that people would get right away, and would be able to sing back at me before the song is even over. So far, we're getting the exact reaction we hoped for playing the material live on tour.
In the press release, there's mention of the massive amount of research you put into the subjects you cover in your lyrics. What are some of the subjects you touch upon this time out? Also, have you always approached your love of music in such a studious manner? I admire the diggers!
I'm the type of person that takes obsessive notes and does the crazy YouTube/research dives on any topic that catches my attention. For previous EPs and Indoctrination, I was in quite a different headspace, and I was researching heavily into the psychology of being indoctrinated. I have pages and pages of notes on philosophy, science fiction, true crime; basically anything I found that related to the vague core concept and resonated with me.
Many of my lyrics from that era were about societal failures at large, political unrest, and how the structure of our society fails us as individuals. With Memory Theater I sought to strike a different chord. With a much narrower concept that I described before, I wanted to take the philosophical and political anxieties I previously wrote about, and translate how the mind directly deals with them.
Some songs are very personal to my own experiences, which is fairly new for Escuela. "All is Forgiven" in particular means a lot to me. Since I am an architect, I wanted Memory Theater to always have a solid footing in architectural language and spatial qualities. I believe that architecture can be just as esoteric as philosophy and spirituality when discussed in the right terms.
Do you remember how you got into the fast, extreme side of music? Was it a specific record or band that blew you away, or did it happen more gradually? 

It was definitely gradual. I was always interested in all types of music, and I would gravitate towards the most extreme or avant-garde artist within a genre. Being an only child who spent a lot of time helping parents with their various jobs/businesses, I was constantly attached to my Walkman and iPod growing up.
A major aspect of why I got into fast/extreme music was the community that I perceived, and the intensity of the shows I saw in videos and heard about from friends. Since I was lonely, I really wanted to be a part of something that I enjoyed and knew other people enjoyed just as much. As a Massachusetts '90s kid, of course Converge was my big obsession early on (and still is in many ways; working with Kurt Ballou on this record was a dream come true).
I have to say though, one of my first live music experiences was being front row for the Village People when I was like 5 years old. It stands out because it was so unapologetically thrilling. I knew the songs, people were dancing everywhere and the costumes were iconic!
You mentioned earlier about being an architect. How tough is it to balance your career with the Escuela Grind commitments? Are you constantly on your laptop dealing with work-related issues when you're on the road with the band?
Well funny enough, I actually just took a sabbatical from my long-time position at an architecture firm to tour full-time. So now my work is pretty much only in emergency situations. Previously however, I would be on my laptop in the van as close to regular working hours as I could. It was difficult as hell, and I would get motion sickness constantly from 3D modeling at 70+ mph.
My average tour day would be working in the van until we got to the venue, load-in and set up merch, be the merch person, play the show, be the merch person again, and then pass out. Honestly, it was really overwhelming and exhausting sometimes. In hindsight, I was able to make my passions of music and architecture work simultaneously.
I am still a registered architect and work freelance, but for right now I want to be on this ride with my bandmates whole-heartedly and we are all so grateful that we can do this together. In the future I have great plans for architecture and our music/community though!
***
Memory Theater is available now on vinyl, CD, cassette via MNRK Heavy (order here). You can also download the digital on Bandcamp.
Escuela Grind on social media: Facebook | Twitter | Instagram
***
Help Support What No Echo Does via Patreon:
***
Tagged: escuela grind